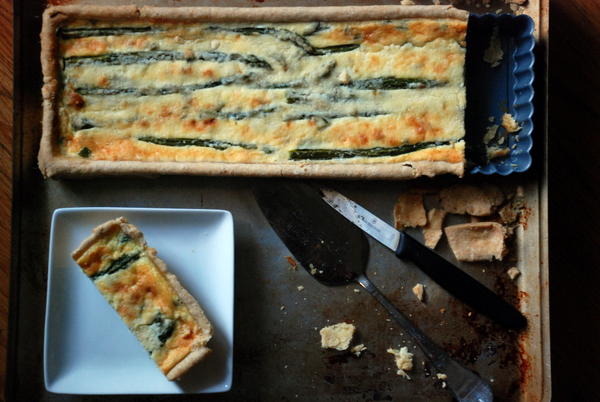 Guys, it's my favorite time of year. Nevermind that May has decided to be about as cold as November and my sad spring dresses are still hanging in the back of the closet: asparagus have arrived! I've already downed 4 bunches myself; there's no stopping me now.
You didn't know I loved asparagus? Can't be. The evidence is all right here. There's risotto and bulgur salad and even just plain sauteed asparagus, which actually are my favorite.
And then there's this tart, which, to be honest, defies logic in that it contains tarragon, my least favorite of herbs, and yet I absolutely adore it. Perhaps this is because the tarragon is used sparingly, to just barely tint the creamy custard with that sweet, anise flavor. Another thing I love about this tart is that it isn't too eggy. There's just the right balance of eggs and cream so that the center is still quivery, hours after the tart leaves the oven.

I imagine this gracing the table of your weekend brunch, or perhaps your Derby Day celebration. And if you are celebrating Derby Day, don't forget the pie.
If you're looking for still other ways to use asparagus, I've got more up my sleeve. This Monday, I'll be sharing 5 more ways to use asparagus for Food52's Halfway to Dinner column. I'll let you know when that's live.
Happy weekend!
Asparagus and Tarragon Tart
Adapted from Nigel Slater's

My only adaptations were using 100% white whole wheat flour for the crust (worked great) and using a rectangular pan instead of a round one. I had a few extra scraps of pie crust, but otherwise, the quantities worked perfectly.

For the Pastry:

7 tablespoons butter
1 1/4 cups (150 g) flour (either white, white whole wheat, or whole wheat pastry flour, or a mixture)
1 egg yolk

For the filling:

1 bunch of asparagus (about 12 spears)
1 1/4 cups heavy cream
2 eggs
4 or 5 tarragon leaves (more if desired), chopped
3 tablespoons grated pecorino cheese

Cut the butter into small chunks and use either your fingers or a pastry blender to cut the butter into the flour until the mixture is the size of peas. Then add the egg yolk and 1-2 tablespoons of cold water, and use either your fingers or a fork to bring the mixture together. If the dough feels too crumbly, add up to 1 tablespoon more water.

Roll the dough into an 11-inch disk (for a 9-inch round pan) or a 16″ x 6″ rectangle (for a rectangular pan) and fit it carefully into the pan, leaving the overhang in place for now. Prick the dough with a fork, then stick in the fridge for half an hour or so to rest (this ensures that the dough won't shrink when baked. The overhang helps with this, too; I cut it off after the tart was done.) Meanwhile, preheat the oven to  400°F. Put crust on a flat baking sheet and blind bake the crust for 15 minutes, then reduce the oven temperature to 350°F. Leave the tart on the baking sheet.

Bring a large pot of water to a boil, then drop in asparagus and cook just until tender, about 5 minutes. (Slater says longer, but I can't bare to overcook a batch of perfect 'gus.) Remove the asparagus and set aside.

Combine eggs and milk in a medium bowl and whisk to combine. Add the tarragon to the cream mixture along with a pinch or two of salt and pepper.

Lay the asparagus in the tart crust. (Slater recommends you cut them into shorter lengths, but I think the full spears look elegant in the finished tart.) Pour the cream mixture over the asparagus, taking care to fill in the tart evenly. Transfer the tart, on its baking sheet, into the oven and bake for 40 minutes, until the filling is golden and quivers only slightly when moved. Serve warm.