On my last trip to New York, I stood on the third floor of the Time Warner Center for about an hour just waiting to get into Bouchon Bakery. It didn't work out — the person we were meeting was on a tight schedule — so we ended up eating salads at Whole Foods. Ever since, I've been dreaming of Bouchon. Have you tried their chocolate bouchons? Oh, man. Delish.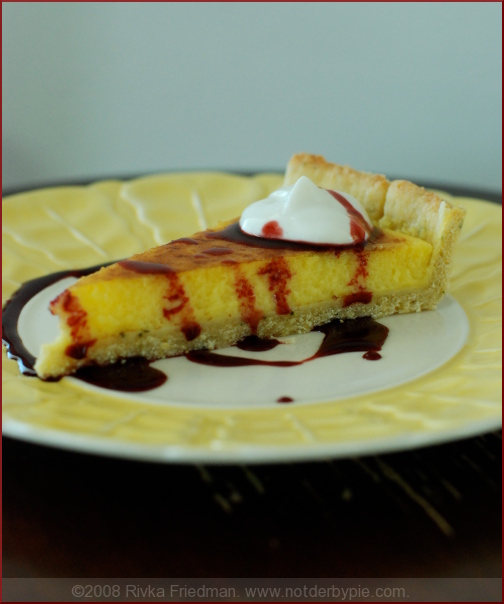 In full stalker mode this Friday, I started googling Bouchon recipes and came across this little treasure, via Epicurious. It's a pretty traditional lemon tart, with two exceptions: one, the crust is a pine nut crust. Two, the lemon curd is actually a sabayon. That means that instead of warming the lemon juice and sugar, adding the eggs, and heating until thickened, the eggs and sugar are whisked vigorously while being warmed over a double boiler, and lemon juice is added in stages as the custard thickens.


The result is something less pudding-like, more creamy, and just sweet enough. My arm may have been ready to fall off by the time the sabayon was done, but if I'm one step closer to Michelle Obama's fantastic biceps, I'm certainly not complaining.
As for the crust, I knew for a fact that a few of my diners (read: D) didn't like pine nuts, so I opted instead for a cornmeal-sage crust. If you like that sort of thing, it's a great crust recipe: again, not too sweet, with the distinct texture and fruitiness of cornmeal and faint herbal flavor from the chopped fresh sage. I imagine the pine nut crust is delicious — and pine nuts and lemon are truly a winning combination — but the cornmeal crust is a great alternative. I've included both recipes below.
Next up: maybe a salmon recipe (the sauce is so good I ate the leftovers straight, with a spoon), maybe an easy olive appetizer. We'll see.
Bouchon-Inspired Lemon Tart
from Bouchon, by Thomas Keller, via Epicurious
Lemon Sabayon:
2 large eggs, cold
2 large egg yolks, cold
3/4 cup sugar
1/2 cup fresh lemon juice
6 tablespoons (3 ounces) cold unsalted butter, cut into 6 pieces
For the sabayon:
Bring about 1 1/2 inches of water to a boil in a pot that is slightly smaller than the diameter of the bowl you will be using for the sabayon. Meanwhile, in a large metal bowl, whisk the eggs, yolks, and sugar for about 1 minute, or until the mixture is smooth.
Set the bowl over the pot and, using a large whisk, whip the mixture while you turn the bowl (for even heating). After about 2 minutes, when the eggs are foamy and have thickened, add one-third of the lemon juice. Continue to whisk vigorously and, when the mixture thickens again, add another one-third of the lemon juice. Whisk until the mixture thickens again, then add the remaining lemon juice. Continue whisking vigorously, still turning the bowl, until the mixture is thickened and light in color and the whisk leaves a trail in the bottom of the bowl. The total cooking time should be 8 to 10 minutes.
Turn off the heat and leave the bowl over the water. Whisk in the butter a piece at a time. The sabayon may loosen slightly, but it will thicken and set as it cools. Pour the warm sabayon into the tart crust (recipes below) and place the pan on a baking sheet.
Preheat the broiler. While the sabayon is still warm, place the tart under the broiler. Leaving the door open, brown the top of the sabayon, rotating the tart if necessary for even color; this will take only a few seconds, so do not leave the oven. Remove the tart from the broiler and let it sit for at least 1 hour before serving. Serve at room temperature or cold.
Pine Nut Crust:
10 ounces (2 cups) pine nuts
1/3 cup sugar
1 pound (3 cups) all-purpose flour
8 ounces unsalted butter, at room temperature
1 large egg
1 teaspoon pure vanilla extract
Place the pine nuts in a food processor and pulse a few times. Add the sugar and flour and continue to pulse until the nuts are finely ground. Transfer the mixture to a large bowl.
Add the butter, egg, and vanilla extract and mix to incorporate all the ingredients (the dough can be mixed by hand or in a mixer fitted with the paddle attachment). Divide the dough into three equal parts. Wrap each piece in plastic wrap and refrigerate for at least 10 minutes before using. (The extra dough can be frozen, wrapped well, for up to 1 month.)
Preheat the oven to 350°F. Generously butter and flour a 9-inch fluted tart pan with a removable bottom and refrigerate it while the oven preheats.
Remove the tart pan from the refrigerator. Use your fingertips to press the chilled pine nut dough evenly over the bottom and up the sides of the pan. Trim off any excess dough.
Bake the crust for 10 to 15 minutes, then rotate it and bake for another 10 to 15 minutes, or until it is golden brown. Remove the crust from the oven and let it cool while you make the filling. (There may be some cracks in the crust; they will not affect the finished tart.)
Sage Cornmeal Crust
from Martha Stewart
2 1/4 cups all-purpose flour, plus more for work surface
3/4 cup coarse yellow cornmeal
3 tablespoons sugar
1 tablespoon plus 1 teaspoon finely chopped fresh sage
1 1/2 teaspoons salt
1/2 teaspoon finely grated lemon zest
3/4 cup (1 1/2 sticks) cold unsalted butter, cut into small pieces
3 large egg yolks
5 tablespoons ice water
Pulse flour, cornmeal, sugar, sage, salt, and lemon zest in a food processor until combined. Add butter; pulse until mixture resembles coarse meal. Whisk egg yolks and ice water in a small bowl. With machine running, add to flour mixture through feed tube; process until dough just holds together.
Turn out dough onto a work surface. Divide in half, and shape each portion into a disk. Wrap in plastic, and refrigerate 30 minutes (or up to 2 days).
On a lightly floured work surface, roll out 1 disk to a 10-inch round. Fit into a 9-inch tart pan with a removable bottom; trim edges flush with rim. Refrigerate until firm, at least 1 hour (or up to 1 day). Reserve remaining dough for another use (it can be frozen up to 3 months).
Preheat oven to 375 degrees. Prick bottom of tart shell with a fork. Bake until golden brown, about 25 minutes. Let cool.