The menu is pretty much set. In the fridge are mason jars full of cranberry sauce, cranberry-applesauce, pear sauce, and dulce de batata, a sort of jam made from white Latin sweet potatoes, which we first had at Del Campo and which I replicated with shocking success. In the crisper are bags of diced carrots, onions, and celery, and little bundles of fresh herbs ready to add to round 2 of turkey stock. I've got sweet potato rolls rising on the counter, a turkey and a half dry-brining on the bottom shelf of the fridge, and an assortment of vases, flowers, ribbon, bowls, tea lights, and other random stuff intended to magically self-assemble into a pretty tablescape. (Doubtful.) 
But even if absolutely nothing goes according to plan, we know there will be doughnuts. And more doughnuts. So everything will be okay. And just in case, there also will be delicious, delicious pie.
I tested two pies this past weekend and brought both to a house full of the ultimate taste testers: the hosts of our Thursday night pie/Hanukkah party, and their four children (among the most discerning eaters I know. One's favorite food is pickled asparagus.)
And this, friends, is why we test recipes: all eight of us agreed that while the pies were tasty, they weren't memorable. They weren't worthy of a spot on the Thanksgiving pie table.
One — an apple custard pie with a rye crust — was a surprise letdown. I was counting on it being awesome, and it just wasn't. On any other day, it'd be a pie worth making, but with so much else competing for attention on Tday, the pie kind of needs to be amazing.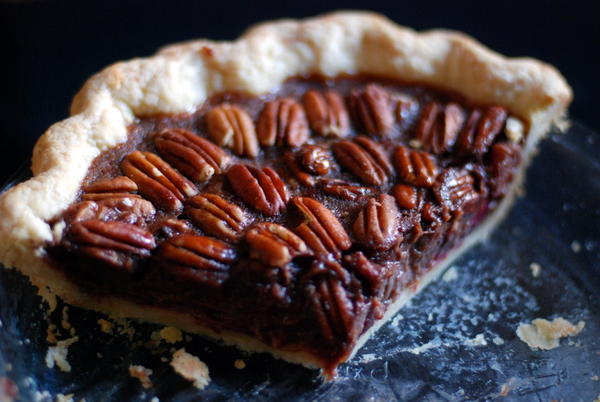 The other, fortunately, needed only a few tweaks to go from meh to memorable. And, in a slight wrist-slapping moment, the tweak was actually an un-tweak: I had added some fresh cranberries to Melissa Clark's otherwise-excellent chocolate pecan pie, figuring that the cranberries would offset the pie's likely sweetness. The cranberry flavor was nice, but the texture really disrupted an otherwise fine pie. Out they went. And between you and me, the pie improved significantly on day two. This one, I'm making on Wednesday.
Happy Thanksgiving to you and yours. I hope the holiday brings an abundance of delicious food, cozy warmth, good laughs, and plenty of leftover turkey for sandwiches. Also: latkes. Have a wonderful weekend!
Bourbon Chocolate Pecan Pie
Adapted from the New York Times

For the crust:
1 1/4 cups all-purpose flour (150 grams), plus more for dusting
1/2 teaspoon fine sea salt
8 tablespoons unsalted butter, chilled and cubed
4 to 6 tablespoons ice water, as needed
1/2 tablespoon cider vinegar, mixed in with ice water

For the filling:
1 1/2 cups pecan halves (170 grams)
6 tablespoons unsalted butter
2 ounces bittersweet chocolate, chopped (56 grams)
3/4 cup dark corn syrup
4 large eggs
1/2 cup packed light brown sugar (100 grams)
1 tablespoon unsweetened cocoa powder (5 grams)
2 tablespoons bourbon
1/4 teaspoon fine sea salt

Make the crust: In a food processor, pulse together the flour and salt. Add butter and pulse until the mixture forms chickpea-size pieces. Add ice water, 1 tablespoon at a time, and pulse until the dough just comes together. It should be moist but not wet. On a lightly floured surface, gather the dough into a ball. Flatten into a disk with the heel of your hand. Cover tightly with plastic wrap and refrigerate for at least 1 hour and up to 2 days.

On a lightly floured surface, after removing plastic wrap, roll out dough to a 12-inch circle. Transfer crust to a 9-inch pie plate. Fold over any excess dough, then crimp edges. Prick crust all over with a fork. Chill crust for 30 minutes.

While the dough chills, heat the oven to 375 degrees. Line chilled crust with aluminum foil and fill with pie weights or dried beans. Bake for 25 minutes. Remove foil and bake until very pale golden, 5 to 10 minutes longer.

Reduce oven temperature to 350 degrees. Spread pecans on a rimmed baking sheet. Toast nuts, shaking pan occasionally, until fragrant, 8 to 10 minutes. Cool.

Make the filling: In a small saucepan over low heat, melt butter and chopped chocolate, stirring until smooth; cool.
In a large bowl, whisk together cooled chocolate-butter mixture, corn syrup, eggs, sugar, cocoa powder, bourbon and salt. Pour the mixture into the prepared crust. Arrange pecans over filling. Transfer to a large rimmed baking sheet. Bake until the filling is just set when the pan is jiggled, 30 to 40 minutes. Remove pie from the oven and cool completely on a wire rack before serving.