Ever have a total jonesin' to make something that you had not intention of eating for a couple days? No, of course not. You're not crazy. Maybe it was the urge to blog that got me cooking this weekend, backwards as that sounds…but for whatever reason, I found myself chopping garlic, toasting pine nuts, and steaming broccoli and raisins, knowing full well that I was going out to dinner last night, out to a brunch baby-naming this morning, and … well, out to dinner again tonight. The broccoli is still sitting in my fridge, save for the little bits I've been sneaking here and there. And now you all know what I'll be taking for lunch tomorrow.


This broccoli couldn't be easier to make; its flavors are clean and pronounced, its colors fresh, and it can be eaten cold or warmed. Word on the street is that pine nuts and raisins are two of those "finicky foods" that picky eaters often don't like. Lucky for me, D dislikes both. You can be sure we won't be fighting over the last floret, 'cause it's all for me, every last bit.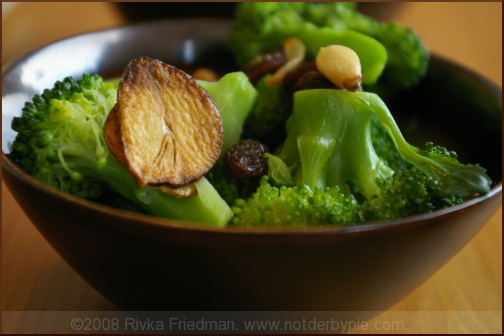 I dreamt up this recipe after quick-sauteing some collard greens with similar ingredients. The greens, which retain a fair amount of bitterness even after cooking, balance the butteriness of the pine nuts and the sweet tartness of the raisins. I wanted to make more, but I only had broccoli in my fridge. Determined to make it work, I added some thinly sliced garlic "chips," which I browned in a couple tablespoons of oil. The chips imparted a bitter spiciness that helped round out the dish, and those 2 Tbsp. of garlic-infused oil were a perfect dressing for the broccoli.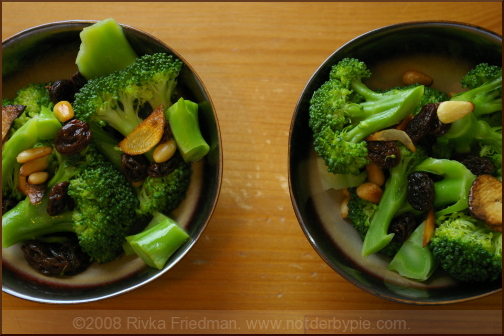 The one other thing I did differently than in traditional recipes was to steam the raisins along with the broccoli, so that they plumped up. I'd definitely do this again.
I imagine this broccoli recipe would be delightful alongside some steamed cod, flounder, or other white fish, and of course some crusty bread to round out the plate. Alternatively, toss it with some pasta (cooked in salted boiling water) and sprinkle some romano cheese overtop for an easy, one-pot meal. I'll be eating it right out of the tupperware, which I imagine will be just fine.
Broccoli with Pine nuts and Raisins
serves 2 as a side dish

2 crowns of broccoli, florets separated and stems chopped into 3/4-inch slices
1/2 cup raisins, preferably brown
1/2 cup pine nuts
1 clove garlic, sliced very thinly
2 Tbsp. olive oil
salt and pepper to taste

Preheat the oven to 350, and toast pine nuts in a single layer until they've turned golden, about 7 minutes.
Place a steamer in the bottom of a big pot, and add water so that the water level comes just below the steamer. When water is boiling, add broccoli and raisins, cover, and cook until broccoli is softened but still firm and green, about 10 minutes (maybe less).
If you're concerned about the vegetable turning brown, immediately transfer broccoli to an ice bath to stop the cooking. Mine was fine without the ice bath, and is still green after quite some time in the fridge.
Meanwhile, slice the garlic, heat the oil on medium, and fry the garlic until it has turned golden. Try not to let it burn.
Mix all the ingredients together in a large bowl, and drizzle oil and garlic chips overtop. Season with s and p as necessary. Serve warm or cold.