Let me tell you about the last two times I made crêpes. Most recently, D and I found ourselves home on a weekend morning with not much of anything to do. We slept in, stayed in our PJs, read the paper, and tried to let some of those tightly-wound DC coils relax a bit. She binge-watched Sopranos; I made crêpes with plums in cinnamon syrup.
The time before that was a winter weekend in February, with very similar circumstances. Cold weather outside, low fire in the fireplace inside, pjs, slippers, quiet time. Weddings, On the Market in New York City, and plain, powdered sugar-dusted crêpes.
Looking back on this sporadic and finicky history, I've come to two conclusions. One is that I need to make crêpes more often. The other is that I need a crêpe recipe I can whip up even when we have more than a Sopranos marathon on the agenda.
Consider the second one solved. (First one? We're getting there.) See, here's what I never knew about crêpes: you can make them months in advance. As in, you can prepare them on one of those Sopranos weekends in November, stow them away (carefully – see my notes below), and grab them from the freezer just in time to assemble a super-fancy brunch for company in February. When you present a plate full of crêpes folded fancily, dusted with powdered sugar, and topped with whipped cream about 20 minutes after inspiration strikes, I guarantee, you'll surprise even yourself.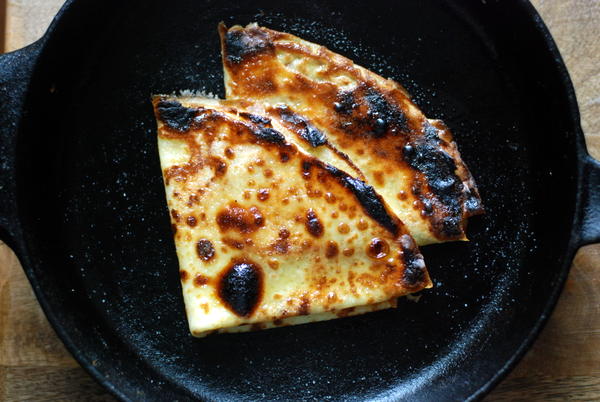 I've only tried the storage technique with three crêpe recipes, but I'm pretty confident it will work universally (or close to that). Parchment or wax paper is your best friend here; aluminum foil will not suffice.
The topping options are endless, but I'm really keen on this one, which was one of the many ways we used up the 30 pounds of apples we had in the fridge. So you know, the apple butter part is optional. This is a great, great brunch dish even if you fill the crêpes with absolutely nothing. If you want to take it in a more savory direction, spread a bit of fresh chevre on each crêpe before folding. Otherwise, just sprinkle with powdered sugar and enjoy.
Brûléed Apple-Butter Crêpes for Company
Based on this crepe recipe and inspired by this vintage Gourmet recipe 
Makes approximately 48 crêpes (but some will tear, so count on 40 or so good ones)
If you've got major guts, you definitely can make these to order, but it's much more relaxing to make them (well!) in advance. The night before is just fine, but you really can make them months before you want to serve, then stow in the freezer until company comes over for a last-minute brunch. The trick is to store the crêpes between big layers of parchment or wax paper. Double-wrap the final stack in two layers of tin foil, tuck into a zip-top bag, and store in the freezer for 3 months (let's be honest – more is fine, too).

Know from the outset that the first one or two crêpes are going to suck, and you will throw them away. (Hence the famous French expression, "le première c'est pour le chien" – "the first is for the dog." Don't sweat it.) You'll also tear quite a few crêpes as you get the hang of flipping them. It's okay.

For the crêpes:

2 3/4 cups whole milk
3/4 cup plus 2 tablespoons heavy cream
4 large eggs
2 cups all-purpose flour
2 tablespoons sugar
1/8 teaspoon salt
1 tablespoon vanilla extract
About 4 tablespoons unsalted butter, for cooking crêpes

To serve 4:
About 20 crepes
1/2 cup apple butter
2 tablespoons melted butter
4 tablespoons sugar

Combine all ingredients in a blender and blend for 30 seconds, until fully combined. Alternatively, use an immersion blender in a large bowl. If you don't have a blender, you can mix together everything but 1 cup of the milk until the batter is smooth, then add the remaining 1 cup of milk and stir to incorporate. This prevents the flour from forming lumps.

Let the batter in the fridge for at least one hour and up to 2 days.

Your mise en place is important and will make your life much easier:

Bowl of batter

A 1/4-cup measure and something to put the measure on while it's not in use

Butter: I like mine cold and in stick form, so that before making each crêpe, I just pick up the stick, swipe it in a couple of spirals around the pan, and then I'm ready to go. If you prefer to brush your butter on the pan before making the crepes, make sure your butter is melted and right next to you at the stove.

Pot holder 

If you have a round chopstick, set that out. It's my favorite tool for flipping crêpes. 

Otherwise, a large, flexible spatula will also work. I tend to use both: the spatula helps me lift up an edge of the crêpe, but I use the chopstick to flip them.

a large plate for stacking finished crêpes

Heat a cast iron pan or crêpe pan over medium heat. You'll need to watch the heat and adjust it slightly from time to time, so keep an eye on what everything in the pan is doing: the butter, the crêpe, the smoke. If the butter browns soon after hitting the pan, turn down the heat. If it doesn't actively sizzle, too cold. You're looking for it to sizzle and melt, but not smoke.

For large crepes, use a 1/4-cup of batter. These crêpes will fill a 10-inch cast-iron pan and will be perfectly round every time, but they're much harder to flip without tearing. I've used my fingers, but this, too, takes skill.

The alternative is to make smaller crêpes, using 2 tablespoons of batter. They're much easier to flip, but mine always have those little legs and never come out quite round. Your choice.

When your butter is hot but not smoking, put the pot holder on your dominant hand and take the handle of your pan. With your non-dominant hand, pour the right amount (see above) of batter into the pan, and immediately start swirling the pan around to distribute the batter.

Let the crepes set for about 20 seconds, until just set. Then you're ready to flip: Use the spatula to lift 1/4 of the crêpe out of the pan by its edge, then slip the chopstick underneath that edge and drape the crepe over the chopstick. Then use the chopstick to un-drape the crêpe back into the pan on its underside, rolling the chopstick to unfurl the crêpe without ripping it. This takes some practice.

Cook on the underside for another 10-15 seconds, then transfer to a large plate. Butter the pan, and repeat the whole process until all crêpes are made.

To store crêpes:

Cut parchment or wax paper into squares slightly larger than the crêpes. Layer crêpes between the sheets of paper, then wrap the stack of crêpes in two pieces of aluminum foil and store in an airtight plastic bag in the freezer for several months.

To brûlée and serve:

Preheat the broiler.

If using frozen crêpes, place them into the refrigerator a few days before using to thaw them. The day of brunch, remove the stack from its aluminum foil and wrap loosely in a kitchen towel. Transfer to the microwave for 30 seconds, or a warm oven for 5 minutes, to soften. If using freshly-made crepes, continue onto the next step.

Lay a crêpe flat on a work surface and spread half with a thin layer of apple butter. Fold in half, then fold again into quarters. Repeat with remaining crepes.

Layer filled, quartered crepes into a buttered high-heat-proof baking dish in a slightly overlapping pattern. Drizzle with melted butter and sprinkle with sugar. Transfer to the broiler for 1-1 1/2 minutes, until the sugar and butter are bubbling and crêpes are golden brown. They may burn a bit on the thin edges; that's okay.

Serve immediately.