Part of the fun of food blogging is that my kitchen rarely sees the exact same dish twice. Driven by the need for new content, I'm always in search of the next great recipe. I abide some serious duds along the way, but they're a necessary evil in this business, and well worth the pain when you consider that experimentation is the only way to unearth the new best recipe.
Folks, this is the new best recipe.
The minute I started to make it, I knew it'd be something special, and frankly, I'm a little shocked that in 26 years of eating mostly vegetarian food, 8 years of cooking for myself, 5 years of being really interested in food, and over 2 years of food blogging, I never came across this sublime combination. The minute the cauliflower hit the heat, I knew I'd struck the jackpot. Consider the nutty, sweet sides of cauliflower; you can imagine how brown butter might amplify that nuttiness. It plays the perfect foil to the sweetness as well, letting it come out without overwhelming you. A hit of lemon zest at the end of cooking brightens the flavors and cuts the richness, and a quick confetti of grated Parmigiano Reggiano adds that perfect amount of salt. Seriously, this is the best tasting thing I've had in so, so long. I made it twice in the two weeks before Thanksgiving, and I just bought more cauliflower to make it again. It's perfect. If you don't trust me, you can check out this NYT recipe and be just as weirded out as I am that Julia Moskin and I had the lightbulb moment at the same time. How bizarre.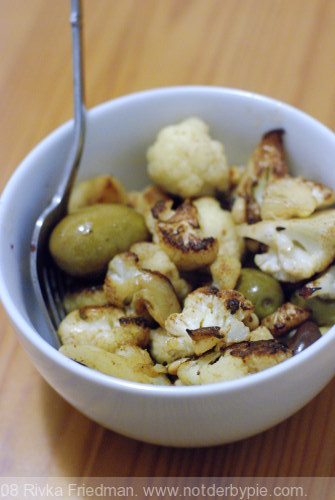 I prepared the cauliflower two slightly different ways: the first time, after browning the butter, I reduced the heat to low and basically poached the cauliflower. The second time, I raised the heat a bit to get a sear on the florets, and much preferred it this way. Also: the first time I made it just as written here; the second time, I added a few green olives instead of the cheese. I much prefer the cheese. I also trust Moskin that this dish would be great with some sage salt; check out her recipe for that preparation. But seriously, put some butter in a pan, let it brown, and add the cauliflower. You won't be disappointed.
Cauliflower with Brown Butter

serves 3-4

1 head cauliflower, de-stemmed and cut into florets
3 tablespoons unsalted butter
1 teaspoon lemon zest
1/4 cup Parmigiano Reggiano cheese
salt to taste (I used about 1 teaspoon)

Melt butter in a large saute pan over medium heat. Butter will melt, then foam, then start to brown. Stir it carefully, watching to make sure it doesn't burn. As soon as it starts to brown, add the cauliflower and a sprinkle of salt. Leave the heat at medium and try to resist the urge to stir; you want a bit of a crust to develop. Check undersides at around 5 or 6 minutes. If browned, flip and continue to cook. Leave the second side to cook a bit longer; you want to both brown the outside and ensure that the inside is cooked through, though I do like mine a bit al dente. Mine was done at around 15 minutes total, but depending on the level of your heat and the size of your florets, it could be more or less. Be patient, taste often. When your cauliflower is done, transfer it into a bowl, add the lemon zest and cheese, and stir through. Taste and adjust salt level. I prefer to serve immediately, but it's good at room temperature as well.