One of the first cookbooks I owned was Nigella Lawson's Nigella Bites. I bought it at Anthropologie, back when Nigella was a Travel Channel sensation. The Food Network had already gone the way of the dodo, its cleavage-showing hostesses flashing smiles as they tasted "delicious" homemade tarts filled with the scooped-out innards of a store-bought pumpkin pie. No thanks. Nigella's show was where the fun was at. You could catch the gorgeous broad sneaking downstairs at 1 am in adorable pink PJs, in search of a late-night snack. The camera would zoom really close as she opened the fridge, stuck a finger into a big bowl of chocolate mousse, and licked her finger clean. A dip into the chocolate mousse, pudding, anything, at 1 am is a classic Friedman move. When I saw Nigella do it, I was hooked. She seemed real.
Her cookbook conveyed that same honesty. There were pictures of her with curlers in, wearing a bathrobe. There were sweet ramblings about her favorite suppers, and a mouthwatering picture of homemade pasta and meatballs. And it didn't stop there. Nigella devoted a chapter of the book to what she called "Legacy." The section contained humble recipes that were the hallmark of her childhood, things like "Granny Lawson's Lunch Dish" (a slab-pie of sorts, filled with hard boiled eggs, ground beef, and olives) and "Soft Boiled Eggs with Asparagus Soldiers." I loved this section because even though I'm pretty sure I never made any of the recipes contained within, it provided the most sincere picture of where Nigella came from.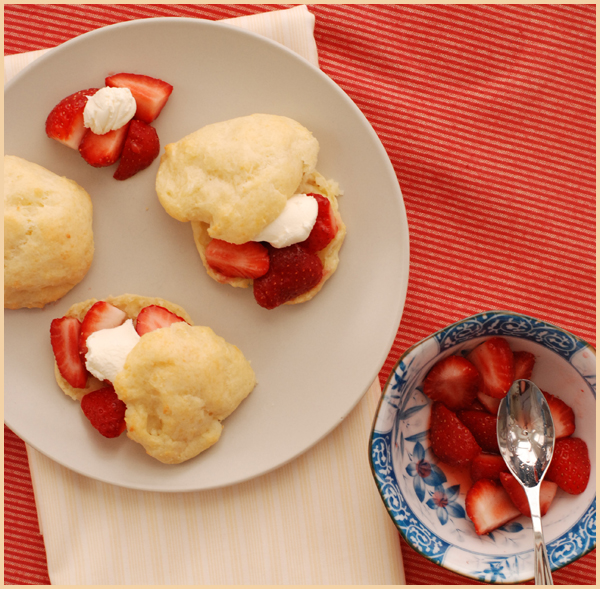 If I had a cookbook (to dream!), and it had a legacy section, this recipe for cheese puffs would certainly make the cut. It's a humble recipe; if you saw cheese puffs at a party, you'd probably pass over them in favor of the the rhubarb curd. But to do so would be quite a mistake. A cross between pancakes and biscuits, cheese puffs are crispy and golden around the edges, soft and chewy within. They're a bit sweet, but unexpectedly, refreshingly, tangy. My father likes them with just sour cream, but I prefer a bit of mascarpone cheese or greek yogurt, and fresh strawberries. But however you eat them — with sour cream, with greek yogurt, with berries, with nothing at all — once you start, you kinda can't stop.
Lately, I've been thinking a lot about the recipes of my childhood and how they've shaped the kind of food I like to cook, the kind of food I love to eat. Cheese puffs epitomize the legacy of my family's cooking and eating style because they're easy enough to make on a deadline, but intriguing enough to be addictive.
That's legacy.
I'd love to hear about the recipes of your childhood, the legacies of the kitchen where you grew up. Let's get this conversation started. And if y'all are interested, I'd like to share more of the recipes from my mom's kitchen.
Cheese Puffs

Cheese Puffs
Adapted from Norene Gilletz's The Pleasures of Your Processor, via my mother

Note: I use Friendship brand farmer cheese, which is the only one I've seen recently. If you can't find farmer cheese, you can strain some ricotta for a couple hours until some of the whey drains. You can also use cream cheese, in a pinch.

1 lb farmer cheese (2 6 oz. packages will work just fine if that's what your store carries)
3 eggs
1 stick (8 tablespoons) butter, melted
1/2 teaspoons salt
1/4 cup sugar
1 1/2 cups unbleached all-purpose flour
2 teaspoons baking powder

Preheat the oven to 350.

Place all ingredients in bowl of food processor and process until combined, about 30 seconds. Don't over process; the batter should be mixed completely but still somewhat chunky or lumpy. It should be moist but not runny.

Drop by heaping spoonfuls onto cookie sheets lined with parchment, or lined with foil and greased well. I prefer the parchment because the puffs brown more evenly on the bottom that way.

Bake for 25-28 minutes. The puffs should be just lightly golden and still very soft. Serve warm with sour cream, creme fraiche or Greek yogurt and fresh berries. I sometimes slice them open and put the mascarpone or yogurt and berries inside, but usually just eat the fix-ins alongside.

Cheese puffs freeze and reheat very well. Freeze them on lined cookie sheets in a single layer; once frozen, transfer to air-tight plastic bags. They'll keep for a couple months, if you don't eat them before then.

The recipe makes 18-20. If you have an extra large processor you can double and make 3 dozen puffs. Otherwise make two batches.