Here's a little something about me: I work in healthcare. Food is my hobby, my one love, but it's not, eh, my bread and butter. What actually pays the bills is doing research about healthcare reform. So you can imagine that with the passage of the new law, my professional life has jolted into high gear, and I've been workin' my little tuchus off like never before. Truthfully, work has been amazing lately. It's invigorating and empowering to work on something so relevant, so current, and so important. But it's definitely meant less time for the things and people I love. While I've tried to keep afloat posting new recipes, I probably haven't been as frequent a visitor to this space as I wish I could. I hope my posts haven't been too sparse; hopefully, things will calm down around mid-May, and I'll be back in the kitchen like it's my (dream-)job.
Meanwhile, let's talk about these awesome scones I made this weekend. I'll even share my foolproof trick for making scone dough, because I like y'all so much. That and more, after the jump.
One of the hallmarks of spring on the east coast is the sudden appearance, and almost-as-abrupt disappearance, of ramps. These onion-like greens, which grow wild for about five seconds at the start of the season, are treasured for their vegetal pungency and uber-freshness. They've got a tiny bulb at one end and a thin, delicate stalk at the other. They're fantastic in spring vegetable stir-fry, on crostini or focaccia, or in quiches and omelets. They're also the perfect addition to scones and biscuits, a would-be understudy for scallions that steals the show.
Now, I checked, and this is the first scone recipe I've posted on this site. Know why? Because so many scone recipes boast airy, light, flaky, buttery breakfast fare, but actually yield dense, brick-like concoctions that leave that horrid chalky sensation on the roof of your mouth after eating them. You know what I'm talking about. Why spend time perfecting scones when you can just….make biscuits?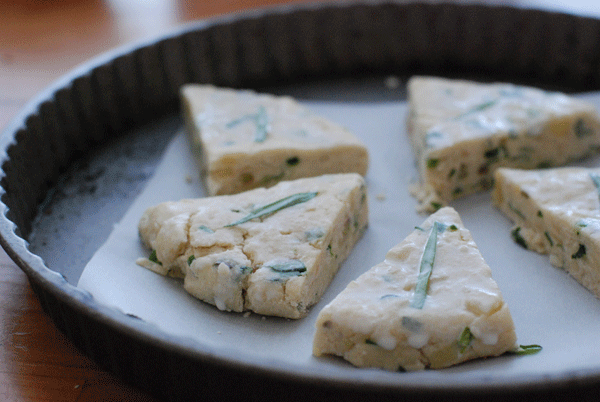 Well, I'm officially a scone convert. Or maybe I'm just a Karen DeMasco convert; DeMasco is the pastry chef at Locanda Verde in New York, and her book, The Craft of Baking, has yet to let me down. (Remember that blueberry tart? Yea.) Here's yet another successful recipe from her book, for scones so buttery, so flaky, so perfectly crunchy on the outside from the browned dough and crispy cheese bits, you'll never need another scone recipe again. With suggested modifications for savory versus sweet scones and explanations about the proportions of each ingredient, this recipe is versatile and thorough. I think, after last weekend, I'll be making scones much more often. I also think I'll be using this recipe every time.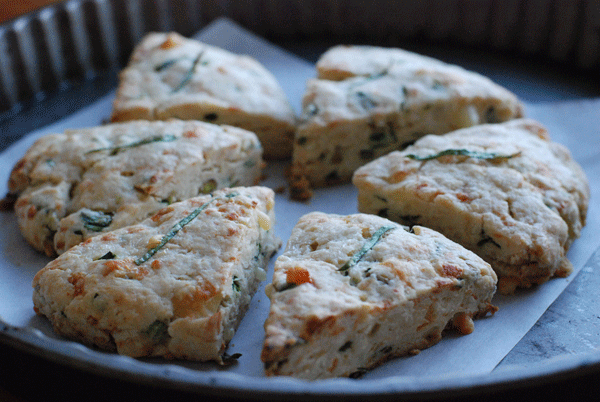 Cheesy Scones with Ramps
adapted from Karen DeMasco's The Craft of Baking

As I mentioned above, DeMasco offers modifications and proportions for sweet vs. savory scones, as well as a variety of possible add-ins. Because you really, truly should buy this book, I'm including only the actual recipe that I made. The tips for making other scones are worth the price of the book alone — and trust me, there's so much more where this came from.

I used mostly cream with just a splash of buttermilk, but the cup of milky liquid can be as much or as little of one or the other as you like. DeMasco calls for 1/2 cup add-ins total, but I cut the salt a bit in order to add extra cheese. Other than that, I pretty much followed her instructions. Have I mentioned the results were delicious?

Finally, my scone dough trick: no, I didn't forget! Keep reading.

1 3/4 cup flour, plus some extra for rolling
1 tablespoon & 1/2 teaspoons of baking powder
2 tablespoons sugar
1/2 teaspoon salt
1/2 teaspoon pepper
6 tablespoons cold butter, cut into small pieces
1/4 cup Appenzeller or other semi-soft Swiss cheese, cut into a small dice
1/4 cup chopped ramps, plus a few slivers to top scones (optional)
3/4 cup heavy cream, plus 2 tablespoons for brushing scones
1/4 cup buttermilk

In the bowl of a stand mixer fitted with the paddle attachment, mix flour, baking powder, sugar, and salt. Add the butter. Put bowl in freezer for 5 minutes to chill the flour. Then beat the mixture on low speed if using a mixer) until the butter is broken up into pebble-sized pieces, about 3 minutes.

Add the cheese and ramps. Then pour heavy cream and buttermilk into the bowl and mix just until dough comes together. But these are scones, so the dough probably won't just "come together." In that case, (HERE'S MY SCONE TRICK!), empty the contents of the bowl into either 1 quart-sized bag or two sandwich baggies, and press the dough inside the plastic until it actually does come together and stay that way (this has the added benefit of keeping your hands clean!) Mold the dough into one or two disks (I made two, for more equilaterally shaped scones; one disk will yield scones the shape of pie slices) and refrigerate about 2 hours or stick in the freezer for 15 minutes.

Preheat oven to 375. Roll out disk on lightly floured surface to form one 7-inch round or two 3-4-inch rounds. Cut 12 slices from the large round or 6 wedges from each of the smaller rounds, and arrange on a baking sheet (no need to leave much room between the scones). Lay a sliver of ramp atop each scone, then brush with cream (this will aid the browning process).

Bake about 20 minutes, until golden on top and browned on the bottom. Serve warm, with plenty of butter and perhaps a bit of ramp pesto (yum!)