Lovin' Deb at the Smitten Kitchen right now. I may or may not have spent two full nights sitting paralyzed in front of my computer, debating what the hell to make for Friday night dessert. I made a Mexican-themed meal (kinda) and simply couldn't decide on an appropriate finale. I debated making a torta from Diana Kennedy, a lemon cake, a ricotta tart, and countless other things that surely would have been tasty, but just weren't making my mouth water. Then, Deb posted a fantastic and easy chocolate pudding recipe from John Scharffenberger. I fretted not a moment longer. Pudding — unlike mousse, souffles, etc — is rich without being overkill. People would actually be able to eat an entire (small) bowlful. And from Deb's pictures, I could tell that this pudding would be thick enough to support a hefty spoonful of whipped cream and some berries. All I'd need now was something crunchy, to offset the soft and rich textures of pudding and whipped cream.
Enter Danielle of Habeas Brulee, another one of my oh-so-favorite bloggers. A while back, Danielle posted about some nutmeg-chipotle tuilles that she rolled and filled cannoli-style with chocolate mousse. I decided to roll half and stick them into the parfaits, and serve the rest flat so that people could crumble them into the pudding for some added crunch. Admittedly, the recipe seemed a bit finicky, but I gave it a go, and it produced excellent results after only one round of messups. And even they weren't really messups. I mean, I ate them all without complaining so they couldn't have been too bad.


To really make this dessert mexican-inspired, I spiked the pudding with 2 Tbsp of rum, a couple dashes of ground chipotle and — you guessed it — a grate of nutmeg, to complement the tuilles.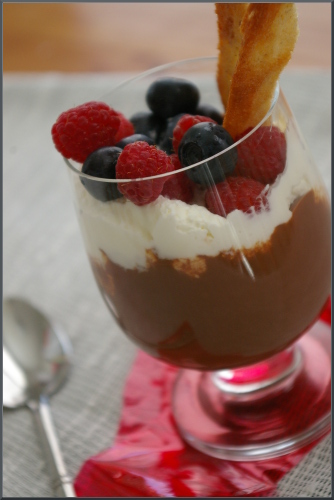 There are several ways to assemble this dessert, and it all hinges on what types of containers you're serving it in. First, they really should be transparent, to show off the pretty layers. If they're super-tall, create smaller layers and more of them — so pudding, whippped cream, berries, lather, rinse, repeat. If your glasses are short and stout like mine were, one layer of each is plenty Feel free to actually crumble the tuilles into a layer, or serve them on the side as I did. And make sure to roll at least a couple, as they make for pretty parfait-toppers. You'll notice that my picks have a two broken pieces of tuille. Obviously I served the pretty round ones to my guests, so apologies, but you get the shards 🙂
That said, this dessert is still freakin' awesome and remarkably easy to make. Assemble them after you clear the table, as it only takes a few minutes start-to-finish.
Silky Chocolate Pudding
Adapted from John Scharffenberger, via Smitten Kitchen
Serves 6
1/4 cup cornstarch
1/2 cup sugar
1/8 teaspoon salt
3 cups whole milk
6 ounces 62% semisweet chocolate, coarsely chopped (I used good quality chocolate in block form, and just chopped it up; use 70% bittersweet if you want more of a dark chocolate kick)
1 teaspoon pure vanilla extract
2 Tbsp. rum
1/2 tsp. chipotle
1. Combine the cornstarch, sugar and salt in the top of a double boiler. Slowly whisk in the milk, scraping the bottom and sides with a heatproof spatula to incorporate the dry ingredients. Place over gently simmering water and stir occasionally, scraping the bottom and sides. Use a whisk as necessary should lumps begin to form. After 15 to 20 minutes, when the mixture begins to thicken and coats the back of the spoon, add the chocolate. Continue stirring for about 2 to 4 minutes, or until the pudding is smooth and thickened. Remove from the heat and stir in the vanilla.
2. Strain through a fine-mesh strainer (or skip this step if you're a slacker like me who is absolutely certain that there is nary a lump her puddin') into a serving bowl or into a large measuring cup with a spout and pour into individual serving dishes.
3. If you like pudding skin, pull plastic wrap over the top of the serving dish(es) before refrigerating. If you dislike pudding skin, place plastic wrap on top of the pudding and smooth it gently against the surface before refrigerating. Refrigerate for at least 30 minutes and up to 3 days.
Nutmeg Chipotle Tuilles
via Habeas Brulee
Nutmeg Chipotle Tuiles
3/4 C granulated sugar
3 large egg whites
1/2 C butter (melted and cooled to room temperature)
1/3 C all-purpose flour
1 tsp vanilla extract
3/4 tsp ground nutmeg
1/4 tsp ground chipotle
Whisk the egg whites and sugar together, trying not to beat too much air in. Whisk in the butter. Add the flour, vanilla, nutmeg, and chipotle and again whisk just until combined. Chill in the fridge at least 4 hours before using, and up to two weeks.
Preheat your oven to 350º.
Put a Silpat or something of the sort (parchment paper can work, but it is wrinkly and non-ideal) on a baking sheet that will stay firm and flat in the oven (some of ours have a tendency to warp, so we are very careful which we use for this recipe).
Using a spoon, spread the batter as thinly as possible on the baking sheet in circles of whatever size you like. The batter is actually fairly thick when it comes out of the fridge, so this may take a few tries to perfect. I find that dropping a chunk of batter on the sheet and then using the back of the spoon in small circular motions to cream it before truly starting to spread it works very well.
Don't bake too many at the time, as you have to act quickly once they come out of the oven.
Bake until golden brown, 7-10 minutes.
If you do not have asbestos hands, put on a pair of gloves before the tuiles come out of the oven. Have a spatula ready so that you can start working it under your first cookie immediately after they come out. You need to shape them very quickly while they are still hot. Once they cool, which happens faster than you'd think, they become crisp and crack to pieces instead of being soft and moldable.
You can use just about anything to mold them into myriad shapes – try twisting them around the handle of a wooden spoon, or draping them over something small to create a bowl, or cutting the baked cookies into strips and playing with those – there are so many possibilities!
I found that I had better luck piping the mousse into the rolled up tuiles right after making it and before letting it set. Your mileage may vary. Try to serve the tuiles as soon after baking as you can, and certainly the same day, as they do tend to lose their crispiness after a while.
Note: Make sure to cool off your baking sheet before each batch, or else your cookie batter will melt as you try to spread it.