Ooh, have I been excited to tell you about these shortbread. I first made them as a way to use up some very ancient cocoa nibs taking up space in my tiny pantry. The irony: I loved them so much, I went out and bought more cocoa nibs to make them again. I've made them five times now, and since they keep so well, I've had a stash on hand at all times, for company and impromptu snacking. I tucked a few in my bag last weekend for a post-museum snack with my parents (they're very portable) and a few more for yesterday's baseball game. We served them on the patio last Sunday night to munch on after our gazpacho was gone. These cookies are happy things.
But mostly, I'm really excited to be back in the kitchen. Spring brought on a bit of a cooking hiatus: I didn't eat much of anything, let alone cook. D subsisted on frozen Indian food and lots of sushi, while I ate an obscene quantity of pancakes (out of the rotation for the time being). The upside: I have officially mastered one-bowl pancakes. They're done in around 10 minutes, they're darn near perfect, and when I can stomach the idea of eating them again, I'll share the recipe. But for now, we're on to bigger and much, much better things: if all goes well, come November, we'll be a family of three.
Yep, I'm pregnant. Fortunately, I'm out of that first-trimester haze, eating plenty of the green vegetables and rhubarb and other wonderful stuff spring has to offer, which I really couldn't fathom eating only a few weeks ago. I'm also cooking again, and starting to plan for a summer of no- or low-alcohol refreshers, which should provide some fun new blog fodder.
In the meantime, I know these cocoa nib shortbread cookies don't seem to sing "spring," but they are so, so worth making, regardless.
Can I tell you my favorite thing about them? It's a silly little thing, but the rolled-out dough looks exactly like granite: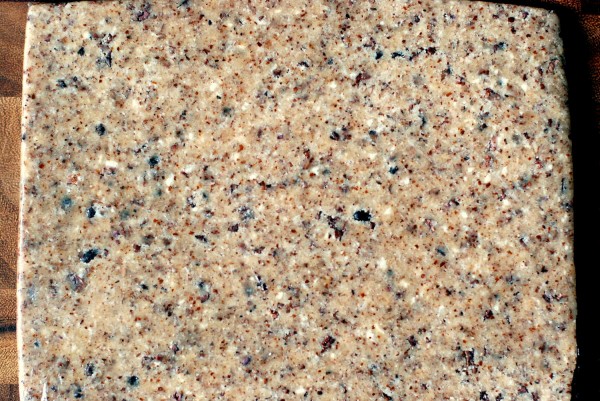 (It also happens to taste very, very good. Consider yourself warned.)
The other best thing is that the finished shortbread are really special. They taste like chocolate from all those nibs, but the flavor is earthier and less sweet than if you'd used chocolate chips. I confess to upping the salt a tad: I love a salty shortbread. But otherwise, the flavor is really really perfect. Imagine my surprise that the recipe comes (via Saveur) from Alice Medrich's latest book. All her recipes are pretty much perfect.
And that's what I have for you today. Make them tonight, serve them Friday, and your guests will be none the wiser.
Happy summer, friends. I'm happy to be back in the kitchen, and I can't wait for all that's to come.
One year ago:Â Cucumber-Gin Slushies and Cypriot Greens and Cheese Pie (two favorites)
Two years ago:Â Two cherished yogurt soups and Caramelized White Chocolate-Rhubarb Bars (gosh, May is an all-star month)
Three years ago:Â Simple Asparagus with Fresh Peas
Four years ago: Vanilla Custard Strawberry Tart and Singapore Slaw
Five years ago:Â Rigatoni with Broccoli Rabe and Pickled Cauliflower
Six years ago:Â Endive, Orange, and Avocado Salad and Rugelach
Cocoa Nib and Almond Shortbread
Adapted from Alice Medrich's Seriously Bittersweet

By nature a fiddler, I adapted this recipe each time I made it. Below is what I consider the perfect rendition. First, I made the cookies shorter. I found the long, skinny shape somewhat unwieldy for baking and especially for packing, and since I envision toting these to many summer picnics, non-breakability was key. Second, even though the cookies are much shorter than the originals, I kept the original baking time. I found that 20 minutes for the long ones left the cookie just on the wrong side of crunchy, which no one wants. If you opt for the longer cookie length, consider extending the baking time 2-3 minutes.

1 cup plus 2 tablespoons all-purpose flour
¾ cup ground almonds or almond flour
⅔ cup sugar
½ teaspoon kosher salt
6 tbsp. unsalted butter, cubed
¼ cup roasted cocoa nibs
1 teaspoon vanilla extract
â…› teaspoon almond extract

Pulse flour, almonds, sugar, and salt in a food processor until combined. Add butter; pulse until pea-size crumbles form. Add cocoa nibs, extracts, and 2 tablespoons of ice water; pulse until a crumbly dough forms. Lay a large piece of plastic wrap on a workspace; dump dough onto plastic wrap, and form dough into a 6" x 9" rectangle, about ½-inch thick. Truthfully, the size of the rectangle isn't important: just make a rectangle of even 1/2-inch thickness and you'll be fine. Wrap plastic wrap completely around dough, set on a flat baking sheet, and chill at least 3 hours or up to overnight. The longer you chill the dough, the better the cookies keep their shape.

Heat oven to 350° and line two baking sheets with parchment paper. Unwrap dough.

You are aiming for cookies that are 2″ x 1/2″ x 1/2″. I like to slice lengthwise into 1/2-inch sticks, then slice crosswise into 2-inch lengths. You can do the reverse, though. Just aim for cookies that are roughly 2 inches long, and you'll be good to go. Transfer cookies to parchment paper-lined baking sheets, spaced 1 inch apart. Bake until cookies are golden around the edges, 20-22 minutes. Let cookies cool completely before serving.