I know folks can get particular about their cornbread. The southerners have their version, savory and packed stiff with cornmeal. The Yankees swear by something sweeter, softer, moister. To loyalists, altering either recipe can amount to heresy.
I'm a northerner, of course, and in keeping with the customs of my clan, I like a sweet, soft, moist cornbread, with plenty of butter and maybe a dip of jam. I also like it on Thanksgiving, dunked in gravy and spread with cranberry sauce. That I am no purist goes without saying.
Corn muffins live, somehow, above the fray. You can put more cornmeal in them, or less. Add corn kernels, if you please. What the heck: even add maple syrup. It's all kosher.
That's why I'm here to tell you all about these fantastic corn muffins. Straying radically from tradition, they're packed with scallions and sour cream, gruyere cheese, and something totally unexpected – cumin seeds. So no, not exactly traditional; but they're muffins, so it's okay.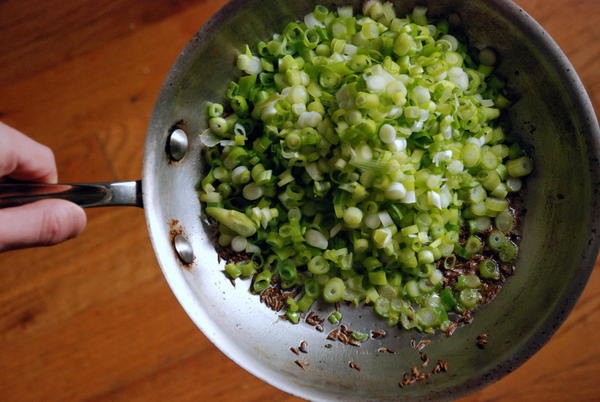 We ate them at Sunday brunch, and then had them again the next evening alongside a bowl of vegetarian chili. They'll keep at room temperature for about 4 days. On day 4, I halved and toasted one, and it was as good as new.
And listen: between you and me, if you decide that instead of baking these in a muffin tin, you'd rather pour all the batter into one big, 8×8 square tin or 8″ cast iron pan to make a single massive muffin (that subsequently can be cut into squares or slices), that's cool. You can even call it cornbread; I won't judge you.
Corn-Scallion Muffins
Very slightly adapted from Kim Boyce's Good to the Grain
Makes 12 muffins

So here's the deal: Kim Boyce says this makes 10 big muffins – the kind with floppy hats that bake on the tops of the muffin tins. But when I make muffins, I want 12 of them – a full tray. I'm okay with smaller muffins with muffin-sized tops, I just want a full tray of muffins. Irrational? Possibly. If you want to do things her way, you'll need two muffin tins, in each of which you bake 5 large muffins, alternating cups in filling so the muffins have room to spill over the top. If you do things my way, you're in luck: this batter is enough for 12 normal-sized muffins. Go figure.

1.5 cups sliced green onions
2 teaspoons cumin seed
5 tablespoons unsalted butter
salt and pepper to taste
2 cups grated Gruyère or similar, about 5 ounces

1 cup corn flour (I prefer one with a bit of coarseness, but any will do_
1 cup white whole wheat flour (can sub whole wheat pastry, regular whole wheat, or white)
1/4 cup brown sugar
2 teaspoons baking powder
1/2 teaspoon baking soda
1 teaspoon kosher salt

1.5 cups yogurt (Boyce uses sour cream, but yogurt lightened them, I think)
2 eggs

Preheat the oven to 350. Butter the muffin tins, and really, I mean butter them. If you're using liners, butter or spray those. These muffins stick. If making 10 big muffins (see headnote), butter the tops of the tins as well.

Heat a skillet over medium heat. Add cumin and toast until you smell it, and maybe some seeds start to pop (2-3 minutes). Then add the butter. When the butter melts fully and begins to foam, up, add the onion, season with salt and pepper, and sauté until the onion softens. Remove from the heat and let cool while you make the batter.

Mix the dry ingredients together in a large bowl. Stir in the grated cheese, then the onion-cumin-butter mixture.

Whisk together the yogurt and eggs. Add to the dry ingredients and gently stir to combine.

Fill the cups of the muffin tins about 3/4 full for regular muffins, rounded over the edge for bigger ones. Bake for 25-30 minutes or until the muffins are golden brown.

Boyce advises you to twist each muffin out of the cup and put it on its side to cool so you don't end up with soggy muffins. Serve warm or at room temperature.