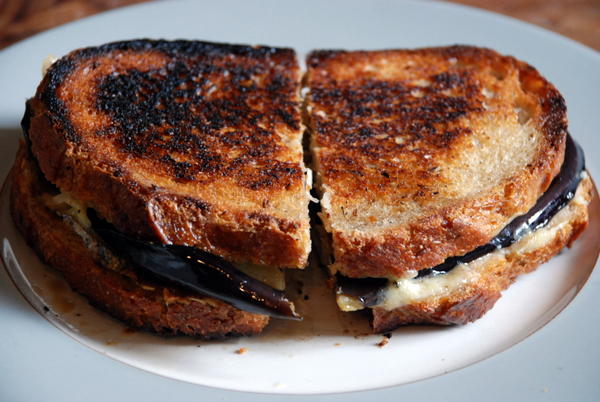 Over the years, my mother has taught me that rarely is restaurant food out of reach for the home cook. Once, she and I went to a Thai restaurant in Tenleytown; while I proceeded to heap spoonfuls of fish curry into my mouth, she speared a small piece of eggplant, took a bite, then another, and thought a long while before saying, "yep, I can make this one." And sure enough, she did.
Since adopting her practice, I've made Thai pomelo salad, Indian dosas, and Japanese ohitashi. I've developed a habit that waiters and cooks are almost guaranteed to find horribly annoying, where after trying something especially delicious, I ask just a million questions about what's in it, how it's cooked, what spatulas they use to flip it, etc. What's a girl to do? I can't schlep out to Woodlands every time a dosa craving sets in.
But last week, I attempted a new party trick. This one's called "recreate a restaurant dish you've never even tried." Ballsy? Yes.
But you know what? It totally worked.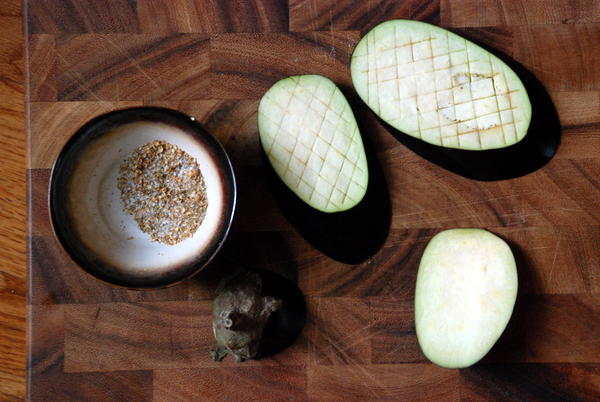 I encountered the Eggplant Ruben – or, rather, my friend Megan encountered it – when we went to DGS deli after work one day. What started as "just drinks" ended in hefty sandwiches and lots of napkins on the patio. I had my beloved pastrami, but Megan, a vegan, went with DGS's Eggplant Ruben, a riff on the traditional meat-filled, Russian-dressing-oozing number. Two slices of rye bread, lots of spicy mustard, Russian, sauerkraut, Emmenthaler cheese (which, needless to say, they omitted for her) and two big slices of spice-rubbed fried eggplant. I'll be honest: as I watched her bite down on that grilled beauty, I was a bit jealous.
So naturally, I did the only thing there was to do. I went straight to the market, bought an eggplant, and recreated the sandwich at home the next day. I didn't have Emmenthaler at home, nor did I have Swiss (a natural substitute), but I did have a lovely sharp cow's milk cheese from Cowgirl that melted perfectly. You, too, can use whatever you have on hand.
I read online that DGS used its pastrami spices to season the eggplant for the Ruben – that's coriander, fennel, and black pepper. I ground equal measures of each with quite a bit of salt, and sprinkled that onto my eggplant before frying it.
When it came to frying the eggplant, I wanted soft insides and crispy outsides, but I worried about the eggplant-as-sponge problem, where the thing emerges flaccid and full of oil. To avoid this, I experimented with a couple different methods for crisping up the eggplant. First was this method from Danny Bowien, chef at the amazing Mission Chinese. Bowien has you soak the eggplant in ice water, which – in the words of Saveur – "shocks the surface of the vegetable and fills tiny air pockets between the cells, preventing the oil from entering them." I believe that this works for Japanese eggplants, as he suggests, but my slices of regular eggplant did not take well to this approach.
Fortunately, my tried-and-true technique from Chow worked great here. Chow has you first steam the eggplant in a covered pan with a bit of water. Only after the eggplant has softened to you brush each side with oil to brown it. This way, each eggplant slice needs only a small amount of oil and still gets plenty crisped.
In this case, after steaming the eggplant, I brushed it with oil and sprinkled on the spices. I also added a few more drops of oil to the pan, because I wanted more than just a browned exterior – I wanted crispness. Feel free to adjust the oil used to your preference.
The rest is simple: good rye bread brushed with olive oil, plenty of mustard and sauerkraut, Russian dressing if that's your thing (not mine), cheese, and the eggplant slices. Fry up the sandwich grilled-cheese style, and you've got yourself a bang-up lunch that'll please vegetarians and meat eaters alike.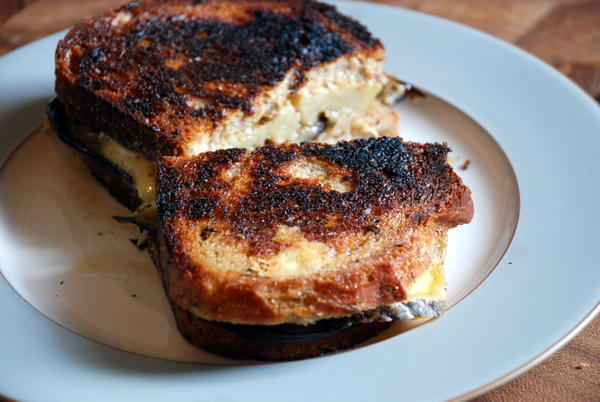 Crispy Eggplant Ruben
Inspired by DGS Deli
Makes 2

4 slices rye bread
4 1/2-inch bias-cut slices of eggplant, scored in a crosshatch pattern
1/4 cup olive oil (or more, as needed)
1/2 teaspoon ground fennel
1/2 teaspoon ground coriander
1/2 teaspoon ground black pepper
1/2 teaspoon salt
4 slices Emmenthaler, Swiss, or other sharp, meltable cheese
spicy grainy mustard
Russian dressing, optional
1/2 cup sauerkraut

Cook the eggplant: Set a wide shallow nonstick or castiron pan over medium heat and add 2 tablespoons of water to the pan. Set the eggplant slices in the pan, cover with lid or foil, and steam for 2-3 minutes on each side, until softened but still fully intact and slightly firm. While eggplant steams, grind (if needed) and mix spices and salt in a small bowl. Remove then lid; all the liquid should have evaporated. If not, drain the pan.

Paint the face-up side of each slice of eggplant with a generous coating of olive oil. Sprinkle a bit of the spice mixture on top. Then crank the heat up to high, flip each eggplant slice over, and repeat brushing and seasoning on the second sides while the first sides crisp up. Fry for about 2 minutes on each side, until eggplant has crisp edges and a soft, tender center. Transfer to a plate in a single layer, lined with paper towel if you wish. Reduce heat to medium.

Prepare the sandwich: Lay the slices of bread on a work surface so the sides you eventually want on the inside of each sandwich are face-up. Spread slices with your perfect amounts of spicy mustard and/or Russian dressing. Lay two eggplant slices on one side of each sandwich. Â Top each with sauerkraut and two slices of cheese. Lay the second slice of bread on top and press down firmly on each sandwich.

Add some olive oil to the pan. I like to add about half a tablespoon per side per sandwich, but you can also just brush each side of bread with olive oil, which probably uses less overall. Lay the sandwiches in the pan, and fry each side for 3-4 minutes, until the cheese has melted and the bread is fully browned and crispy.

Remove sandwiches to a workbench or plate, slice in half, and enjoy immediately.