Anything that has the words "down and dirty" in the title is something I will, sooner or later, make. "Down and dirty" suggests a rough-and-tumble version of the refined original, something you're more likely to eat on your front stoop than in a dining room. When I hear down and dirty, I see myself in cutoff jean shorts and one of those ribbed white tank tops, sitting outside on a balmy summer day. There are mosquitos in the air, bangs in my face. I'm eating from a clay bowl I threw in the pottery studio down the street. When lunchtime rolls around, I notice some chickpeas in the cabinet, so I decide to throw them in with some chili, anchovies, and pasta, and call it lunch. Down and dirty lunch, that is.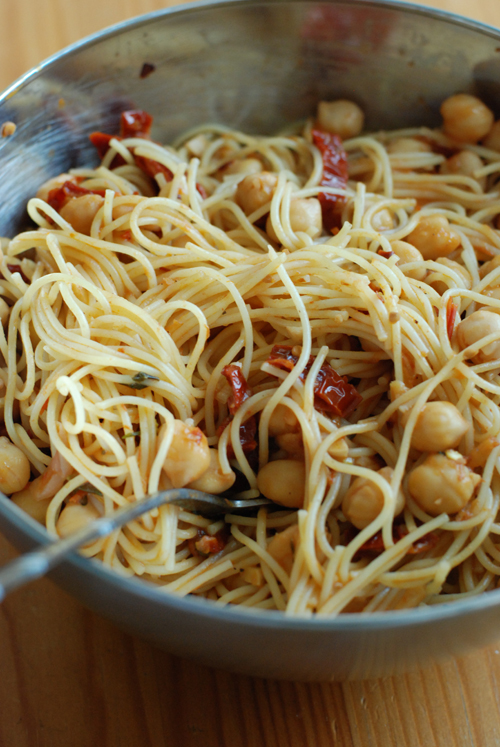 Surely you can understand how, when I saw a recipe for "down and dirty pasta e cecci" on Food52's website (via Jennifer Steinhauser of NYT, via her friend fisheri — that's his username, not his real name — oh, the confusion!), I simply had to make it. Mind you, I didn't even know what "cecci" were. I don't speak Italian. But down and dirty pasta is something that best be coming out of my kitchen, like, pronto.
I read the recipe around 8am. Turns out cecci are chickpeas. Great! I love chickpeas. At 8:03, I was in the kitchen, a pot of water boiling on the stove, rummaging through my cabinets for a (suddenly precious) can of chickpeas. With good anchovies in the fridge and a can of tomatoes by my side, I was moments away from having a tupperware of down and dirty pasta and cecci for lunch. Chickpeas were found, I got down and dirty in the kitchen, the rest is down and dirty history.
As Jennifer rightly points out, this is the kind of recipe that lends itself to adjustments — both intentional and entirely accidental ones. Fisheri calls for fresh tomatoes, but I assure you if he'd written the recipe during an East Coast winter, he'd have called for canned. I actually cheated and used half canned tomatoes, half sundried tomatoes that I reconstituted in a bit of boiling water. Come summer, I'll try this with fresh ones, but not these days. I have a unconquerable weakness for spice, so I've added chili flakes both times I've made this recipe, and highly recommend them. Fisheri called for farfalle or another small pasta, but I broke all the rules and used spaghetti. Know what? It was still delicious. In terms of the liquid used, I've tried it with chicken broth and water; both are fine, broth is is better. If you use water, be sure to really load up that bowl with cheese. As for the rosemary: it's delicious, but so was a sprig of thyme that I accidentally used instead. Any which way you make it, dinner (or lunch) just doesn't get much easier.
Also, now that I have your attention, apologies for the shameless self-promotion, but if I can't do it here, where can I? I'm super excited to announce that I'm featured in this week's Washingtonian Blogger Beat! Check it out!
Down and Dirty Pasta e Cecci
From Food52, via Jennifer Steinhauser, via her friend Fisheri

2 cloves garlic
4 filets anchovies
3 sprigs rosemary
3 tablespoons olive oil
chili flakes to taste
1 can chickpeas, drained
4 ripe plum tomatoes (or 4 canned tomatoes, strained if desired; or a mix of canned and sundried, reconstituted; you get the drift: anything goes.)
1/2 pound small pasta like farfalle (I used spaghetti)
4 cups chicken broth or water
heaps of grated parmesan
salt and pepper

Dice garlic, roughly chop anchovies, and cut up tomatoes.

If using water instead of broth, bring water to a boil in small pot.

In a large pot over medium heat, saute the garlic, anchovies, and two sprigs of rosemary in olive oil until anchovies melt into the oil. Add chili flakes, if using.

Add chopped tomatoes. Saute 10-15 minutes, until tomatoes are cooked through. Taste, and salt if needed.

Turn heat to medium-high and add chickpeas, along with a few cups of boiling water or chicken broth. Ad last sprig of rosemary and bring the whole thing to a gentle boil.

Add pasta. If liquid doesn't cover pasta, add enough that it's just covered. Reduce heat to simmer and cook for one minute less than the pasta package recommends. You want the pasta to be cooking in what will become its sauce, so add liquid only if necessary; you don't want the sauce to be too thin.

When the pasta is done, spoon it into bowls, grind in some pepper, and top with as much parmesan cheese as your heart desires. Add a glug of olive oil, if you like. Dig in.