When it comes to Passover and any other diet-restricting events or circumstances, I'm a firm believer in eating things you'd enjoy any other time. Forget matzah-meal muffins and "Passover rolls." I'd rather eat undressed lettuce and oranges for a week straight than endure those lame excuses for bread. Gluten-free folks may feel differently, since their restrictions aren't temporary; for the rest of us, I strongly recommend sticking to recipes for delicious things that happen not to call for flour.
For our eating pleasure, I've compiled a small list of flourless baked goods. These are recipes I've gathered over the years — one as recently as last week — that help ease the annoyance of going without bread for a week (or more).

Chocolate Puddle Cookies
Courtesy of the lovely Heidi at 101cookbooks, the batter for these cookies looks like, well, a big puddle, but the blobs bake up into crackly, tender morsels. They take approximately 15 minutes, start to finish, and are the perfect answer to a sudden cookie craving.
3 cups / 11 oz / 310 g walnut halves, toasted & cooled
4 cups / 1 lb / 453 g confectioner's (powdered) sugar
1/2 cup plus 3 tablespoons / 2 oz / 60 g unsweetened cocoa powder
scant 1/2 teaspoon fine grain sea salt
4 large egg whites, room temperature
1 tablespoon real, good-quality vanilla extract

Preheat oven to 320 degrees. Line three rimmed baking sheets with parchment paper.

Make sure your walnuts have cooled a bit, then chop coarsely and set aside. Sift the confectioner's sugar and cocoa powder together. Stir in the walnuts, then add the egg whites and vanilla. Stir until well combined.

At this point you have two options: you can either add the salt to the batter and stir, or you can sprinkle a bit of salt atop each cookie. I like the second option, because you get a more prominent hit of salt with each bite.

Spoon the batter onto the prepared sheets in mounds of about 2 tablespoons each, allowing for PLENTY of room between cookies. Don't try to get more than 6 cookies on each sheet, as the cookies expand a lot in the oven. For the same reason, don't scoop the batter too close to the edge of the pan.

Bake about 12-15 minutes, watching carefully at the 12-minute mark: the tops should be glossy and cracked. If your oven is very uneven, rotate pans side to side and/or back to front halfway through. My cookies didn't need a second longer than 12 minutes.

Slide the cookies still on parchment onto a cooling rack, and let them cool completely. They will keep in an airtight container for a couple days.

Makes 18 large cookies.
Italian Chocolate Almond Torte
From Alice Medrich's wonderful book Pure Dessert, this cake is sophisticated and elegant, finished with a dusting of cocoa and topped with a dollop of unsweetened whipped cream. Your guests will never know its main ingredients are almond flour and egg whites. Another lovely surprise is the flakes of ground, not melted, chocolate running through the batter. I've spent the past three weeks searching for my images of this torte, but I'm afraid they've been lost in the tangle of pictures that is my laptop. Imagination will have to suffice.
Italian Chocolate Almond Torte
adapted slightly from Alice Medrich's wonderful book, Pure Dessert

1 cup (5 oz) blanched or unblanched whola almonds
7 oz. high-quality bittersweet chocolate, roughly chopped
3/4 cup sugar, divided
1/4 teaspoon salt
7 large egg whites (about 1 cup)
1/4 teaspoon cream of tartar
powdered sugar or unsweetened cocoa powder for dusting
unsweetened whipped cream for serving

Position a rack in the lower third of the oven and preheat to 350 degrees. Grease the bottom and sides of a 9-inch round springform pan, and line the bottom of the pan with parchment paper.

In a food processor, combine almonds, chocolate, 1/4 cup sugar, and salt and pulse until almonds and chocolate are very fine but "not completely pulverized." Alternatively, you can use almond flour and just pulse the chocolate — but grinding fresh almonds will give this cake a great texture.

In a very clean, dry bowl of a stand mixer or a large metal bowl using a hand mixer, beat egg whites and cream of tartar until soft peaks form. Gradually add remaining 1/2 cup sugar to egg whites, and continue beating until egg whites form stiff peaks but are not dry. Gradually add almond mixture to egg whites, in thirds, folding the two together with a spatula.

Scrape the batter into the springform pan and use spatula to smooth out the top. Bake until the torte has risen and is golden brown on top, and a toothpick inserted comes out with nothing more than some melted chocolate on it, 25-30 minutes (mine took 25 exactly). Set the pan on a rack to cool for 10 minutes, then slide a knife around the perimeter of the cake and carefully remove the sides of the pan. Invert the cake onto the rack — or, if the grates on your rack aren't fine enough, use a plate — and remove the bottom of the pan and then the parchment liner. Use two plates to flip the cake rightside up again, and cool completely. Cover the cake or tightly wrap it, and store for up to 3 days at room temperature.

To serve, dust with cocoa, and top each slice with a dallop of unsweetened whipped cream.
Meringues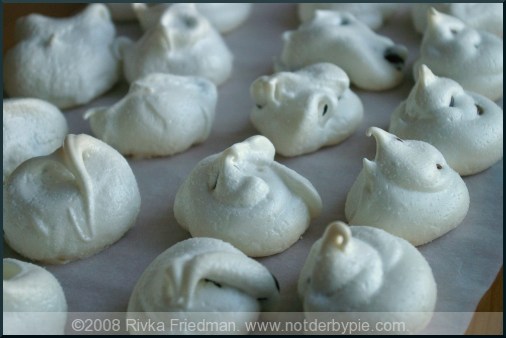 Meringues are, in my opinion, the ultimate Passover dessert. They're flourless, thoroughly enjoyable, and highly customizable. Last year, my mom and I made some several varieties. One had chopped walnuts and a bit of coffee (they were divine), another had plenty of vanilla and a sprinkle of chocolate chips. The possibilities here are limited only by your imagination. Try adding lemon or orange zest to a batch with pecans, or almond extract and a bit of cocoa for a totally different flavor. I've already written out the recipe for meringues here.
Macarons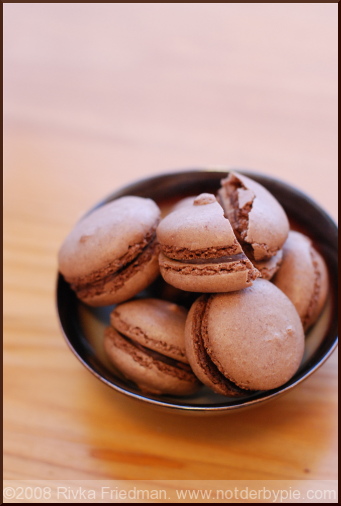 The ultimate in flourless delicacies, Macarons are having a moment in the spotlight these days. They're a pain in the derriere to make, but when you put these out at the end of your Seder or dinner party, guests will know you're their biggest fan. Recipe and detailed instructions for macarons can be found here.
But hold up! We're already talking about dessert and you haven't even finished making dinner! I hear ya. If you're still trying to sort out the rest of your Passover menu, here are a few ideas: