Back in August, D and I went on vacation. The trip was a celebration of D's taking the bar, so the destination was her choice. Thankfully, she gave up early aspirations to spend hours in a dinky rental car driving through farmland (read:roadtrip) and set her sites on two luxurious weeks of eating and drinking in Northern California. We ate our way through San Francisco, from taquerias to pizza in the Mission to the amazing Coi; and we roamed the grapevines of winemakers in Napa, Sonoma, and Healdsburg. Before we left, D admitted her fear that once we went, I might never return. When the two weeks were up, I reluctantly boarded the plane back to DC, but I've been scheming ever since to return to those parts. PNW and I, we're quite a match. (My excessively enthused write-up of that trip, in 3 parts: 1,2,3.)
It won't surprise you, then, that when an opportunity arose to travel to Seattle on business, I jumped at the chance. I booked a flight that would plop me down Saturday night, leaving me a full day to explore the city before work kicked in. Then I hit the books.
Here's the thing about my travel style. I may not be the best when it comes to printing boarding passes way in advance or crossing the Ts of our hotel reservations, museum appointments, etc, but people, I know how to pick a good restaurant. I realized this on my last night in Seattle, perched at the bar of a truly great restaurant – the kind of place where chefs hang out after work, apparently, but I'm getting ahead of myself – as I considered how many other possible eateries I'd entertained for that evening. (The answer, no joke, is approximately 30.) I haven't always had amazing restaurant karma, but this Seattle trip presented one excellent meal after another. So, shall I tell you all about them?
Pike Place Market
I spent my first morning in Seattle roaming around Pike Place Market, the famed outdoor public marketplace that runs along the waterfront just half a mile north of downtown. I started the morning with coffee at Local Color, a cafe on the eastern edge of the market that brews coffee from cafe vita, a small batch roaster based in Seattle. Caffeinated and with sneakers on the feet, I walked up and down the market, picking my way through seafood cocktails, chinese meat-filled buns (from Mee Sum), croissants (Le Panier and elsewhere), and other small bites. (I had tried to stop at The Crumpet Shop, at First just north of Pike and technically inside the market, but they're closed as of January 2011 for earthquake retrofitting.) Local Color is cute, Le Panier is as French as you'd expect, and Mee Sum makes some tasty braised meat, but none of the three really blew me away. (Though I will say, the oyster shooter from the seafood stand was unbelievable.) The highlight of the experience was more the market itself, which on a weekend day just buzzes with people (yes, many of them tourists) taking it all in. It's also quite neat that Seattle's downtown follows the water. It makes a traditionally tourist-laden area feel somehow less claustrophobic, more enjoyable.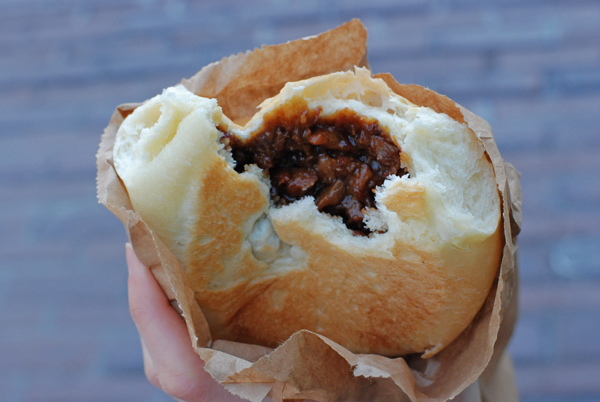 Belltown
From there, I roamed northward, weaving back and forth between 1st and 2nd depending on what looked interesting up ahead. I stopped in a couple boutiques, gazed longingly at the menu for Shiro's sushi (which I never did visit – next time!), and took pretty pictures of the carrot cake cupcakes at Macrina Bakery.
When I hit Denny, I headed eastward to the Space Needle, which is nice in that uber-touristy kind of way. It's a steep 18 bucks for a little ride into the sky, and when I found out that the wait was 30 minutes long, I junked the idea and steered back toward the market. Someone will have to let me know just how awesome the view is.
Capitol Hill
But restaurants! That's why you're here. That first night, after extensive deliberation, I settled on the oyster power hour at Anchovies and Olives. It's a sweet little restaurant whose sister operation, Staple and Fancy, was a top contender for that evening's dinner. Unfortunately, it was across town from my oyster power hour, so I opted instead to have dinner at an unrelated neighbor, the formidable Italian restaurant Spinasse. I can't authoritatively say whether Staple and Fancy would have been great (though I have no doubt it would have been), but people, the pasta at Spinasse was some of the best I've ever had. Including in Italy.
Theoretically, it'd be hard to top that meal. "Best pasta ever" is pretty much my holy grail of good eating, and homemade angel hair, which was what I had at Spinasse, is my holy grail of good pasta, so you do the math.
Still, Seattle had more up its sleeve. The next evening was Valentines' Day, aka the worst night of the year to eat in a restaurant. I'd not only be out to eat, I'd be doing so alone; while I actually really like solo dining, smart people do not see Valentines' Day as an opportunity to waltz into a restaurant and proclaim, "party of one." Knowing this, I had done some digging around to find spots with a) great bars, b) great food, and c) some sort of flash that would deter the standard candlelit dinner Vday crowd from coming. My choice was the phenomenal Licorous, which does a special menu on Monday nights comprising Thai street fare. The special menu is inspired by the husband-and-wife team's recent yearlong stay in Thailand, and eating at Licorous has only made me more certain that D and I should honeymoon there. Everything is crunchy, spicy, salty, tangy, and sweet, all at once. The tamarind chicken is downright addictive, and the ribs seem to have been coated in some form of crack. The drinks also were up to snuff: a dark 'n' stormy was made with fresh, locally-made ginger beer, which was spicy and bright. The bartender was charming and funny, and I even made a couple friends at the bar: one of them, Zephyr Paquette, is a local chef, a sweet, warm, outgoing woman. All in all, this was the best non-Vday-ish Valentines' Day dinner ever. Go there. Go, go, go.
My own research aside, I had gotten several recs from friends hailing from PNW, and I couldn't leave the city without at least giving them a spin. Yes, I stopped by El Puerco Lloron for a couple (fresh!) tacos. I
I stopped at the fish counter in Pike Place and bought the largest oyster cocktail I've ever seen.
I even hustled out to Le Pichet for an early-morning breakfast. Their honeyed homemade yogurt with walnuts really hit the spot.
And of course, I made sure not to miss the awe-inspiring public library, which makes you wonder why every library isn't this enticing:
I even got a chance to sample three of Seattle's chinese restaurants (I didn't make it out to Bellevue, where apparently the best of the lot are located; what I had wasn't bad, but Rockville's best places put this stuff to shame.) But my favorite two experiences were definitely Spinasse and Licorous. The food at each was really, really good; the service was warm and friendly without being overbearing; and the people next to me at each were incredibly friendly. That's the thing about Seattle that I'm still thinking about — how friendly everyone is. If you've never been, put it on the list. Then bump it up a few slots. I'm already trying to find my way back.