Remember that post I wrote back in January about our trip to Vietnam? Well, there was a second half to that trip. After traipsing around Ho Chi Minh City and Hanoi for a week, we flew over to Chiang Mai and spent a week exploring Thailand. I figured I'd tell you about the trip in stages, because gosh, there's so much to tell. But then January was a crazy month, and February was, too, and before I knew it, it was March. (Can you believe it's March?) Well, now I'm finally back. I've gotten emails from quite a few of you asking for the details of this half of my trip – it seems there are quite a few of you who are planning trips to Thailand – so, without further ado, here are some vignettes from week 2.
Chiang Mai
Chiang Mai is a small city in northern Thailand, and it's the starting point for many of the treks, bike trips, and other activities in the north. It's a bit of a hippie town, with enough yoga studios to hit a different one every day for weeks. However, it's also a tremendous food city, with plenty of hole-in-the-wall establishments that serve the unique food of northern Thailand.
Gat Luang
We started our first day in Chiang Mai by walking from the center of the city to just beyond its northeastern edge, to explore the neighborhood and markets of Gat Luang. We first learned about Gat Luang from Robyn Echhardt and David Hagerman, intrepid travelers of Asia and masterminds of the Eating Asia blog. Eating Asia was an invaluable resource to us throughout our trip, and Robyn graciously answered many little questions via twitter across those two weeks.
While in Chiang Mai, Robyn and David adopt Gat Luang as their home base. They've spent many weeks and months exploring the food markets of Gat Luang and getting to know their vendors. They've written extensively about two markets in particular: Warorot market and Don Lam Yai market. We visited both.
Before even getting to the prepared food, I became fixated on the fruit. Warorot has rows and rows of vendors displaying every type of dried or preserved fruit imaginable: kiwis, three kinds of mangos, five kinds of plums, cherries, gooseberries, and others I didn't even recognize.
There were quite a few stalls selling nothing but chili paste. If I knew any Thai at all, I'd have asked about the difference between the various barrels. Instead, we went and grabbed donuts:
Fritters are ubiquitous at both Warorot and Dom Lam Yai. Robyn and David wrote about one vendor who makes fritters in the shape of dragons, but his stall closed before we arrived. Still, we managed to eat more than our fair share.
And when we'd eaten a belly full of donuts, we moved onto Thai sweets – mostly glutenous rice-based confections in funky pastel colors – that Robyn and David listed as a must-try:
This woman was hard at work when we finally found her stall, Khanom Thai Bandai, which makes fantastic Thai sweets. We took one bite, shook our heads, decided we were too full to enjoy, and stowed them away for later.
We couldn't leave the market without grabbing a container of sticky rice, half topped with sweet, sweet mango and half topped with fantastic custard:
And okay, we also ate just one grilled banana. How could we resist? Thai bananas are so small and sweet, and when they sit on the grill for a long while, they get even softer and sweeter:
But then we had to stop. My god, we were so stuffed. So we just browsed the shops, with their beautifully patterned tablecloths, gooseberries and poppy seeds, dragon fruit and strawberries, and more:
At the end of our walk, we found a small stall in the external part of the market selling steamed sweet coconut and rice pancakes filled with coconut cream. Natch, we got a basket of them. Yes, we ate them all. They were outstanding, and I feel pretty confident we could make them at home. I'm looking for a recipe.
If you're ever in Chiang Mai, don't miss Gat Luang. The neighborhood clearly has such a rich history, and the food – fresh, raw, cooked, preserved – is not to be missed.
Toward the end of the day, we passed by a man riding a bike with a large food cart attached to the end. (Bikes seem to be the main mode of food transport for food vendors, and possibly other vendors, in SE Asia. In fact, bikes apparently are a common mode of transport in other parts of Asia as well: Slate just published a fantastic photo series of China's bike peddlers that you absolutely must check out.) This one peddler was selling bubble tea and juice in little plastic bags, again, a very common way to package and purchase individual servings of food and drink:
At night, Chiang Mai's main drag transforms into a "walking street," or street fair. Artists, food vendors, live music, the whole shebang. We browsed, bought baby gifts, and ate this fantastic som tam:
Som tam is green papaya salad.  "Tam" means "to pound," and the Thai make their som tam in a mortar and pestle, pounding shreds of firm green papaya with dried fish, green beans, cherry tomatoes, and peanuts. The whole thing is dressed with a fiery mixture of fish sauce, lime, sugar, and chiles. When you eat som tam, you start to sweat from all that chile, addictive balance of sweet and sour makes you keep on eating. The som tam I had at Chiang Mai's walking street also had raw slices of tiny green eggplant, which made it substantial enough for dinner.
Biking from Chiang Mai to Chiang Rai
After a few days exploring Chiang Mai, we spent the better part of a week riding on bikes from Chiang Mai up to Chiang Rai. The trip was organized by Spice Roads, which offers various bike tours across Asia. We spent five days riding through the hills, farm lands, and coastal roads of the north, occasionally riding along the Burmese border. The trip was a fantastic way to see parts of the country we otherwise would have missed, and it gave us license to eat as much of northern Thailand's incredible food as we wanted.  I can't recommend Spice Roads highly enough.
Our guide, ­­Noom, grew up in a family of farmers, so he frequently pulled off the road to show us some of his favorite indigenous plants. One in particular has leaves with sap like glycerin, and if you peel the leaf open just so, you can blow bubbles from the sap:
On the first day, we stopped only a few hours in to have lunch at a natural park. The view? Not too shabby.
If you were to eat at a restaurant at a natural park in the US, you'd probably "feast" on hot dogs, potato chips, and Coke. The natural park in Chiang Mai had a full menu, and when we told them to bring us a bunch of their favorite dishes, here's what landed on our table: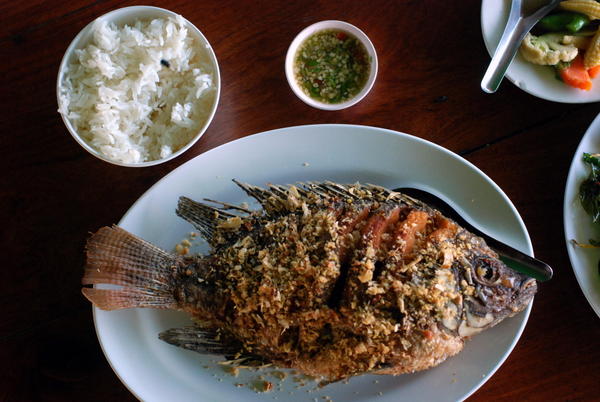 That top dish was one of the best things I ate across our two-plus weeks away. It's a salad of crispy Thai herbs tossed with cashews  and tamarind dressing. Look carefully: that platter had heaping handfuls of kaffir lime leaves, used like lettuce. In the US, kaffir leaves cost $5 for three. The bowl also had sprigs of fresh green peppercorns, fried to a crisp. It had morning glory and holy basil and Thai mustard leaf and many other herbs I didn't recognize. And that dressing! Sweet and sour and very spicy. Totally addictive.
The crispy fish quickly became D's go-to dish. She ordered it probably 7 or 8 times across the trip. It's a whole fish, deep fried, and served with sticky rice and spicy green chile sauce. Again, addictive. I could eat this meal every day for weeks. Um, that's kind of what we did.
One early morning on our bike ride, we found ourselves very near the village where our guide grew up. Lucky for us, we also were there during the two weeks each year when bamboo trees are young enough to harvest and cook. There's a small shed in our guide's home town where two women make a special delicacy whose name I unfortunately don't know, but apparently the shed is famous for miles, and people travel a long way to get these treats while they're in season.
Tender bamboo shoots are cut into segments and stuffed with a mixture of sticky rice, coconut milk, and red beans. The ends of the shoots are stopped up with hay, and then the shoots are left to cook in front of an open fire. As the shoots brown, the rice inside cooks up.
Once the browned shoots have cooled slightly, the tough outer stalks of the shoot are cut away, revealing a perfectly cooked log of sweet, smoky, sticky rice studded with red beans:
Watching these women move seamlessly back and forth between the flame and the pile of bamboo shreds, tending and turning, cleaving and peeling, all while never saying a word: it was really quite magical. Truly one of the highlights of our time up north.
We spent our final evening of the bike trip at a resort accessible only by water. The next day, after a short boat ride to shore and a three-hour jaunt by bike to the highway, we were done. Sak, our driver, picked us up and drove us the ten minutes to Chiang Rai, where we stopped for lunch and watched a very talented woman cook up four plates of pad thai to order:
With the bike trip behind us, we headed to Bangkok.
Bangkok
People told me I wouldn't like Bangkok. They said it's basically a big city with lots of pollution and not much that's special about it. Having spent 4 days there, I couldn't disagree more. The  food alone is enough to make it worth a trip. 
In our first two hours in Bangkok, I managed to discover a dish with which I would subsequently become so obsessed, I'd go through approximately 20 test rounds to recreate it at home: yam som-o, Thai pomelo salad:
This stuff is the stuff of dreams. I've waxed poetic about it here, so I'll spare you another ode. Suffice it to say, you've got to either get yourself to Bangkok, or make my recipe at home. Preferably both.
We also quickly discovered fried bananas, another memorable snack of the trip. Pieces of banana are wrapped in a dough of rice flour and black sesame seeds, then fried. The rice flour makes the dough super crispy, and the bananas get all soft and sweet. They're so addictive, I'm pretty glad you can't get them in DC.
We took a weekend tour of some of Bangkok's best food stalls with a company called Bangkok Street Food Tours. The experience was a bit on the touristy side, but it was an easy way to sample Bangkok's rich food heritage. The view from our escalator down to the street looked really promising:
And what came next proved worth the hype. We started with Thai duck, prepared a lot like Peking duck: crisp-skinned, with loads of flavorful broth – but this time, with plenty of pickled ginger and cucumbers on the side. Unbelievable.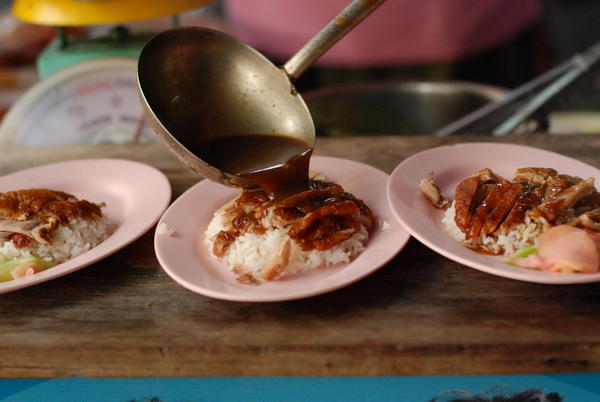 They even had a special plate of vegetarian noodles for D, which she loved. 
Over the course of the day, we tried Massaman egg curry, whose sauce was spicy and loaded up with turmeric and curry. We had plenty of som tam (even some packaged in plastic bags for the road) and washed everything down with Thai iced tea (also in bags!).  The tour was a great way to spend the morning, and I'd highly recommend it.
But you'll learn even more – eat even more – if you have a friend in the know. In our case, though we came to Bangkok entirely alone, thanks to the wonders of Twitter, we made a friend while in town. Her name is Chawadee Nualkhair, and she writes the fantastic blog "Bangkok Glutton" about food in BKK. Chawadee literally wrote the book on Bangkok's top food stalls, which served as an indispensable resource for our trip. Chawadee also happens to be exceedingly generous with her time, so on Saturday night, we met up with her in Chinatown, and she took us around to some of her favorite spots.
Late in the evening, we stopped at this little spot in an alleyway, where an old couple makes some of the best fish soup we had across the two weeks. Here's the son, cutting up big hunks of fresh sea bass:
And here's the end of the bowl we happily shared:
If we spent most of our time with Chawadee eating hyper-authentic Thai food, our last stop was anything but. With a giggle, Chawadee grabbed a cab and took us to this place that literally had a line of gabbing teenagers out the door. What was it serving? Toast. No, seriously: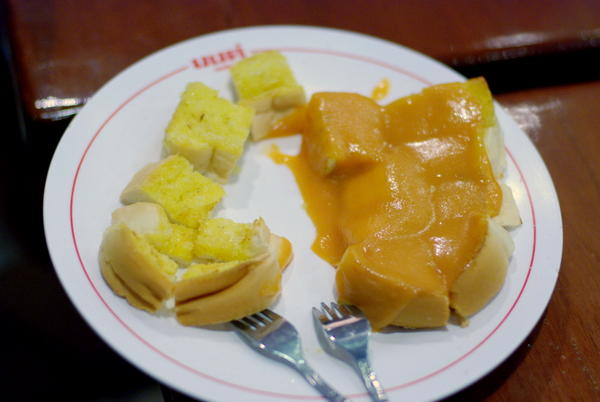 This place makes toast, tops it with something delicious (coconut caramel; chocolate; cinnamon-sugar; etc) and sells it for 20 baht a pop. The kids love it. We thought it was hysterical, in a "why did we just pay for this?" kind of way. But also a "wow, this is pretty delicious" kind of way. I'll tell you one thing – caramel-covered toast makes a great nightcap.
Lest I make it seem like all we did for 2 weeks was eat, we did see some pretty beautiful temples and other sights while we were in town. What most struck me about the temples we saw was that from far away, they looked as grand as this:
But that when you get up close, they are as ornate as this:
And there are people whose job is to literally hand paint the various sculptures as bits and pieces of their paint start to chip:
The maintenance of temples alone must be a huge industry. 
We also loved exploring the Jim Thompson house, a gorgeous, traditional Thai-style house built and decorated by the man who made his money by importing Thai silks across the world. There are folks still onsite spinning silk today:
All in all, it was a magical trip in so many ways.
But what really won my heart at the end of the day, of course, was the food.  In case it wasn't obvious, we also ate our weight in mango:
And noodles, of all varieties:
And pomegranate juice:
And so, so much more. I'd go back in a heartbeat. Bangkok is fast-paced and modern, but still totally different than anything we're used to experiencing in the US. For those of you planning trips (I know there are quite a few), I've included some links at the bottom of this post to help get you started. Please, please leave comments if you've been or are planning to go. I'd love to hear what you did; consider it fodder for my next trip!
Links
In Chiang Mai, we loved our stay at Oasis Baan Saen Doi. It's a resort in a sleepy neighborhood outside the city, and they offer a free shuttle service to town every day. If you're only in town for a couple days, you might want to stay in the center of the city. But if you're looking for somewhere to truly get away, I can't imagine a more peaceful and relaxing place to take in Chiang Mai.
Massages in Chiang Mai run about $10 per hour – a total steal. We got one every day, at whatever small shop looked open. There are hundreds of options and they're all basically the same. However, if you're up for spending American prices and want to go somewhere totally and completely indulgent, the Tamarind Village Spa will not disappoint. 
Spice Roads was the company that organized our bike trip, and I can't recommend them highly enough. We also looked into Grasshopper Adventures, and while their dates didn't work with our itinerary, I've heard great things about them, as well.
When eating in Chiang Mai, it's hard to go wrong. Even the mediocre restaurants serve good food. That said, the food can be truly outstanding if you know where to look.
Everyone everywhere will recommend Huen Phen (also spelled Hue Phen). It's in the middle of the old city and historically, it was where the locals had lunch. Unfortunately, it's now totally touristy. There are still a lot of Thais there, but what I heard from a Thai food blogger is that most of those Thais are tourists, too. He said that Chiang Mai residents eat elsewhere. We went there and had a really average meal.
We had great meal at Pun Pun, which serves local, organic food, and Kuhn Churn, which was all vegetarian and no less flavorful for it. Start your adventures there.
Also, you must have khao soi. It is hauntingly good, and it's everywhere. Austin Bush's favorite place is Khao Soi Prince.
In Bangkok, if you've got the stomach for a hot, stuffy, crowded market, definitely go to Chatuchak weekend market. I think it's the largest market in Asia, and it's got everything from fresh fruit and made-to-order noodles to stuffed squirrels (for decoration). Or so we hear: we lasted there about 30 minutes before turning around and going home. Ahh, well; can't do everything. 
One spot in Bangkok that we would never have found on our own, but loved, was Jay Fai. We ordered as we were told: pad kee mau, lard na talay, and kai jiew pu. Everything was delicious. It's got weird hours, so poke around online or in Chawadee's book (soon to be updated!) before going.  
Also try Rungruaeang, which has amazing noodles in tom yum broth (bamee tom yum). No website, but I think the address is Sukhumvit 26. 
Lastly, if you're looking for a place to sit and have a nicer (but still inexpensive) meal, I'd really recommend Soul Food. Chawadee's friend owns the place; it's a bit like something you'd find in Brooklyn. Food mostly local and organic; meats and spreads all made in-house; that sort of thing. We had a really wonderful meal there, and the drinks were excellent (and cheap).
We stayed in a fancy hotel in Bangkok because it was the price of a regular hotel stateside. The room was gorgeous and the pool kind of obscene – but it was the service that made the hotel worthwhile. They made recommendations and reservations, printed us maps and drew us directions, and overall made us feel less like the foreigners we were. If you're looking for an indulgence, The Four Seasons Bangkok is quite a nice one.
A couple of indispensable social media folks: Chawadee is at @BangkokGlutton and Bangkok Glutton. Austin Bush is @austinbushphoto and Austin Bush Photography. Robyn and David are @eatingasia and Eating Asia. All were invaluable to us on our trip
Seriously, you can't go wrong. A trip to Thailand is a trip well spent. Leave comments if you've been or are going soon. I can't wait to hear about your experiences.