The holidays are upon us. If roasting a perfect turkey and baking a perfect pie aren't your stressors of choice, well hey! There's always gifting the perfect gift.
It's tough, isn't it? Your roommate has been aching for that beautiful red sweater, but doesn't have the heart to steer you in the right direction, so she just holds her breath and hopes you magically figure it out. Your brother likes nothing, nothing at all. There is literally nothing he wants. And your partner? Well, either a) everything you buy is perfect, and oh, the pressure of finding that perfect gift yet again! or b) you've never succeeded in getting a gift he/she wants, so why should this year be different, except you really want this year to be different.
Friends, I'm here to help.
Below is a completely random assortment of stuff I think is swell. Of course, it all relates to food. Hopefully you can find gifts for all the folks in your life somewhere in the list below.
WALL ART
1. The periodic table of waterbath preserving is going up on a wall in my kitchen as soon as it arrives. Your canning-crazy friends would appreciate it too. Trust me, I know canning-crazy. I am canning crazy.
2. I debated keeping this print from NYT artist Wendy McNaugton on the DL, but it's glorious and deserves to be shared.
COOKS' (AND BAKERS') GIFTS
3. For the baker in your life, bakers' labels are a thoughtful, practical gift. Felix Doolittle makes some beautiful ones (as well as canning labels, if your granny's jam is the bees' knees and just needs to be shared). If your baker buddy wants labels to match his/her brand, Moo allows you to customize labels using your own design. I bought some mini business cards on Moo this year, and I'm quite happy with the way they turned out.
4. Is there a classier jar than Weck? Nope.
5. I bake bread regularly in the winter, and as I get back into my rhythm, I start to play around with different designs for the top of the dough. One really beautiful option is to let the dough rise in one of these elegant rising baskets; they make spiral-shaped ridges in the top of the dough and give the finished loaf a distinctive look.
KITCHEN TOOLS AND ACCESSORIES
1. This platter is pricey, but if you can afford it, I think it makes a tremendous gift. Think art project, but in the coolest way. Can you imagine what it'd look like on a black-and-white table? Or even against a brown/quite place setting…gorgeous. Incidentally, Terrain is a great site. Their style has changed quite a bit, but if you ignore the whole holiday section, you'll find items that are both sleek and funky.
2. I'm always on the lookout for new props. For the whimsical photographer, these teeny spoons with spiders and bees on them might fit the bill.
3. The lollipop bowl from the same site is cute, too.
4. Who doesn't love a French tea towel? These, with their olive oil-themed print, would look great on display in the kitchen.
5. I think I first read about these knives in Bon Appetit (another great gift for any foodie, btw). The Schmidt Brothers have collaborated with West Elm to craft knives that are stylish (see acacia handles), useful, and uber-reasonably priced. They're an inexpensive and worthwhile upgrade from the knife you bought at the drugstore last year. Also great for the post-college crowd.
6. I love these salt and pepper dishes. Elegant and unconventional, they'd make a beautiful addition to any well-curated table. If you're looking for something a bit more kitchen-friendly, I swear by this wood swivel-top salt holder. It's my best friend.
7. Schott Zwiesel makes my favorite wine glasses (basic white/red, burgundy,  and tumblers.) They're ever so slightly tinted, and I find their shapes -some rounded, others almost trapezoidal and hard-edged – very elegant.  And of course, they're dishwasher safe.
ANTHROPOLOGIE
***My apologies, for this is the section where I drool all over Anthropologie's website. Why does it get its own section of the gift guide? Because people, they make amazing presents. What can I say. Consider yourself warned. ***
1. You know those cute pint containers you get at the farmers' market? Well, smart little Anthro is now selling them in ceramic. Drool.
2. Continuing with the teal-and-poppy theme (definitely my two favorite colors this season), look at this ridiculous whisk! If I didn't have like 4 whisks already, I might buy it. Surely you know someone who doesn't own 4 whisks: get him/her this one.
3. Butter's already trendy, but it never looked so handsome. This butter dish is pretty swell.
4. Steak knives, in a rainbow of colors. That is all.
5. I collect these bowls; I have 2 of each pattern. I also have beautiful, wide-rimmed low bowls that match my dishes, but when the time comes to serve soup or ice cream or whatever, I have a hard time pulling myself away from these little guys.
6. Last in my Anthro rant, these poppy dishes are absolutely stunning. I'm thinking of buying several and using them as gift plates for my holiday cookies this year.
FOOD AND DRINK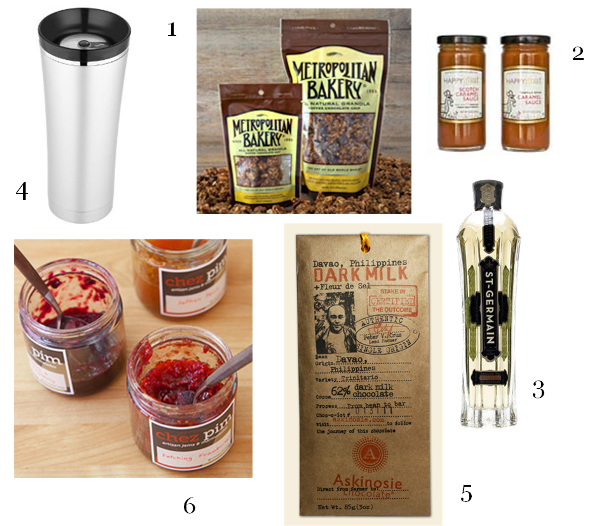 1. Y'all know I make my granola from scratch. But a while back, I got a little package from the folks at Philly Homegrown (I received the package as a gift: see here for my policies on gifts and freebies). Admittedly, I was skeptical when I saw a bag of granola peeking out of the cardboard, since most of the mass-manufactured stuff really sucks. Not this: the coffee-chocolate granola may be the best snack I've had all year. Killed the bag in under a week (whoops). The folks at Metropolitan Granola have been kind enough to offer a discount to NDP readers: the first five readers to leave a comment below will receive a $5 gift certificate with the purchase of a 12 oz. bag of granola. Happy commenting!
2. Happy goat caramel sauce, now in vanilla bean and scotch flavors. Oy, is this stuff delicious.
3. For the lush in your life, you can't go wrong with a bottle of St. Germain. It's reasonably priced, and a splash makes anything from a glass of white wine or soda to a vodka martini taste kind of amazing. It's also a bottle that many folks don't have – and if your lucky recipient already has it, no one's complaining when you replenish the stash.
4. Not a food item, per se, but for the coffee lover, this is the world's best mug. I've gone through about five or six different "spill-proof" mugs in my day, and this is the only one that is legitimately not only spill-proof, but well-insulated. The thing is hermetically sealed with a multi-part silicone seal cap; unlike some of the other models I've tried, this one is both dishwasher-safe and the pieces of the cap come apart, the better to – you know – actually get it clean.
5. I'm pretty new to Askinosie chocolate, but, um, I'm making up for lost time. My favorite bar is a dark milk chocolate bar made of goat's milk. It's got subtle tang and a very little bit of sea salt. It's quite addictive. For the purist, they've got some beautiful single-origin dark chocolate bars as well.
6. I've never had Chez Pim's jams or marmalades, but I've heard about them for some time now – they're pretty much legendary. Pim does straightforward flavors like raspberry, but also more intriguing combinations like saffron peach and very seasonal quince jelly. Seems to me you can't go wrong.
BOOKS
1. The PDT Cocktail Book: the raved-about new book from the very of-the-moment speakeasy-style bar in the East Village. Jim Meehan, the guy behind the drinks (and the book), has a reputation for making meticulously perfect, delicious concoctions.
2. I love Paula Wolfert, and have checked her 1971 edition of The Food of Morocco out of the library on several occasions. (Btw: among the great discoveries of this year, the impressive cookbook collection at my local library may top the list. I've got Tartine Bakery's book out right now, and it's gorgeous.) This year, she came out with what amounts – according to the New York Times – as more than an update to the original. I'm pretty psyched to check it out.
3. Yes, by now y'all know I'm in love with Food52. Did you know that they (finally) released their first cookbook this fall? And that I'm in it? It's all pretty exciting. If you or your mom or dad or friend or friend's sister's brother haven't seen it yet, buy it for them. All of them.
4. I adore Melissa Clark; she's chatty cathy on twitter, which is where we became virtually acquainted. Time and time again, her recipes (which she publishes practically in scores, both in books and in her NYT column, A Good Appetite) blow me away. So I'm delighted that she's come out with yet another book, Cook This Now, whose recipes are appropriately mouthwatering and make you want to get in the kitchen, stat.
5. Last, but definitely not least: I received Plenty as a gift last month, and I have spent two plane rides and one evening completely engrossed in its photos and recipes. Yotam Ottolenghi's book contains exclusively vegetarian recipes, and after stuffing swiss chard crepes with creme fraiche or tucking into "tomato party," you aren't likely to miss meat.
***
So that's the list, folks. Hope everyone has success with their gift-buying. I'll be back in a few days with a recipe for a holiday cookie I'm pretty nuts about right now. Â – R