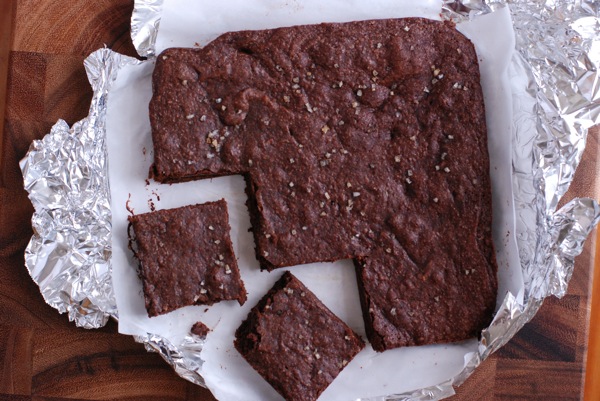 Brownie perfection is in the eye of the beholder. Some like a moist, chewy brownie. (Others inexplicably prefer the cakey kind, but I'm not judging.) Katherine Hepburn liked brownies so chocolatey, they were black – but I've also met strange folks who don't want to be hit over the head by the chocolate. (Again, not judging. Kinda.)
The brownie debate extends quite far: even Duncan Hines lists two options on their packaged brownie mix – one egg for chewy brownies, two for cake-like brownies.
Me, I like a brownie that's moist and chewy – but it's important to me that they hold to hold their shape when sliced. Mushy brownies have a time and a place – midnight or later, straight out of the pan, eaten alone or with someone I like a whole lot. For the more civilized occasions, give me a brownie that slices up nicely.
In the past, I've looked to Alice Medrich and Dorie Greenspan, who have developed recipes for truly bittersweet, moist brownies. Neither of my standby favorites have any additions, which can disrupt the otherwise smooth texture of good brownies.
But I'm not a total purist. I've always been a fan of peppermint brownies, and just as curious about the supporting role other flavors might be able to play. So yesterday, I pulled a stack of cookbooks off the shelf and began looking for inspiration: I wanted to make ginger brownies.
That expedition ended with a thud. I couldn't find anything I was excited to make. So I turned to the interwebs, and quickly found myself a Martha recipe that looked mighty promising. Spiced with ground ginger, nutmeg, and cloves, they suggested prominent fall flavor but didn't look too overpowering.
And here I am, blogging abut the recipe, so yes, friends. They were every bit as good as I'd hoped. The texture of these brownies comes pretty close to perfect, for me at least. Chewy and moist, but firm enough to stand up to a knife. I topped them with some of the lovely ginger salt I received from Marx Foods a while back for some sort of contest (I forget the context, but I'm pretty sure it was open to everyone, and they're certainly not paying me to discuss it here). I was enamored enough of the topping that I'm encouraging you to do something similar below. It's simple, really: combine ground ginger with coarse salt. Alternatively, snag the ginger salt from Marx Foods. It's – er – worth its salt.
Ginger Brownies
adapted from Martha Stewart
makes 9 large brownies or 12 smaller brownies (1 8×8 pan)

Note: The ginger salt is out of stock, but equally wonderful is the espresso salt. Try it! If you don't have fancy flavored salt, just take 1/2 teaspoon of flaky salt in a bowl, add a pinch of ground ginger, and stir until combined. Sprinkle sparingly over the brownies. If you're not keen on that fuss, just use regular flaky salt.

1/2 cup (1 stick) unsalted butter, plus more for baking dish
3 ounces bittersweet chocolate, coarsely chopped
1 cup sugar
2/3 cup all-purpose flour
1/4 cup unsweetened Dutch-process cocoa powder
2 large eggs
1 teaspoon grated peeled fresh ginger
1/2 teaspoon pure vanilla extract
1/2 teaspoon ground nutmeg
1/2 teaspoon ground ginger
1/4 teaspoon coarse salt, plus 1/2 teaspoon for sprinkling
1/8 teaspoon ground cloves

Preheat oven to 325 degrees. Butter an 8-inch square baking dish. Line bottom with parchment paper, allowing 2 inches to hang over 2 sides. Butter parchment.

Melt butter and chocolate together in a small saucepan over medium-low heat, stirring until smooth. Remove from heat and allow to cool.

In a large bowl, combine dry ingredients and spices. Stir to combine fully. Add eggs, vanilla, and cooled chocolate mixture, and stir to fully combine.

Pour batter into prepared dish and smooth top with a rubber spatula. Sprinkle sparingly with either ginger salt or regular flaky salt. Bake until a cake tester inserted into center comes out with moist crumbs, 30 to 35 minutes. Let cool in pan on a wire rack 15 minutes. Lift out, and let cool completely on rack. Cut into 8 squares or 12 rectangles. Brownies can be stored in an airtight container at room temperature up to 4 days.