There's no good way to say this, and I'm sure that when I do, most of you will dismiss me as a loon. I don't care much for mashed things. Sure, I make sweet potato puree at Thanksgiving. I do very much like applesauce, so I suppose that's an exception right there. And if you puree butternut squash with plenty of cream, stuff it into pasta, and pan fry it in sage butter, well, I just as well might take back that little declaration altogether. But mashed parsnips, potatoes, celeriac – those things aren't my bag. If I cooked steak more often, I might enjoy making them to accompany the meat. But as things are, I'll usually pass.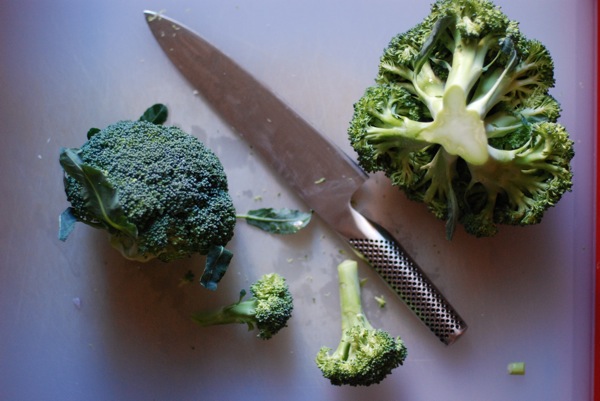 Which is why this ginger-laced broccoli puree jumped out at me from the pages of the New York Times Essential Cookbook. I realize I just said I don't like mashed things, but reading this broccoli recipe, I thought better. It's just root vegetables I prefer solid. Mash up those avocados as much as you like. I love guacamole. And mangos – you can mash those into a great lassi. And you know what? Mashed broccoli. Who knew? It's sublime.
Those of you with kids are probably way ahead of me here. Now that my friends have little guys and girls in tow, they're pureeing practically everything in site, so the thought of pureed broccoli probably isn't so crazy. But here, the ginger is juicy and tart and spicy. This is pureed broccoli all grown up.
Here's something I'll happily come right out and say: I ate nearly all of my latest batch still hot, right out of the bowl. It, alone, was dinner. If you're looking to be more civilized about the whole eating thing, you might serve this with halibut or salmon, prepared simply. For halibut, perhaps something like this. For salmon, this soy-glazed one would be great. …Think I just figured out what we'll be eating for dinner one night this week.
Gingered Broccoli Puree
adapted from the New York Times Essential Cookbook, originally from Cooking with Daniel Boulud

So here's the truth. Boulud has you grate the ginger into a thin tea towel, wring the juice into a bowl, use about 1/4 teaspoon of that juice, and toss the rest – along with the ginger solids – away. I tried it this way, but a) I hated wasting all that ginger, and b) I wanted more spice in the final dish. So I'm sharing my less fussy and less precise version of his original recipe. I grate the ginger straight into a bowl, and I use almost all of it, starting slowly and adding to taste. I also chop up the piece of ginger that goes into the cream, and I don't fish out the pieces afterward – I just blitz them along with everything else. If you're fancy-pants, go forth with Boulud's instructions. Otherwise, c'mon down the unfussy road with me.

1 2-inch piece ginger, peeled
1 1/2 teaspoons olive oil
1 cup thinly sliced onions
1 large clove garlic, finely chopped
1/2 cup heavy cream or milk
2 pounds broccoli, trimmed into florets with 1 inch of the stem
Pinch salt, plus more to taste
Pinch cayenne pepper, plus more to taste

Cut off a 1/4-inch-thick slice of ginger and chop coarsely. Grate the remainder into a small bowl, and set aside.

Heat the oil in a large saucepan over medium heat. Add the chopped ginger, onions and garlic, cover and sweat until the onions are soft but not browned, 5 to 8 minutes. Add the cream (or milk), bring to a boil and simmer until slightly thickened, about 4 minutes. Discard the ginger slice and keep the cream warm.

Bring a pot of salted water to a boil. Add the broccoli and cook until very tender, 8 to 10 minutes. Drain in a colander and press against the sides with a wooden spoon to extract excess water.

Put the broccoli in a food processor, add 1/2 the cream mixture, a pinch of salt and a pinch of cayenne. Process until smooth. Add the remaining cream mixture and the 1 teaspoon ginger; blend well. Taste, and add more ginger, if desired. Adjust the other seasonings and serve warm.