Pies are finicky, finicky things. Taming bursting, juicy berries into a perfect pie is the ultimate challenge of summer, and getting that bottom crust to stay crispy requires nothing short of a miracle. I've tried everything: I paint the inside of the bottom crust with egg before adding the fruit, I've drained the fruit, tossed it with extra flour, with cornstarch, with tapioca, with playdough, and still — apple pies are fine, but the piece of dough resting beneath those juicy rasp/straw/blue/blackberries just gets suffocated by all that juice.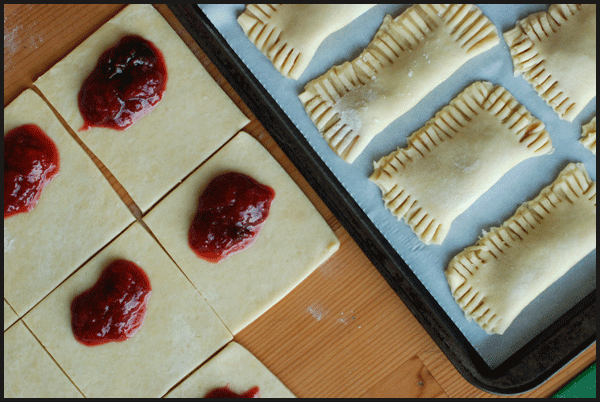 If you're reading my pie confession and think, "don't give up just yet!," that's great. I'm ready for help. Have any advice for making the perfect berry pie? Don't hesitate to share it in the comments. (Mrs. Wheelbarrow, I'm looking at you — I know you're canning pie filling, and I'd love your tips!) But amid this pie nay-saying, don't for a second think I've given up on crusty summer fruit desserts. Au contraire, mon frere! I have moved on to smaller but better things. Hand pies are the way of the future.
No more soggy bottom crusts, no more fretting over runny filling. Hand pies eliminate the guesswork. Their top and bottom crusts stay equally flaky and crispy; their innards, made here with jam, are sure to be perfectly thick without any of that cornstarch flavor. And I shouldn't forget to mention that hand pies are perfectly portioned, so no more ruining that first slice of pie.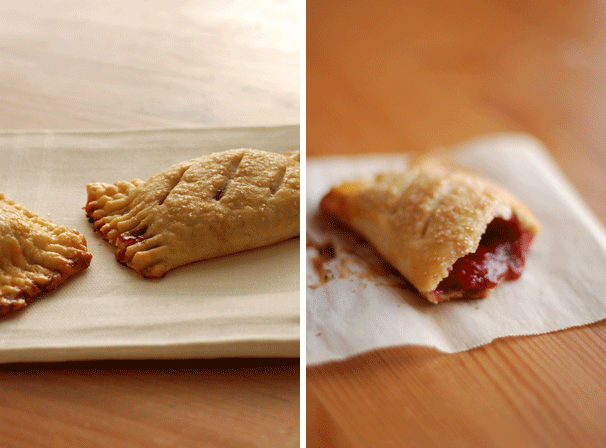 Flavors are limited only by your imagination. I used some of last year's butterscotch peach preserves to fill half of my batch, and Amanda Hesser's strawberry-chile preserves to fill the other. If I'd made the sour cherry jam one day earlier, we'd be having sour cherry hand pies, too. Maybe next year week.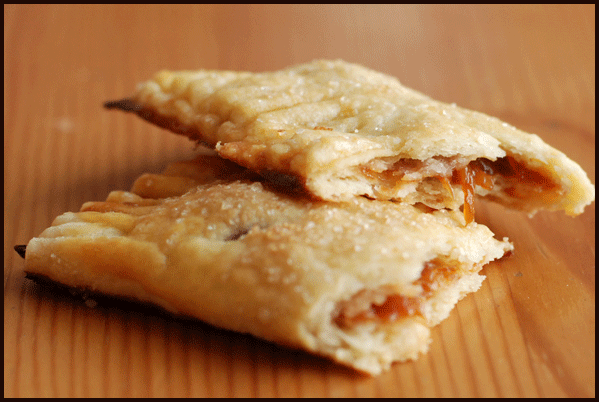 Jam-Filled Hand Pies

For the crust:

2 1/2 cups all-purpose flour
2 tablespoons sugar
1 teaspoon salt
2 sticks unsalted butter, very cold, cut into small pieces

1 1/2 cups jam(s)
1 egg, for brushing
turbinado sugar, for sprinkling

Put all ingredients in a mixing bowl or a food processor. If using a processor, pulse 6-8 times, until butter is in pea-sized pieces. If mixing manually, use either a pastry cutter, a fork, or your fingers (that's what I used) to break the butter into the flour, stopping when the butter is in pea-sized pieces. Sprinkle 1/2 cup ice cold water over the flour-butter mixture, and use a stiff spatula to fold together. It really should be moist enough, but if it's not, add a couple more tablespoons water, just until the dough comes together. Wrap the dough in plastic and refrigerate about 30 minutes, until no longer soft.

Preheat oven to 375. On lightly floured surface, roll out half the dough to about 1/4-inch thick. slice into 4″ x 6″ rectangles. With the short end of a rectangle facing you, spread 1 1/2 tablespoons of jam horizontally, a bit more than halfway past the center, leaving a 1/2-inch border on either side. You're going to fold the long half over itself, so spread jam such that after folding the tart in half, you'll have jam running throughout the tart. Use the tines of a fork to seal the edges of each tart. Brush the tops with egg, sprinkle with sugar, and make three small diagonal incisions on each tart.

Line two baking sheets with parchment paper, and place finished tarts on the sheet about 1/2 inch apart. Bake 25 minutes, until tops are a light golden brown and pastry no longer feels raw or soft. Transfer to a rack to cool completely.