D and I were in New York over New Years, and our hostess, Meryl, made a lovely pajama brunch. (Let's face it; what else do you really want to do on New Years day besides lounge around in your pjs eating great food with friends? Yea — it was pretty fabulous.) Meryl picked out the recipes in advance, and she and I did most of the cooking that morning. Now, if it's not clear from reading this blog, I'm a darn lazy cook. I mess up recipes all the time, burn things almost chronically, and rarely even read through a recipe before reaching into the flour jar. Meryl=exactly the opposite; she couldn't have read through the recipe more, or have been more exacting in her measurements. It was slightly hysterical. But dare I say our different approaches yielded some pretty excellent food? All morning long, people swooned over the frittata, which really couldn't have been easier to make. The recipe originally came from Real Simple magazine, and basically had you mix a whole boatload of eggs with spinach, tomatoes, onions and feta cheese, pour it into an oiled pyrex pan, and bake for 40 minutes until firm. Real simple, indeed — and real delicious.


That recipe is fantastic for when you're hosting a lot of people and want to make a large frittata. However, when there are fewer stomachs to fill, the method I put forth here is excellent. The resulting frittata will have a nicely crisp exterior, a fully-cooked but fluffy interior, and a whole lot of flavor. It can be served alone, with toast, or sliced as pizza into slices and offered as one of several dishes.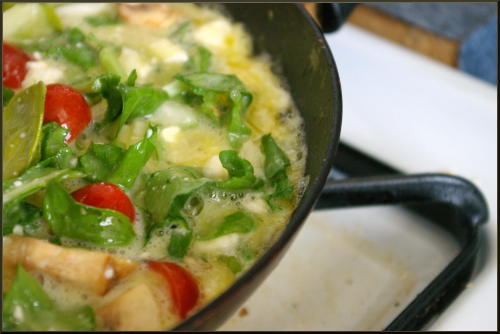 I happened to have a couple bunches of arugula from the farmers' market that Mandy gave me, since she doesn't like it (thanks, Mandy!) a box of cherry tomatoes, and a nice hunk of Greek feta, so I made mine in that style. However, please do not feel limited to those ingredients or that combination! When D and I were in Boston, we had a lovely brunch with Dellie and Jeremy, and Dellie made a to-die-for frittata with broccoli, goat cheese and onions (I think). I've provided several other variations below the recipe; sky's the limit on this one.
Frittata
serves 2-4
4 eggs
1/8 cup water
salt and pepper
1 cup spinach or arugula
1/2 cup grape tomatoes, halved
1/4 cup onion, diced
1/3 cup crumbled feta cheese
1/2 cup mushrooms, sliced
2 Tbsp. olive oil OR 1 Tbsp. olive oil and 1 Tbsp. butter
fresh basil
In a medium mixing bowl, combine all ingredients except olive oil, and mix with a whisk until combined.
Preheat oven to 400 degrees. Move the top rack to the highest level.
In a small oven-safe pan, heat oil over medium high heat. Make sure to swirl it around so that it coats the entire surface of the pan.
Add omelet mixture to the pan. Using a spatula, create slits in the middle of the omelet as it forms, allowing the uncooked egg to seep through onto the pan's surface. Repeat for the first minute of cooking.
Turn the heat down to medium, and let cook another 2-3 minutes until the bottom is golden.
Move the pan to the top rack of the oven and bake for 7-10 minutes, until the top is golden and the middle is fully cooked. Insert a toothpick to check for runny egg.
Serve warm or at room temperature.
Variations: