Today was an absolutely beautiful day in Washington. It was probably 75 degrees outside, and while the sky was cloudy in the morning, it cleared up quite a bit in the afternoon and the streets were packed. I've been waiting for a day like this for months, mostly because I so long for those lovely Spring and Summer Saturdays when lunch is lots of little salads, various breads and crackers and other dipping vehicles, a bunch of cheeses and spreads, and something uber-light for dessert. Today, that's what we had for lunch. A big Greek salad (thanks to Jeremy and his chef de cuisine Jana), homemade chickpea-walnut hummus and labneh (yogurt-based cheese), muhammara (syrian pomegranate-red pepper dip), laffa (Mediterranean flatbread) and challah and pita chips (thanks Dina!), and an open-faced tart with mushrooms, dates and goat cheese. The table had so many elements on it, many of them fresh and most of them cold, and people built their plates out of bits and pieces of everything. Don't forget a few good glasses of chilled rose to wash everything down (tx, Lilah and Dan). I have to say, it was pretty darned tasty.
After a meal like this, the last thing I want is a big, heavy slice of cake. I'd rather end with something light, fresh, and (preferably) cold. Ice cream was one option, but I went instead with a layered mousse parfait that came out really tasty and served as the perfect finale to our lazy afternoon lunch.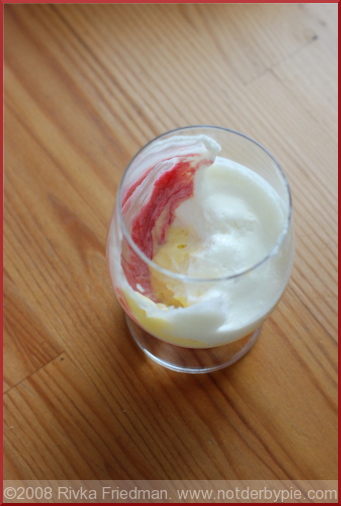 The bottom layer was a simple rhubarb mousse, which I made by baking rhubarb with a bit of sugar and water, chilling it, and then folding in some whipped cream. The middle layer was a heavenly lemon cream (much like lemon curd, only richer, lighter, and better), dreamt up by Pierre Herme. The top layer was some simple, unsweetened whipped cream, that balanced out the other two layers well. I stuck a ginger snap into the top of each parfait glass, which could then be eaten or crumbled into the parfaits.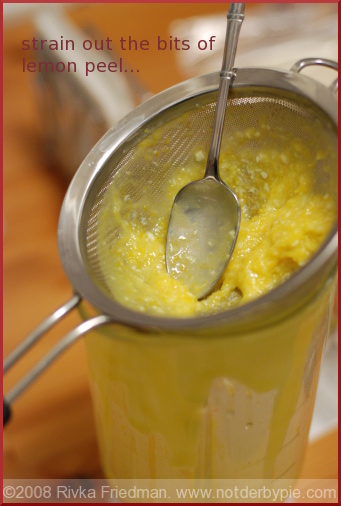 As with most things in my kitchen, there's a story behind the parfaits. It was Thursday night, and I hadn't decided what to make for dessert yet. I had the baked rhubarb in the fridge, as well as half a carton of whipping cream and a big bag of lemons. I'd made the lemon cream once before, but it was devoured entirely before I could grab my camera, so I'd been meaning to make it again. (Side note: is it messed up that I often make things for the sole purpose of taking a picture? All for your viewing pleasure, readers dearest.) But would I put the lemon curd in a tart shell? I didn't really feel like making tart dough, nor did I think I'd feel like eating it the next day after eating the mushroom-date tart. I figured a parfait was a good way to do, but I didn't know if the lemon, the rhubarb and the whipped cream would be friends or enemies in the glass.
In a pinch, I emailed the lovely Helen of Tartelette (yes, that's the same one who is the macaron goddess!) and asked her advice. She said that the two flavors would go great in a parfait. I believe her exact words were, "I'd eat it."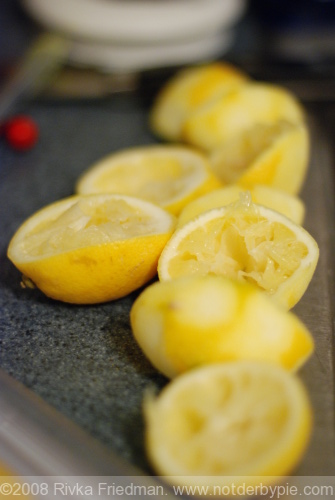 Reassured, I went the parfait route — but I actually folded some of the whipped cream (just a couple Tbsp) into the rhubarb, which lightened it and made it slightly less tart. A good call, if you ask me. And that lemon cream….honestly, to die for. Even with, like, a sixth of the butter.
Rhubarb Mousse
1 cup water
1/2 cup sugar
1 pound rhubarb, sliced into thirds
3 Tbsp whipping cream

Combine rhubarb, sugar and water in a small baking dish. Cover, and bake at 350 degrees for about 20 minutes, until rhubarb is tender and falls apart easily when poked with a fork. If your oven is already at a lower temperature, feel free to just bake the rhubarb at whatever temp the oven's at: it may take a bit longer at lower temps, but this isn't something that needs to come out the minute it's done; it can hang out in the oven as long as it needs to, no biggie.

Transfer to a bowl and leave in the refrigerator overnight or for several hours until chilled completely. The steps up to this point can be completed several days in advance.

Before serving, fold in 3 (or more, to taste) Tbsp. of whipped cream (preferably real, unsweetened) into the rhubarb, and stir gently to incorporate.

Lemon Cream

as I mentioned above, I cut the butter pretty significantly for this recipe, and only used 5 Tbsp. instead of the more-than two sticks called for. I was really satisfied with the result, so that's what I'm publishing. If you want to use all 2 sticks and 5 Tbsp, go for it: I did the first time I made this, and it was truly divine (if a slight bit on the rich side).

1 cup sugar
Finely grated zest of 3 lemons
4 large eggs
1/2 cup fresh lemon juice (from 4-5 lemons)
5 tablespoons unsalted butter, cut into tablespoon-size
pieces, at room temperature

Getting Ready: Have an instant-read thermometer, a strainer and a blender (first choice) or food processor at hand. Bring a few inches of water to a simmer in a saucepan.

Put the sugar and zest in a large heatproof bowl that can be set over the pan of simmering water. Off the heat, rub the sugar and zest together between your fingers until the sugar is moist, grainy and very aromatic. Whisk in the eggs, followed by the lemon juice.

Set the bowl over the pan, and start stirring with the whisk as soon as the mixture feels tepid to the touch. Cook the lemon cream until it reaches 180 degrees F. As you whisk—you must whisk constantly to keep the eggs from scrambling—you'll see that the cream will start out light and foamy, then the bubbles will get bigger, and then, as it gets closer to 180 degrees F, it will start to thicken and the whisk will leave tracks. Heads up at this point—the tracks mean the cream is almost ready. Don't stop whisking or checking the temperature, and have patience—depending on how much heat you're giving the cream, getting to temp can take as long as 10 minutes.

As soon as it reaches 180 degrees F, remove the cream from the heat and strain it into the container of the blender (or food processor); discard the zest. Let the cream stand, stirring occasionally, until it cools to 140 degrees F, about 10 minutes.

Turn the blender to high (or turn on the processor) and, with the machine going, add the butter about 5 pieces at a time. Scrape down the sides of the container as needed as you incorporate the butter. Once the butter is in, keep the machine going—to get the perfect light, airy texture of lemon-cream dreams, you must continue to blend the cream for another 3 minutes. If your machine protests and gets a bit too hot, work in 1-minute intervals, giving the machine a little rest between beats.

Pour the cream into a container and refrigerate for at least 4 hours or overnight. (The cream will keep in the fridge for 4 days, or tightly sealed, in the freezer for up to 2 months; thaw it overnight in the refrigerator.)