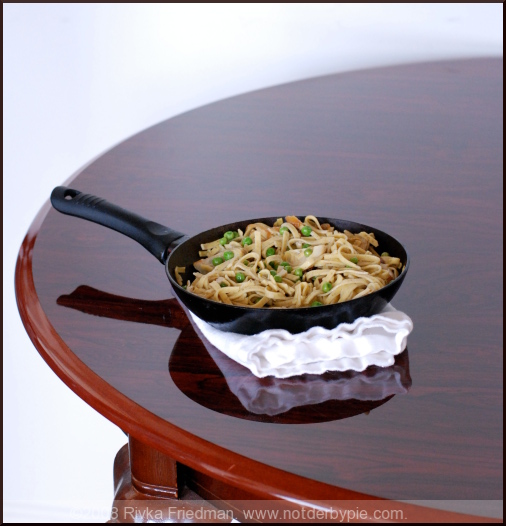 Here's another round of my "weekday lunch" series, where I offer recipes that'll make your colleagues green with envy.
Peas are one of those foods that have completely changed for me since I started shopping at the farmers' market. In regular grocery stores (that aren't Fairway, Whole Foods or Dean and Delucca), it's pretty rare to find whole peas in the pod. If you want peas, you're likely headed for the frozen section or even the canned section (though I really think that frozen peas are 100x better than canned). The first time I saw peas at the farmers' market, I was mystified: peas come in a pod, with a couple of teeny leaves on one end — and unlike canned or frozen peas, they're completely raw.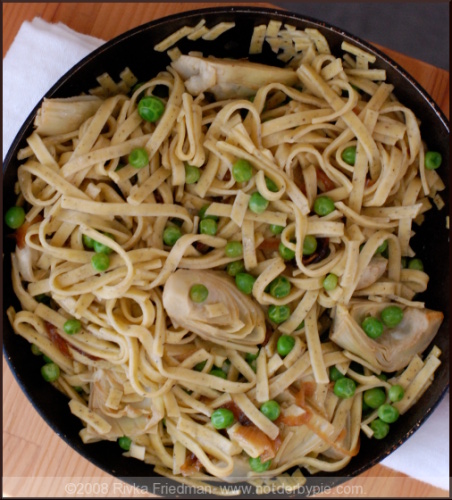 I've now made this recipe twice, and I can assure you that raw peas really make all the difference. These pictures are from the time I made it with frozen peas, and you can see that the peas are kind of shriveled in places; that's because frozen peas are already cooked, so even a quick blanch or a toss in the pan makes them soften and shrivel. When using raw peas, you can do a super-quick blanch or saute and still keep the integrity of the peas shape. And that's not to mention how much sweeter fresh peas are! They actually taste like….peas. It's wonderful.


To keep this recipe vegetarian, I used a mixture of wine, vegetable stock, and water as the base, but if you have chicken stock on hand, I imagine it would lend the dish some added depth.
One last wonderful thing about this dish: it's super-friendly as lunch leftovers the next day.
Linquini with Artichokes and Sweet Peas

1 lb. linguini or other long pasta
2 lbs. peas, shelled
1 lb. artichoke hearts, frozen (thawed) or fresh if available; if using fresh, run a slice of lemon over the exposed flesh of the artichokes to slow oxidation
1 recipe caramelized onions (cook 1 sliced onion in a fair amount of olive oil over low heat until brown and soft, about 1 hour)
olive oil
1 c. chicken or vegetable stock (if none on hand, water and a splash of wine will do)
zest of one lemon
2 sprigs mint or tarragon, both are really lovely with peas
1/3 cup grated Parmesan cheese

Cook pasta according to package directions, cutting one minute off the cooking time to leave room for a final toss on the stove with the sauce.

In a large shallow saute pan over medium heat, combine several Tbsp. of olive oil and the diced shallot. Add artichoke hearts and toss to coat with the olive oil. Cook about 5 minutes, until artichokes have browned. Add broth or cooking liquid, turn heat to high, and cook about 15 minutes until quantity of liquid has been reduced by half to two thirds. Add lemon zest. Test artichokes to make sure they're cooked through; they should be able to be pierced easily with a knife. When artichokes are cooked through, reduce heat to low and add peas and pasta to pan. Using tongs, toss to incorporate pasta with sauce and vegetables. If desired, add a tab of butter to the sauce to finish it off richly. Off the heat, add cheese and toss to combine. Serve immediately, but be sure to pack yourself some for lunch the next day.