If you love Passover, close your ears for a second…
YAAAYYY it's done! we can eat bread again!
Ok. It's out of my system.
Linzer Sables are fantastic. The fact that they involve water, flour, and a nice long baking time is just icing on the cake. I've always loved Linzer Torte — that fantastically dense and buttery torte made of almond flour and filled with black raspberry jam — and these cookies share those rich, buttery, nutty flavors, but they're lighter, crispy, and compact. They've also got a fair amount of spice, and I like to add some orange zest, which I find really binds the flavors together. If you've got a scalloped cookie cutter, use it to make these cookies look more decorative (and sprinkle them with confectioners sugar for some extra zing.)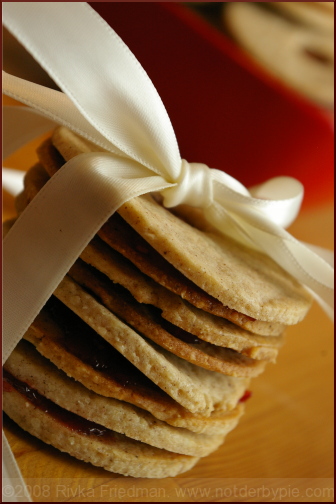 Traditionally, linzer sables are filled with black raspberry jam. I took this recipe from my go-to cookbook, Dorie Greenspan's Baking, From My Home to Yours — and she suggests apricot as another possibility. Sure, you can be sophisticated with your apricot jam. I was always a red lollipop person myself, so I stick with the raspberry.
Whatever your jam of preference, linzer sables won't let you down. Enjoy, and to all you passover celebrators out there, happy chametz!
Linzer Sables

1 1/2 cups finely ground almonds, hazelnuts, or walnuts
1 1/2 cups all-purpose flour
1 1/2 tsp. ground cinnamon
1/4 tsp. salt
scant 1/4 tsp. ground cloves
1 tsp. orange zest, finely ground
1 large egg
2 tsp water
1 stick unsalted butter, at room temp
1/2 cup sugar
1/2 cup black or red raspberry jam
confectioners' sugar for dusting, optional

whisk together ground nuts, flour, zest, spices, and salt. Using a fork, stir the egg and water together in a small bowl.
working with a stand mixer, beat the butter and sugar together at medium speed until smooth, about 3 minutes, scraping down the bowl as needed. Add the egg mixture and beat 1 minute more.
Reduce the speed to low and add the dry ingredients, mixing only until they disappear into the dough.
Don't work the dough much once the flour is incorporated. If the dough comes together but some dry crumbs remain in the bottom of the bowl, stop the mixer and finish blending the ingredients with a rubber spatula or your hands.
Divide the dough in half. Working one half at a time, flatten the dough between two pieces of wax paper, then roll into a disk about 1/4 of an inch thick.
Leave the dough in the paper and repeat with the second piece of dough.
Transfer the wrapped dough to a baking sheet or cutting board and refrigerate it until it is very firm, about 2 hours in the fridge or 45 minutes in the freezer.
Center a rack in the oven and preheat to 375.
Line two baking sheets with parchment or silicone.
Peel off the top sheet of wax paper from one piece of dough and, using a 2-inch round or scalloped cookie cutter, cut out as many cookies as you can. Use the end of a piping tip or something else small to make the peephole cutout.
Bake the cookies from 11-13 minutes, or until the cookies are lightly golden, dry, firm. Transfer the cookies onto a rack to cook at room temp.
Once all cookies are baked, take 1/2 tsp of jam and put on the center of half the cookies; top with the other cookies, and immediately before serving, dust with powdered sugar sprinkled through a sieve.