I know, you don't have to tell me — these look just like those whole wheat sables I posted in January. What can I say? I've fallen for nibbly sables and I can't get up.
This is all Alice Medrich's fault. I recently acquired her book, Pure Dessert, and ever since, I've been baking goodies non-stop. Her recipes are dead simple, and the sweets are addictive. Did I mention it's called "Pure Dessert?" Yea, it's pretty hard to go wrong there.

These are slightly different than those sables, and, in D's opinion, slightly better. While the buckwheat flour makes'em quite delicate, it also imparts a sandy, earthy quality that whole wheat flour alone doesn't quite have. Admittedly, the buckwheat also makes greyish cookies, which aren't the easiest to photograph, but remember people, they're for eating, and eat them we did. All of them. Whoa.
I can think of a couple nice variations that would suit these cookies nicely:
substitute nuts (walnuts, pine nuts or pecans) for some or all of the cocoa nibs
add a bit of orange or lemon zest and finely shave some very dark chocolate bits into the dough
add some dried black currants instead of the nibs (this would also go very nicely with the zest)
…the possibilities are endless.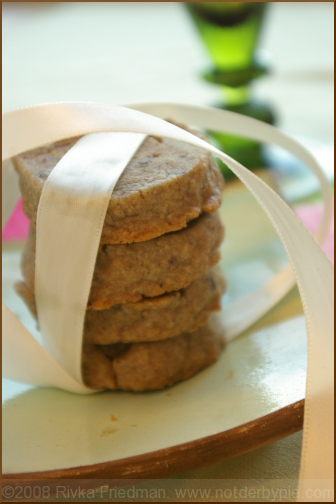 Nibbly Buckwheat Butter Cookies
recipe by Alice Medrich; makes 48 2.5-inch cookies

1 1/4 cups all-purpose flour
3/4 cup buckwheat flour
1/2 pound (2 sticks) unsalted butter, softened
2/3 cup sugar
1/4 tsp. salt
1/3 cup cacao nibs
1 1/2 tsp. vanilla

Whisk the two flours together in a medium bowl. Set aside.
With a hand or stand mixer, beat the butter, sugar, and salt for about 1 minute, until smooth and creamy but not fluffy. Mix in nibs and vanilla.
Add the flours and mix just until incorporated.
Scrape the dough into a mass and, if necessary, knead it a few times by hand.
Form the smooth dough into a 12×2 inch log. Wrap and refrigerate at least two hours, preferably overnight.
Position racks in the upper and lower thirds of the oven and preheat the oven to 350 degrees. Line the baking sheets with parchment paper.
Use a sharp knife to cut the cold log into 1/4-inch slices. (I sliced mine about 1/2 an inch thick, and I enjoyed them that way.)
Place them on baking sheets, about 1 1/2 inches apart.
Bake just until the cookies begin to color at the edges, 12-14 minutes, rotating the sheets from top to bottom and front to back half way through baking. Cool completely on racks.
Cookies should keep, stored in an airtight container, for at least 1 month.