It's Friday, which means it's almost the weekend — which, in my strange wonderland, means it's time to choose weekend cooking projects. I've got my eye on this lovely, meringue-topped walnut cake from Food52, and possibly homemade bagels. I'm also contemplating steeping bourbon with some apple peels, a cinnamon stick, and some star anise, for when I'm allowed to drink the stuff again.
But I've got a different weekend cooking project in mind for you, if you're still shopping. In fact, it'd go very, very well alongside that bourbon I'm going to make. Or just some apple cider. Or some cold milk. Â 'Tis the season for apple cider doughnuts: They were my project last weekend and this weekend, they're all yours.
When I got a hankering for these guys last week, I went searching around for a yeast doughnut recipe, because everyone knows yeast-risen doughnuts are superior to their cake counterparts. Turns out – and here's proof of my goldfish cracker-sized memory – I made yeasted nutmeg doughnuts last year. They were delicious. (Make them!) But they take much more time to make, and I was nervous that between reducing the cider (key to getting a concentrated flavor) and all the rising, the doughnuts wouldn't be ready to bring to my friends Sunday afternoon, and that's what good friends do.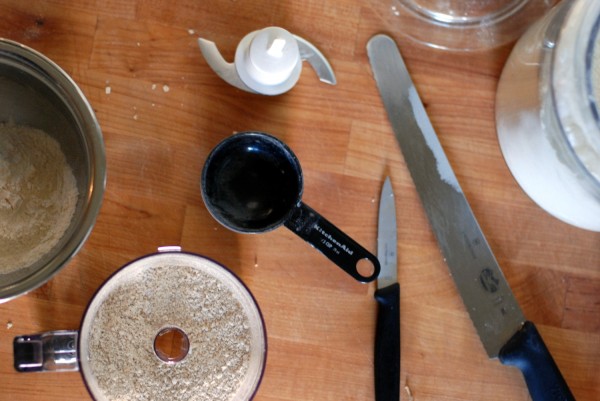 Instead, I opted for a basic cake doughnut recipe, with a shockingly short preparation process and — given all the frying involved — not much stress, either. The recipe comes from Deb; she loved it, and generally, the recipes she loves are keepers. You reduce a bunch of cider, make what amounts to a cross between cookie dough and pancake batter, refrigerate or freeze it until firm, then roll it out and fry it: Presto.
My one meaningful contribution to the recipe was swapping out the usual cinnamon for gobs and gobs of freshly ground nutmeg. Inspired by Marion Cunningham's Nutmeg Muffins and these doughnut beauties from Saveur, I figured I was on terra firma. If anything can elevate a hunk of deep-fried dough, it's fresh nutmeg. I'd tell you to just use cinnamon (and less of it) if you don't grind your own, but Ina Garten recently told Amateur Gourmet Adam Roberts that this is not essential. As much as I disagree, who am I to contradict Ina? I'll leave the choice to you.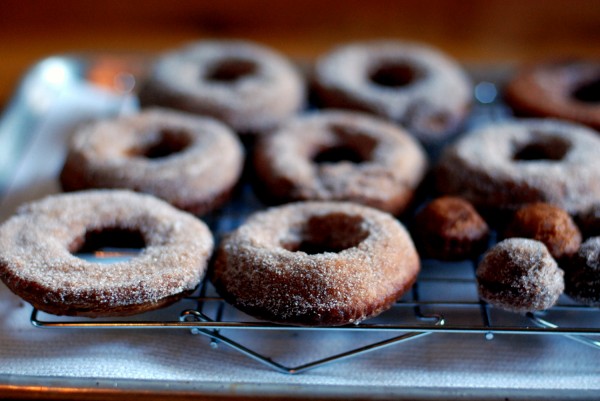 Enjoy these doughnuts with a side of scarf weather, which it seems is headed our way. Happy weekend, and happy weekend cooking.
Other weekend cooking projects:
One year ago: Grape-Cornmeal Snacking Cake
Two years ago: Vietnamese Leek and Eggplant Salad (which I'm making today!) and Perfect Chana Dal
Three years ago: Beef Stew with Vadouvan
Four years ago: Oven-Dried Tomatoes
Five years ago: Zuni's Roast Chicken with Bread Salad
Six years ago: Steelcut Oatmeal with Peach Compote
Seven (!) years ago: Challah French Toast
Nutmeg Apple Cider Doughnuts
Adapted from Hearth, via Smitten Kitchen

This recipe is pretty straightforward, so not a ton of notes here, but still: can't resist a few. I swapped out most of the cinnamon for lots of fresh nutmeg, and I highly recommend trying them that way. I also traded in some of the white flour for oat flour, which worked really well with the warm flavor of these doughnuts. If using all white flour, you need 3 1/2 cups, plus some for the work surface. Lastly, Deb took the plunge and fried in, eek, Crisco. She said the doughnuts were super-crispy, but I couldn't bear it; I just used vegetable oil. Again, choice is yours.

1 1/2 cups apple cider
1/2 cup oat flour
3 cups plus 2 tablespoons flour, plus additional for the work surface
2 teaspoons baking powder
1 teaspoon baking soda
1/8 teaspoon ground cinnamon
1/2 teaspoon salt
1 1/2 teaspoons freshly ground nutmeg
4 tablespoons (1/2 stick or 2 ounces) butter, at room temperature
1 cup granulated sugar
2 large eggs
1/2 cup buttermilk
Vegetable oil, canola oil, or shortening, for frying

Topping: 1 cup sugar + 1/8 teaspoon cinnamon + 1 1/2 teaspoons freshly ground nutmeg

Mix dough: In a medium bowl, combine flours, baking powder, baking soda, cinnamon, salt, and nutmeg. Set aside.

In a saucepan over medium heat, reduce cider to about 1/4 cup, about 30 minutes. Remove from heat and let cool.

Using a stand or electric mixer, beat butter and sugar on medium speed until smooth and light. Add eggs one at a time, mixing well after each addition. Reduce speed to low and add buttermilk and reduced cider; mix to combine. Scrape down the sides of the bowl as needed. Add flour mixture gradually, mixing just until combined.

Line a baking sheet with parchment or wax paper and sprinkle generously with flour. Put the dough onto the sheet, and sprinkle the top with more flour. Use your palms to flatten the dough until it is about 1/2 inch thick. Use more flour if the dough is still wet. Transfer the dough to the freezer until it is slightly hardened, about 20 minutes, or to the fridge for at least 2 hours.

Roll out doughnuts: Remove the dough from the freezer/fridge and transfer to a work surface sprinkled with flour. Using a 3 1/2-inch cutter for the outer shape and a 1-inch cutter for the hole, cut doughnuts. Transfer doughnuts and holes back to the lined baking sheet. Gently reroll scraps to cut the rest of the doughnuts.

Add enough oil or shortening to a deep-sided pan (I used cast iron) to measure a depth of between 2 1/2 and 3 inches. Attach a candy thermometer to the side of the pan and set over medium heat until the oil reaches 350°F. Have ready another rimmed baking sheet lined with paper towels and topped with a cooling rack.

Make the topping: Combine sugar, cinnamon, and nutmeg in a wide, shallow bowl. Set aside.

Fry the doughnuts: Slowly lower doughnuts into the oil, taking care to avoid splattering. Don't overcrowd the pan; my 10-inch pan comfortably held 2-3 doughnuts at a time. Fry each doughnut for 60 seconds on the first side, then slowly turn and fry 30-60 seconds on the other side. Transfer doughnuts to the cooling rack for 60 seconds, then dip into the spiced sugar and swirl around to coat about half the height of the doughnut. Set on the rack to cool completely; repeat with remaining doughnuts.

Serve warm, with cider or cold milk.