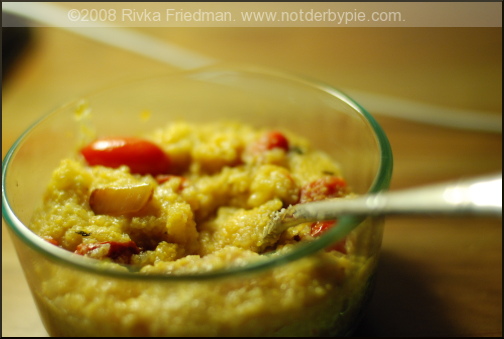 Forget Rachael Ray, with her hoarse voice and her annoying little mannerisms. I'll show you a 30 minute meal — better yet, a 15-minute meal — that'll have you at the table before you can say "EVOO". It's called polenta, and it's really flippin' easy. You can actually make it more quickly than I can write this post. And while I've included the recipe for polenta with tomatoes, shallots, and goat cheese, you can easily make it with something else. As always, I've listed several variations.
Polenta is basically poor man's food: it's simple, it's cheap, it's sustaining, and it's dead-easy to make. All you need is cornmeal, salt, and water — ohh, and a fair amount of muscle for all the stirring you'll be doing.

The method is simple: heat the water til warm, add polenta. Stir til your hand wants to fall off, then a little more. For soft polenta, you'll be stirring about 7ish minutes, maybe 8. It's done when it's just past al dente and well-emulsified. For a firmer polenta, you're done when the polenta pulls away from the sides of the pot, about 10 minutes.
Here are some flavor variations:
– Pears, Gorgonzola, a squeeze of honey and some pecans or walnuts
– Feta cheese, basil, and tomatoes
– Red peppers and pesto
– Cheddar cheese (I like white) and apple slices quick-sauteed in a tab of butter
– salt and pepper (polenta is awesome on its own)
– Mushrooms, parsley, and parmesan (my all-time favorite)
Before I give you today's recipe, I need to give a (long overdue!) shoutout to one of my favorite new bloggers on the scene. Not a food blogger — thought her posts will totally make your mouth water — my dear friend Sarah has recently moved back east from the great city of Seattle with some serious talent under her arm and more than a few tricks up her sleeve. She's got a fantastic blog devoted to spoken word poetry, and she will KNOCK YOUR SOCKS OFF with her poems, for serious. I dare you to check out this blog, and you'll see exactly what I'm talking about. Even the title is so frickin' great: Remember When I Had a Blog. Do yourself a favor: add Remember When to your list of reads and prepare to be blown away!
Also, a just-added shoutout to awesome friend-of-friend Ashley, who's recently started a super cool business called Green Eyed Monster. She sells canvas tote bags that are friendly both to your shoulder and to the environment, and they have awesome logos — you MUST check them out!
Now, the recipe you've been waiting for:
Polenta with Tomatoes, Shallots, and Goat Cheese

2 cups water
1 cup milk
1 cup yellow polenta (cornmeal)
2 shallots, chopped
2 Tbsp. olive oil
1 cup grape tomatoes, halved
1/4 cup of goat cheese, crumbled into bits
2 tablespoons unsalted butter
1/4 cup freshly grated Parmiggiano-Reggiano cheese

In a small sauce pan, heat olive oil over medium heat. Add shallots, and saute until translucent, about 3 minutes. Add tomatoes, and cook until they look a bit bloated and have begun to soften. Add herbs, if desired — basil, thyme, parsley, or marjoram would all be lovely. Saute two minutes more, then remove from heat.

Meanwhile, in a medium pot, heat salt, milk and water until hot but not boiling. Add polenta in a steady stream, stirring vigorously to avoid lumps. When all the polenta is added, bring heat up to a boil, then reduce to a simmer and continue stirring constantly for about 7 minutes, until creamy looking. Turn off heat, add butter, and stir to incorporate. Stir in tomato-shallot mixture and goat cheese; stir gently to combine. Serve with freshly-grated Parmiggiano-Reggiano cheese.