Ramps have ridden the wave of foodie obsession. In years past, from the moment the green bundles made their season debut in Instagram feeds, fanatics and curious innocents would rush to the market to purchase their share. The next few days would see post after post of ramp-infused everything. I'll own it: I played the game. I bought my little ramps, priced rather preciously at $5 for a tiny fistful. I folded them into butter, plopped them on pizza, even grilled them whole and served them with romesco sauce, fancy-style. It was all a bit exhausting.
This year, it seems, the craze has died down. Ramps were at the market last week, but if my memory is correct, they were priced slightly cheaper than last year, something that never happens. There also weren't hoards of people clustering to snatch them all up; in fact, there was barely a peep about them. I ran into a couple of friends, and when I went to purchase a bundle or two, they frowned: why would you buy those?
Fair enough. They're fancy wild onions, not truffles. Point taken. But here's what I like about them: they're like the green part of scallions on steroids. Super grassy, with a distinctly wild bite. A little goes a long way. And because the leaves are so delicate, they don't need much — if any — cooking before they get added to whatever you're making. And what you're making, if you're with me, is brunch.
In the case of last Sunday's brunch, it was a basic biscuit egg sandwich. Ramps rescued the thing from being purely a bald-faced attempt at consuming as much butter as possible and calling it a meal. Now everything was green! Sort of. But it was more than sort of tasty. And come Sunday, it'll probably grace our brunch table yet again. 'Tis the season; it doesn't last for long.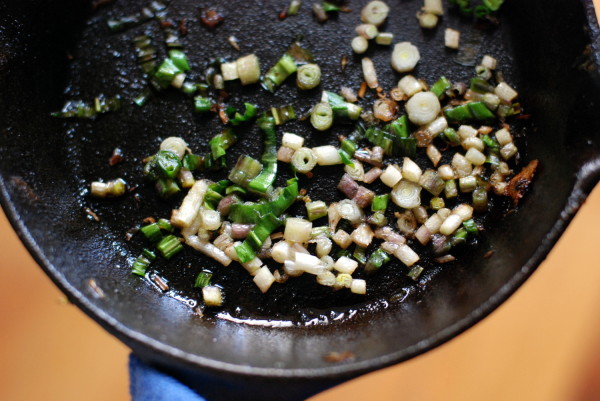 Ramps 'n' Eggs Biscuit Sandwiches
Serves 4

The biscuit recipe is adapted from my go-to, Marion Cunningham's cream biscuits. There's no butter in the dough itself; it just gets brushed on (liberally!) before baking. Here, I subbed out half the cream for yogurt, which worked really well.

Biscuits:
2 cups all-purpose flour
1 teaspoon kosher salt
1 tablespoon baking powder
1 teaspoon sugar
3 ramps, green tops only (white bottoms reserved), sliced
3/4 cup heavy cream
3/4 cup yogurt (preferably full-fat)
4 tablespoons butter, melted

Eggs:
6 eggs
2 ramps, green and white parts, chopped, plus reserved white ramp bottoms from biscuits
salt and pepper
2-3 tablespoons butter

Preheat oven to 450 degrees F.

Combine flour, salt, baking powder, sugar, and ramp tops in a medium mixing bowl. Stir to combine.

In a separate bowl, combine cream and yogurt; stir until smooth. Pour yogurt-cream mixture into flour mixture, and use a fork to start combining the mixture. When most of the flour has been incorporated, dump the mixture onto a clean work surface, and use your hands (and a light touch) to bring it together. Knead the dough gently for about 30 seconds, until it comes together fully.

Shape dough into a mass (round if you want pie-slice biscuits; square if you want square biscuits), and slice into about 9 pieces.

Brush biscuits with melted butter on all sides; set buttered biscuits 2 inches apart onto an ungreased cookie sheet. Bake for about 15 minutes, until browned and puffy.

Once you've taken the biscuits out of the oven, heat 1 tablespoon of butter in a small saute pan over medium heat. When butter foams, add the sliced white bottoms of all the ramps. Cook for about 3 minutes, stirring occasionally, until ramps are fragrant and softened. Meanwhile, combine green ramp tops and eggs in a mixing bowl. Whisk to combine; season with salt and pepper. Add remaining butter to the pan, then add egg mixture. Use one hand to vigorously shake the pan back and forth; hold a fork in the other hand, and make continuous mixing motions with the fork, to break up the eggs and create a light, custardy texture in your scramble. When eggs are cooked to your liking, remove from the heat. Serve immediately, on or alongside hot biscuits.