I rarely buy cookbooks. That probably comes as a surprise, considering how much I love to cook, and how pretty cookbooks can be — but I just don't buy them that often. That's partly because I tend to browse for recipes online, and partly because, not being able to help myself, I take all the pretty ones of the shelf at Barnes and Noble and before I know it, I've already looked at every pretty picture and no longer have any interest in buying the darn things.
On the rare occasion that I actually shell out the cash for one, the self control and patience I've been cultivating for years run out in a matter of seconds. I plop down on the couch, open the thing up, and soak up every last picture. Yes folks, that's why they call it food porn.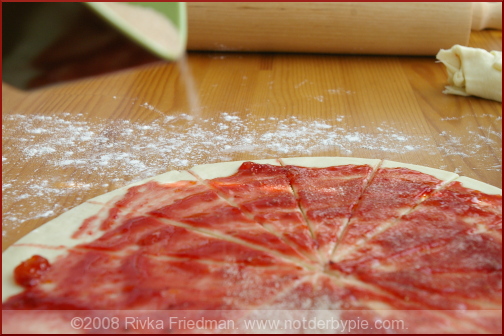 Regarding the fillers between the pictures: sometimes I read those. Recipes, I think they're called.
Right of the bat, a couple recipes will jump out at me. They're the ones I know I'll be making — things like Katherine Hepburn Brownies; Nibbly Buckwheat Butter Cookies; World Peace Cookies; and the like. Other recipes don't exactly leap off the pages. Too many steps, seemingly ordinary ingredients, tedious preparatory chores like splitting 8 eggs, and other things make me hesitate. Imagine my surprise, then, when I find said "ordinary" recipes to be utterly transcendent.
Long story short: Rugelach seem ordinary, and they have a few annoying steps involved, but oh, they are so very worth the extra effort. A delightfully flaky, unsweetened crust sandwiches raspberry and/or apricot jam, chopped nuts, chocolate bits, and cinnamon sugar — at once sweet, tangy, and crispy. So when you're shmearing melted raspberry jam, carefully slicing 16 equally-sized pieces, or rolling each piece up and gingerly placing it on the baking tray, remember: reward is near.
I used Dorie Greenspan's rugelach recipe, because she's just that fabulous (and because she happens to have authored two of my very few cookbooks). I altered the recipe slightly, subbing chopped dried cherries for the dried currants and chopped big chocolate chips for the mini chips. I also used a mix of raspberry and apricot jams because I'm bold. And I recommend the blending, because it tasted fantastic.
Rugelach
from Dorie Greenspan

4 oz. cold cream cheese, cut into 4 pieces
1 stick cold unsalted butter, cut into 4 pieces
1 cup flour
1/4 tsp. salt
2/3 cup raspberry jam, apricot jam or marmalade
2 Tbsp. sugar
1/2 tsp. cinnamon
1/4 cup chopped nuts (pecans, walnuts or almonds)
1/4 cup dried currants or chopped dried cherries
4 oz. bittersweet chocolate, finely chopped, or mini chocolate chips (or chopped regular chips)
1 large egg
1 tsp. cold water
2 Tbsp. sugar, preferably coarse

Make the dough: Put flour and salt in a food processor, and scatter the cream cheese and butter chunks overtop. Pulse the machine 6-10 times, then process, scraping down the sides as necessary. Stop when the dough forms large curds.
Turn the dough out, gather it into a ball, divide it in two, and refrigerate each half in plastic wrap for at least two hours and up to one day.
Make the filling: heat the jam in a saucepan over low heat until it liquefies. Mix the cinnamon and sugar together and set aside. Line two baking sheets with parchment or silicone.
Shape the cookies: Pull one packet of dough from the refrigerator. If it's too easy to roll, leave it out for ten minutes. On a lightly floured surface, roll the dough into an 11-12 inch circle. Spoon a thin gloss of jam overtop, and sprinkle half the cinnamon sugar. Scatter over half of the chopped stuff (nuts etc), and use a piece of wax paper to press the ingredients into the dough. Set aside the paper for the second batch of dough.
Using a pizza wheel or sharp knife, slice the dough into quarters, and slice each of the quarters into four long, narrow triangles. Starting at the outside rim of each triangle (the base), roll each triangle up so that it becomes a little crescent. Make sure points are tucked under the cookie, and arrange on a baking sheet. Repeat with the second packet of dough. Refrigerate rugelach for at least 30 minutes before baking.
Position racks to divide oven into thirds, and preheat to 350 degrees. Stir the egg and water together, and brush a bit of this glaze over the rugelach. Sprinkle each with coarse sugar. (I didn't have any, so I used more cinnamon sugar.) Bake for 20-25 minutes, rotating sheets from top to bottom and front to back half way through. Jam will likely have leaked out, so it's best to scoop underneath each cookie within a minute of removing them from the oven, so that they don't stick to the tray.