You hoo — anyone out there? It's been a rough couple months for NDP, between six weeks of crazy work schedules and a long vacation to Alaska (yes, I'm back and I've got beautiful pictures to share!). But I promise, I haven't forgotten about you. No, no, no. Never. In fact, I've decided not only to resume regular posting, but to do so with a bit of a bang. Read on.
(But first, peek at my pics from Alaska….)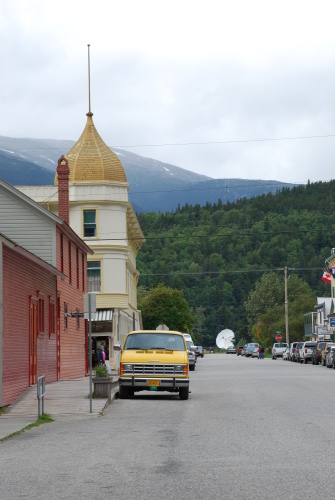 Alaska truly is one of the most beautiful places I've ever been. The hiking is fantastic, and the summer weather — a cool 50-some degrees the whole time we were there — was perfect for brisk walks. That's not to mention the other wild excursions we did — including rock climbing, rapelling, kayaking, and snorkeling (in 45-degree water — amazing!) If you've any inclination to go, any at all, do it.
Now, back to business. While on the Alaska cruise, I read Michael Pollan's The Omnivore's Dilemma. Aside from being an absolutely fantastic read, it's a really important book about the way our food system works, and it [re-]opened my eyes to how broken and troubled the system is.
The Omnivore's Dilemma charts the agricultural history behind the foods that we Americans regularly eat. Pollan explores the backstories behind the Iowa cornfields that serve as the basis for cereal, cookies, crackers, chicken nuggets, corn syrup, and almost any other processed food item; he visits the factory farms that cultivate, kill, and package hundreds of cows, chickens and pigs each hour; he even investigates the often-surprising details of the various "organic" options that one might find in a Whole Foods; and, ultimately, he grows, forages, and hunts the ingredients for a meal, trying to fully understand every aspect of producing the food he eats. The book is surprising, at times upsetting, but always enlightening and inspiring. Not surprisingly, I'd strongly recommend it.
Reading it on a cruise added an ironic dimension to Pollan's account of our food situation. As regular cruisers know too well, the linchpin of any cruise is its all-you-can-eat buffet. Open 24/7, the buffet puts others to shame in the sheer quantity of its offerings. I can't get into the details at the moment — it might make me ill — but there aren't too many things in this world that the buffet didn't have, including people with monstrous appetites and perennial hunger. It was a classic display of overindulgence, and — dare I say it — the consequences that follow. For every average-sized person on the boat, at least 4 were obese. Not surprising, considering the growing percentage of obese Americans, including children. Not surprising – but very, very disturbing.
With the cruise as my backdrop and the book as my muse, I decided to take on a challenge, to begin promptly upon my return. For one full month, I'll be doing my darndest to eat seasonally, and mostly locally.
I say "mostly locally" for two reasons: first, considering recent debates about the environmental benefits of eating locally, I'll be prioritizing the seasonal aspect of this challenge over the local aspect. Second, while my fresh produce will be local wherever possible, I'll be using dried fruit, certain canned items, grains and condiments that aren't.
Four more bits to add:
One is that in case you're curious, D is very, very excited about local seasonal month here at NDP. She's been telling all our friends (which of course puts the pressure on to invite them over).
Two is that I plan to provide as much information as I can remember and/or chart about the cost of eating locally and seasonally. I know that cost is a real consideration for me as I plan my weekly eats, and I bet it is for you as well. I'll do my best to record how much it costs to make each meal, including comparison figures if I can manage to track them down.
Three is that I'm hoping to blog very frequently this month, work permitting. We'll see how frequent is frequent — but at the very least, expect more than one post per week. I'm baaaack…. 🙂
And last, but not least: to those of you lurking behind NDP's woodwork: now is the time to make yourself known! If you're at all interested in any aspect of this challenge, please do not hesitate to leave a comment on this post. I'll do my best to answer your questions and take your thoughts/concerns/comments into consideration as I tackle LocalSeasonalSeptember.
Thanks to you all for reading, and wish me luck!