It seems my latest attempt to test the temper of this bearable summertime weather has, gleefully, been ignored. DC persists in being comfortable. In June! No, I'm not complaining.
Instead, I'm reveling in the joy of walking down to the farmers' market on Sunday mornings after a workout, all hot and prepared to stay that way, only to encounter 80-degree breezes and precious little humidity. Sacks full of produce, I can walk home without needing the day to recover. Call it the tyranny of low expectations, but it's quite a thrill.
The nice (for summer) weather makes the bounty of East Coast produce an even greater bonus. To wit: I turned on my oven this week to make sour cherry hand pies, and guess what? No one fainted. Success. I'll have a recipe for that soon.
For now, there's this lovely compote, which you should make not next week, not tomorrow, but right now, before sour cherries vanish. It all happens so quickly, and I don't want you to miss out. The beauty of this compote is that it's a cinch to make, and it'll keep in your fridge for weeks, extending the fleeting season of my favorite summer fruit.
You might wonder when you'll have occasion to use a compote, but trust me: if it's in your fridge, you'll suddenly find ample uses. Over scones or pancakes; alongside grilled meats; swirled into yogurt; spooned over vanilla ice cream. If those possibilities aren't sufficient, you could eat it straight from the jar. Or use it in these wonderfully sloppy sour cherry pies. Think of fruit compote as a headstart to all other desserts. Crumbles, pies, muffins, ice creams — all of these would benefit from some compote mixed in.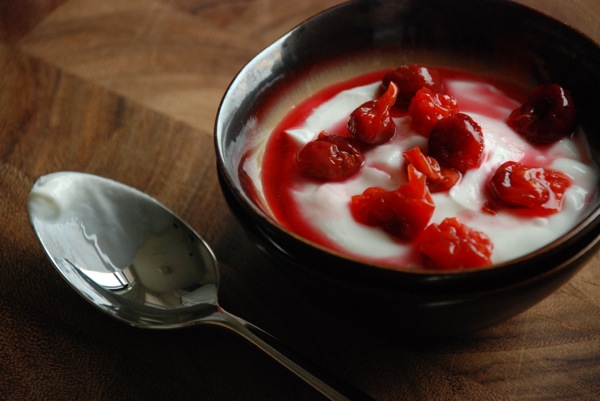 Sour Cherry Compote
adapted from Karen DeMasco's The Craft of Baking

4 cups (1 lb.) stemmed, pitted sour cherries (fresh or frozen)
3/4 cup sugar
juice of 1 lime (or lemon)

Set a strainer over a metal bowl.

Combine cherries, sugar, and lime juice in a small saucepan and set over medium high heat. Cook — watching carefully, because it will inevitably bubble over the minute you turn away — until mixture bubbles and starts to foam, and cherries are soft, about 7 minutes. Pour mixture into strainer set over bowl; cherries will separate from syrup. Pour syrup back into sauce pan, and transfer cherries to the metal bowl.

Cook syrup over medium-low heat (you're looking for a simmer here) until reduced by half, about 10 minutes. Remove from heat and cool about 10 minutes more.

Put cherries into a glass jar, and pour syrup over cherries. Refrigerate. Compote will keep in the fridge for a few weeks, if it lasts that long.