Hello out there! Sorry to have abandoned ship for the past week — due to Passover, I've been subsisting on a strange diet of matzah, farmers cheese, avocado, and salad. Not exactly the stuff worthy of a blog post. Most people would rather clean their bathroom than volunteer to host a dinner party the day after Passover ends, but moi? I've been itching to get back in the kitchen something serious. So yesterday, I did just that. I cooked up dinner for some of D's law school friends and relished every minute of my time with my dishes, my kitchenaid, and best of all — FLOUR.
As if eating carbs again weren't cause enough for celebration, have you looked outside? It's Spring! The cherry blossoms here in DC are in full bloom (many are already past their bloom, which means the grass is blanketed in pink) and the weather this weekend has been just gorgeous — a perfect 76 and sunny today, in fact. I couldn't be happier about the weather; so you better believe last night's menu took full advantage not only of the end of the holiday, but of the start of my favorite season.
I've got many recipes to share with you — my mind's been bursting with new ideas that I haven't been able to test out in the past couple weeks! — but first and foremost, an ode to one of my favorite spring vegetables: ramps. I've waxed poetic about ramps before, and this surely won't be the last time: ramps are a variety of green onion that grow wild during the first couple weeks of Spring. Their season is literally only a couple weeks long so you gotta grab 'em while you can. I spent way too much on ramps at last week's farmers' market, but Friday night was the big payoff: I served them in a simple preparation a la Mario Batali, tossed with linguini (he actually recommends spaghetti), olive oil-toasted breadcrumbs, salt, and crushed red pepper. The dish may sound dead simple, and it is — I have to restrain myself from blanketing the whole thing in parmigiano reggiano — but it's also absolutely delicious.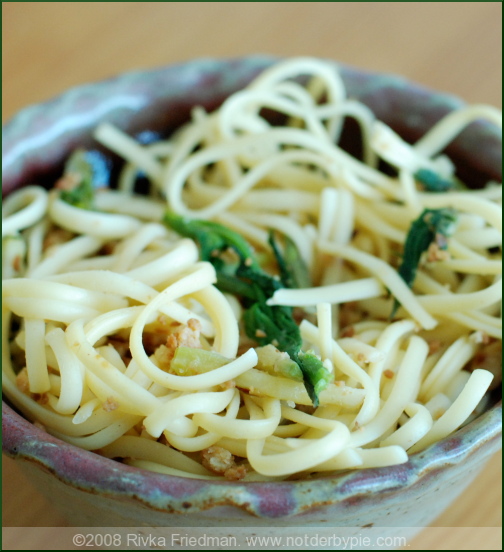 I promise more recipes this week, including a great simple way to make salmon (but alas, no pictures — it was eaten up before I had the chance!) and a perfectly tangy lemon tart (with some nice pictures, too). For now, hit up your weekend farmers' market and get yourself some ramps. Happy spring, everyone!
Spaghetti with Ramps
adapted from Mario Batali

Coarse salt
1 pound dry spaghetti or linguine
3 tablespoons extra-virgin olive oil, 2 more tablespoons if toasting breadcrumbs (see below), plus more for drizzling
8 ounces fresh ramps, white root ends and green leafy tops separated
1 to 2 tablespoons crushed red pepper flakes
2 tablespoons breadcrumbs (Batali says to use dry, but I used fresh, and toasted them in a pan in 2 tablespoons of olive oil until golden brown, then transfered to a bowl)

Bring 6 quarts of water to a boil in a large saucepan over high heat. Add 2 tablespoons salt and return to a boil. Add spaghetti and cook according to package direction, until tender but still al dente.
If using fresh bread crumbs, heat 2 tablespoons olive oil in a 12-to-14-inch skillet over medium-high heat. Add breadcrumbs and cook, tossing regularly, until golden brown. Transfer to a bowl and wipe out pan with paper towel. Add 3 tablespoons olive oil and allow to heat up. Add root ends from ramps to pan and cook, stirring, until tender. Season with red pepper flakes and salt. Add leafy greens from ramps and cook, stirring, until wilted.
Drain pasta and add to skillet. Toss gently to coat pasta with sauce. Divide pasta evenly between 4 warmed plates. Drizzle with olive oil and sprinkle with breadcrumbs. Serve immediately.