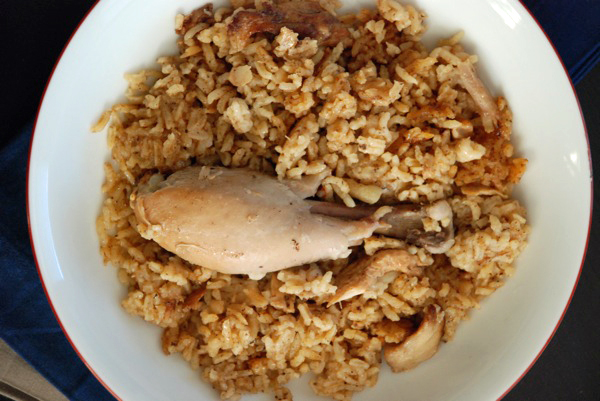 I know the big T is just under two weeks away, and I get why everyone's talking cranberry relish and turkey like it's their job. But we've all gotta eat between now and then, and this is one damn good way to get nourished.
Last week, we had the first cold weekend in DC. Now my immune system is starting to feel like the Little Engine that Could. I'm teetering on the brink of a mighty cold, and no amount of OJ or echinacea or (ick) Emergen-C has helped. Not to mention, somehow I didn't get the email about the free flu shot clinic at work, so I'm totally exposed to the best of winter's illness smorgasbord. Surely, I'm not alone in my unfortunate predicament. (Right?)
I'm starting to think fighting the cold is overrated. Let's face it: I'm going to get sick sooner or later. And when I do, I'm going to to curl up on the couch, wrap myself in the sweatshirt-blanket, and tuck into a deep bowl of something warm and comforting. My will to not get sick may also be diminished by the fact that, lastweekend, I made the best chicken and rice I've ever had. If I've gotta go down, I'd like to do so over a bowl of this stuff.
I don't even like chicken all that much. But for weeks, I've been craving a big pot of rice, perfumed with chicken stock and warm fall spices, perfectly cooked and piping hot. That's just what this is: a filling, soothing one-pot meal that's easy to make and highly craveable. The aromas alone — cumin, cinnamon, smoked paprika, and homemade chicken stock — had me hooked; but when I caught people reaching their fingers into the bottom of the pot to scrape up one last morsel, I knew the dish was a keeper.
To my taste, the spices here strike the perfect balance of warmth and spice without being overly sweet or strong. I made extra of the spice blend, and now I'm glad I did. However, if you've got your heart set on different flavors — curry, for example — please don't hesitate. There's as much method in this recipe as there is proportion, and you could easily make this dish with whatever spice blends you've got in the pantry. If your spice blends are unsalted, figure 1 teaspoon salt for every teaspoon of spices. Alternatively, salt your bird first, as you normally would, then rub with spices.
You don't hear me gushing over chicken so often, but this one's worth the oohs and ahhs. It's the stuff of a cold fall day, the sort of food you want to tuck into with good friends and plenty of red wine. Needless to say, I'll be making this again. I hope you will, too.
Spiced Chicken and Rice

A note to those hoping to make this in a slow cooker or a low, slow oven: it's possible, but it requires some adjustments. First, don't use white rice. You can't really cook white rice in a slow cooker, because it turns to mush. Substitute either brown rice, some other grain entirely (barley, spelt, or wheatberries would all be great), or use converted rice, which is brown rice that's parboiled and made to taste more like white rice. It tolerates low, slow heat better than white rice. Second, hold back on about 1/2 a cup of the liquid. You may end up needing it, but I needed 1/2 a cup less when making it in a low oven, and I wouldn't want the whole dish to end up waterlogged. Otherwise, everything else is the same.

For the spice rub:
1 teaspoon cumin seeds
1/2 teaspoon cinnamon
4 green cardamom pods
7 black peppercorns
1 teaspoon smoked paprika
1 tablespoon brown sugar
1 teaspoon salt

For the chicken:
2 tablespoons olive oil
2 broiler chickens, cut into pieces (I separate drumstick from thigh and halve breasts)
1 onion, halved and sliced
1/2 cup tomato puree
2-3 cups chicken stock
2 cups water
2 cups rice

Blend spices, sugar, and salt in spice blender until finely ground. Set aside.

Rinse chicken pieces and pat dry. Sprinkle half the spice mix onto chicken and rub into skin.

Preheat oven to 300º.

Heat a dutch oven (mine is 5-1/2 quarts) or a heavy-bottomed pot over medium-high heat. Add olive oil. When oil shimmers, add half the chicken, skin-side down, and cook about 3 minutes, until well-browned. Turn chicken pieces and cook on the other side for 3-4 minutes more, until browned. Chicken pieces should remain pink inside; they'll cook fully later on. When chicken pieces are sufficiently brown, transfer to a plate and continue cooking the second batch of chicken pieces in a similar manner. Fond (the flavorful brown bits) will start sticking to the bottom of the pot; this is good.

When all chicken has been cooked and transfered from pan to plate, add onions to pan with half the remaining spices. Cook until onions develop color and spices are fragrant, about 4 minutes.

Add tomato puree and 1 cup stock to pan, and use a wooden spoon to scrape up fond from bottom of pan. Liquid should immediately start to boil. After about 5 minutes, liquid will have reduced somewhat and should be brown from the fond. Add chicken pieces back into pan. Liquid should come about halfway up pieces of chicken. If liquid level is lower, add extra 1/2 to 1 cup stock, for a total of 1-1/2 to 2 cups. Cover pot and place in oven. Cook at 300º for about 1 hour, until chicken is soft but fully cooked. At this point, you should have some remaining liquid in the pan.

Remove pot from oven. Raise oven heat to 400º and bring a few cups of water to a boil. When water boils, add 1 additional cup stock and 2 cups boiling water to chicken pot. Add rice, and stir to incorporate raw rice into chicken pieces. As soon as oven reaches 400º, replace cover on pot and return to oven for 17 minutes, until rice is fully cooked. Remove dish from oven and leave covered, so rice will steam and fluff as much as possible. Serve hot.