We're fresh off the plane from London and I have so much to tell you that I honestly cannot figure out where it all begins. Do I start high, with pictures and bits from our unbelievably delicious meal at Nopi? Do I tell you about the day I ate breakfast, lunch, and dinner at Indian restaurants? There's so much to discuss. I already feel like we need more time.
Let me first say this: I didn't expect to love London. For all the claims that it's better than New York – you know I love New York – I was sure my heart would stay with Manhattan, even after crossing the pond. London, I had been told, was rainy and cold. It was expensive. And more than a few friends warned me that the food wasn't worth much excitement.
But people, I loved London. Of course I loved the accents – so civilized! so grand! – and the dress – much more refined than our stateside attire, I'm afraid – but I really, really adored the food.
British food used to mean fish'n'chips and beer. For the record, we ate plenty of those. But we also found our way to the mecca that is Borough Market, where hipster-clad folks pull fantastic espresso, sell homemade charcuterie, and serve up the best plate of raclette I've ever seen.
I expected a rather staid attitude toward food in London, but I encountered quite the opposite. In fact, roaming through Marylebone on the weekend, I passed by a folding table on which a farmer from Kent and his son had set up a pop-up shop selling what were, simply put, the best strawberries and the best cream I've ever eaten.
And then, of course, there were the more expected pleasures. In planning our trip across the pond, I focused on two food groups. One was Indian food. Everyone says London has the best, and I planned to put that claim to the test. I made sure that plenty of dosas, curries, and chaat were on the week's agenda.
If I'm being completely honest, the curry houses I unearthed – via a quite comprehensive online search and a lot of asking – were good, but not the best. We had some really good samosa, great bhel puri, and memorable aloo gobi. But the baingan bartha, saag paneer, and dosa left something to be desired. If folks have better recommendations — because yes, there will be a next time — please do leave a comment below.
So what was the other major food group? That would be Ottolenghi. Yes, the Ottolenghi food group. Not familiar with that one? A quick search on this site reveals nearly 10 recipes from his collection of wonderful cookbooks, and I'm sure there are more lurking around. Between Plenty, Jerusalem, and the original Ottolenghi, I've cooked dozens of his recipes, and I'm a more skilled and creative cook as a result. So the chance to try some of his five locations across London wasn't something I could pass up. We went to two of his restaurants, and quite frankly, we were blown away. Ottolenghi is famous for his salads, which sit high and mighty on a long table, ready to dish up at lunch or dinner. They are as glorious as the ones in his books, and eating them prepared by an expert is a truly memorable experience. And as for Nopi, his newest location and more of a fancy, sit-down situation, we spent most of the meal with our mouths agape at the exquisite surroundings, the incredible continuity of the room and each little detail contained within. The food was also amazing. You have to go.
One of the most memorable bits I ate at Nopi was dessert. Can we briefly establish that picking a best was very hard? The asparagus and samphire salad was unbelievable and in just a few days back at home, I've already tried to replicate it twice. But the dessert was a pitch-perfect Eton mess, and I've been dreaming about it ever since. And now, you can make it at home.
Eton mess is a traditional British dessert, and everything in it is something you probably love: strawberries, meringue, and clouds of whipped cream. For Eton mess, these three wonderful things are piled unceremoniously into a large glass, where they mix and mingle into a dessert far greater than the sum of its parts. Tuck in with a spoon and get a bit of each, further blurring the lines between components with each spoonful until by the end, you've got a vaguely pink mash of sweet, crunchy, creamy goodness. It's perfect, unfussy food for summer.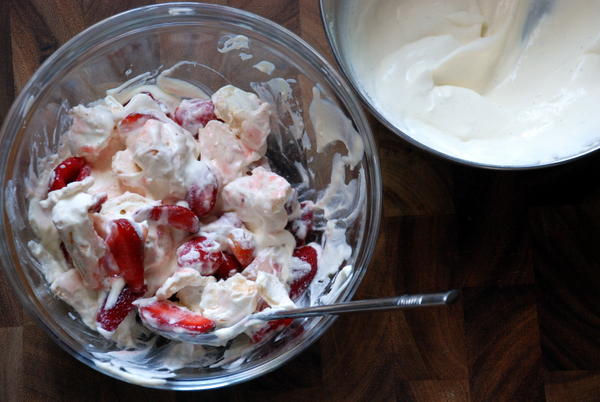 At Nopi the night we were there, I ordered the rhubarb Eton mess, which had bits of silky cooked rhubarb and other bits that were macerated, but nearly raw. I loved that combination of soft and crunchy. Traditional Eton mess is made with strawberries, which are mostly over for the year. I still had one small box of strawberries left, so I added them to a pile of raspberries, and the combination was perfect. If you have rhubarb, I offer instructions below for using it. Otherwise, I bet cherries would be lovely. Any summer berry will work well here.
Happy July, folks. Stay cool.
Summer Berry Eton Mess
Adapted from recipes by April Bloomfield, yet another Brit worth celebrating
Serves 4

I spent an afternoon making cheese with Cathy last month, and she convinced me that I made a mistake not buying Bloomfield's new book, A Girl and Her Pig. When I borrowed it from the library, it seemed like too many of the recipes contained pork, which I don't use in my kitchen. (The title may have suggested as much, too.) In any event, Cathy is right about most things and this was no exception. She lent me her copy, and I've been cooking from it ever since. (Cathy, it's coming back to you soon – promise!)

Bloomfield has a way with peculiar, particular instructions. For her Eton mess, she has you macerate strawberries in almost a dozen ingredients before adding them to the mix. I winnowed down her list for simplicity because it's summer in DC, not summer in London. It's too hot to fuss. The result, though, is no less splendid. This is a dessert that will evoke wide, teeth-baring grins from anyone who eats it. Sorry for the cliche, but it's a party in your mouth.

One more thing: if you don't want to make your own meringue, you'll lose that crispy-chewy thing, but you'll save a hell of a lot of time. No judgment here.

For the meringue:
3 egg whites, carefully (perfectly!) separated from their yolks
1/2 cup sugar
zest of 1/2 a lemon

For the berries:
2 pints berries of any sort (I like a mixture of raspberries and strawberries)
zest of 1/2 a lemon
2 tablespoons lemon juice
2 tablespoons sugar
2 grinds of the pepper mill

(If using rhubarb, mix a pound of rhubarb with 1/4 cup sugar and 2 tablespoons water and put into a baking dish. Bake at 350 degrees for 40 minutes, until the rhubarb has softened but not lost its shape. Cool completely.)
For the mess:
1 cup heavy cream
1 teaspoon sugar
1 teaspoon vanilla or the seeds from 1 vanilla bean
Make the meringues:Â Preheat the oven to 225 degrees. Line a baking sheet with parchment paper or silpat.
Beat the egg whites and sugar in a clean large stainless steel bowl or a stand mixer until the mixture holds very stiff, shiny peaks, 4 to 5 minutes. Gently fold in the lemon zest. 
Spoon the mixture into 6 equal mounds on the lined baking sheet. Bake the meringue until it's dry and crunchy on the outside but still soft and chewy inside, about 1 1/2 hours. Let it cool, preferably in the oven turned off but also fine on the counter.
Macerate the berries:Â Combine all the ingredients in a large bowl, stir gently to combine, cover with plastic wrap, and let sit on the counter while the meringues cook, stirring every so often to encourage juices to seep out.
Assemble the mess:Â Whip the cream, vanilla, and sugar together until the cream holds semi-stiff peaks.
Crumble the meringues into a large mixing bowl; you should have a combination of small crumbles, medium pieces, and large chunks. Add the whipped cream and stir gently just until the meringue pieces are coated. Add about three-quarters of the berries (or rhubarb) and their liquid and stir very gently just until the berries are well distributed but you still see streaks of red in the white cream.

Carefully scoop the mixture into bowls, scatter the remaining berries on top, and drizzle on the rest of the liquid. Serve straight away.