I wanted to tell you this story about how I've always believed that Friday night dinner must start with challah, even if we're having pan-fried dumplings and make-your-own spring rolls, which don't go with challah at all. I was going to tell you about how sometime a couple years ago, thanks to our smarter-than-we-are friends in DC, we realized that if we're serving spaghetti and meatballs for Friday night dinner, by all means, we can skip challah in favor of something more Italian. It was a longer story than that, but then it occurred to me that I should just cut to the chase here: doughy, crisp-edged focaccia; singed onions, licked with vinegar and the sweetness of their own caramel; a bit of Pecorino cheese on top. Need I say more? I imagine you are convinced.
And you should be. This is straight-up one of the best focaccia recipes I've ever made, and I'm psyched to share it with you.
The recipe comes from Martha Stewart Living, a magazine I do not read. My friend Jana is the Martha expert, and she's the one who introduced me to this focaccia. It seems like Martha is less keen on crusts than we are, though, because she makes seven cups of flour into just one, very billowy, very doughy focaccia, where I (at Jana's recommendation) have split the thing in two. The result is a crustier, chewier bread, which I enjoy. To follow queen Martha or little old me? Choice is yours.
We ate this while it was still hot (it's a different ballgame that way, isn't it?), and we love-love-loved it. And then, the second time we made it, I really pushed things over the edge by adding the remnants of Ottolenghi's caramelized garlic (which we had leftover after making this frittata) and, I mean, wow.
I've made it three times. By now, I'm a pro. And I've learned a couple things along the way. In addition to splitting the dough in half, I also slice my onions thickly. If you shred them into thin rings, as suggested, they seem to disappear into the bread. 1/2-3/4-inch slices ensure that even after the softening, browning, and baking, the onions stay intact and prominent. They also burn less easily. I'd definitely recommend doing it this way.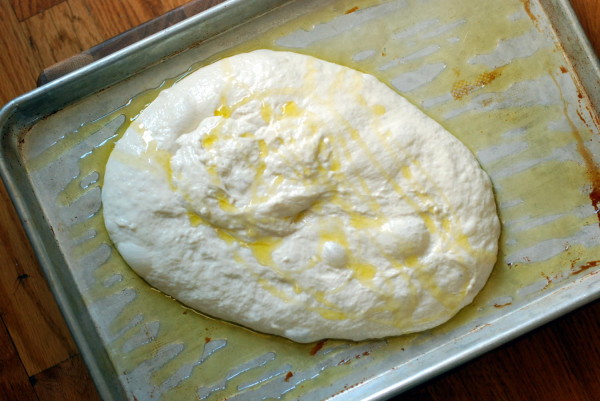 Over time, I've also learned to eliminated the very fussy folding method, where you turn the dough out onto a floured board and fold it letter-style over itself. This step is impossible without a bench scraper, which I trust many of you don't have; it's also maddening, because the dough is so darn wet that you can't help yourself from adding flour; and lastly, the advice to "put the dough back into the bowl seam-side down" is tough to follow if your dough is so wet that it doesn't even have a seam. To save myself the headache, I opted instead for the "turning" method employed by Chad Robertson of Tartine Bakery, whereby you work the dough by turning it in its rising bowl. That means no dumping, flouring, scraping, sticking, or fussing. Just a few turns of the dough over itself, and the towel goes right back on for its next rise. Easy as pie.
One last note: while the Pecorino is lovely on this focaccia, it can be skipped. I made this focaccia dairy-free last time to no complaints. Just be sure to add little sprinkles of flaky sea salt to the bread before baking, which will replace the saltiness of the Pecorino (not to mention give the focaccia a satisfying crunch).
Enjoy this one, friends.
Sweet-and-Sour Onion Focaccia
Adapted from Martha Stewart

Martha says this makes one large focaccia, but I like it split into two smaller, thinner focaccia breads. Your choice. For other baker's notes, see the post itself.

For the focaccia dough:
2 1/4 pounds bread flour (about 7 cups), plus more for dusting
3 1/2 cups warm water (about 110 degrees)
1 teaspoon dry yeast
2 tablespoons coarse salt

For topping the focaccia:
1/2 cup plus 2 tablespoons extra-virgin olive oil
2 large red onions, halved and sliced into rings 1/2- to 3/4-inch thick
Coarse salt and ground pepper
2 tablespoons cider vinegar
1/2 cup grated Pecorino Romano cheese (add a couple teaspoons of flaky salt before baking if you skip the cheese)
1 teaspoon red-pepper flakes

Whisk together flour, water, and yeast in the bowl of a stand mixer. Cover bowl with plastic wrap or a towel, and let rise in a warm place until tripled in bulk and full of sponge-like bubbles, about 2 hours.

Add salt. Attach bowl to mixer fitted with the dough hook. Mix on low speed 3 to 5 minutes, scraping down sides of bowl as needed. When dough begins to cling to and almost climb sides of bowl, raise speed to medium; mix 15 seconds. Dough will be wet, slack, and very sticky.

Using floured hands (or not – if your dough is really wet and gluteny, you won't even need to flour them), reach into the bottom of the bowl and scoop a long "tail" of dough up, over, and back onto itself. This is one turn. Repeat three more times, turning the bowl 90° between each turn, so you've turned all four "sides" of the dough. Then recover bowl with a towel or plastic wrap, and let rise in a warm place until doubled in bulk, about 1 hour.

Repeat the turning process, recover bowl, and let rise in a warm place until doubled in bulk again, about 1 hour more.

Preheat oven to 450° and set a rack in lower third of oven. Coat two 17-by-12-inch rimmed baking sheets with total 1/4 cup of the olive oil; set aside.

Divide dough in half and place on prepared sheets. Drizzle each with an additional tablespoon of olive oil. Push dough out toward edges of sheet. Cover with plastic wrap; let rest 10 minutes. With plastic wrap still on top, press out dough to fill sheet. Remove plastic (dough should be very bubbly and supple). Drizzle remaining 2 tablespoons olive oil over top of each focaccia.

Meanwhile, in a large skillet, heat 2 tablespoons oil over medium-high. Add onions and season with salt and pepper. Cook, stirring occasionally, until onions are tender and golden brown in spots, 12 minutes. Add vinegar and cook, stirring and scraping up browned bits with a wooden spoon, 1 minute.

With your fingertips, poke dimples all over dough, then top with browned onions, red-pepper flakes, and cheese (optional).

Bake until golden brown around edges, 25-30 minutes.

Let cool on sheet 5 minutes; if focaccia seems like it is sticking to the pan, scrape it off using a metal spatula. It does like to stick, but if you use enough oil on the bottom of the pan, it's usually fine.

Cut into 20 pieces and serve warm or at room temperature.