Taco night is a perennial favorite. It's an easy meal to prepare, most components can be prepared well in advance, and if you make it for a dinner party, you'll be feasting on leftovers for days. When I say "taco night," of course, I'm referring to that generic category of weeknight suppers, including but not limited to tacos, fajitas, burritos, and anything else involving tortillas, fillings, and toppings of your choice.
In case you're at a loss for where to start, here's my go-to iteration of Tex-Mex dinner: I serve warm flour tortillas, refried beans, sauteed peppers and onions, cabbage slaw with lime and chile, and salsa, guacamole, and queso fresco to top it all off. It's a regular feast.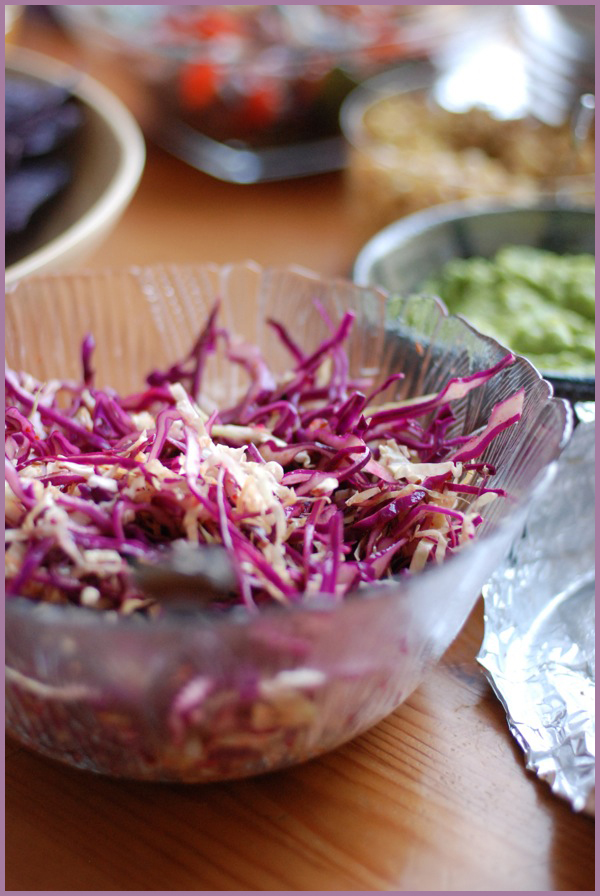 And please, don't let me cramp your style: the possibilities aren't limited to beans and whatnot. If you're not a fan of the legumes, pan-fry some chicken, fish, or beef slices over high heat until charred, squeeze a lime juice and sprinkle some salt and pepper, and you've got yourself a taco or fajita filling.
The peppers and onions are dead simple. Halve a red onion, trim the ends, and slice each half into three. Take a few bell peppers (I like red) and poblano peppers (the big dark-green ones — they're pretty mild, with just a whisper of spice) and slice them into long strips. Add pepper and onion slices to a hot pan with a bit of olive oil and some salt, much like you did with the protein. Stir at regular intervals so that lots of different pieces get charred. When you see enough brown spots, turn off heat, and transfer hot vegetables to serving bowl. They'll steam and soften while sitting there, so by the time you're ready to serve, they're ready, too.
Another great dish is simple charred corn. If you have fresh ears available (and there's no time like July for fresh, sweet corn), use them. If not, frozen kernels work great here, too. Follow the rules above: into a hot pan with just a spoonful of oil, and maybe some epazote (if you have it) or cilantro (works too). Toss once in a while, let the kernels char, you get the drill. Hit with some salt and pepper, maybe a squeeze of lime, done.
The crown jewel at dinners like these is the cabbage slaw. (When isn't it?) This one is about as basic as they come: red and green (or Napa) cabbage, lime dressing. Fin. The tangy crunch of this simple concoction, provides the perfect contrast to tacos and fajitas. It's the must-have dish in the spread, if you ask me. Then again, I'm hard-pressed to pick a favorite element. Every dish in this meal is pretty darn tasty.
Taco Night Coleslaw

1 small head red cabbage
1 small head green or Napa cabbage (I prefer Napa, as it's slightly softer but just as crunchy)
juice and zest of 2 limes
1/2 teaspoon chile flakes, preferably something smoked like chipotle or ancho, but any will do
1/3 cup olive oil
1/2 teaspoon salt
black pepper to taste

Shred cabbage using sharp knife or mandoline; you're going for as thin slices as possible.
Combine remaining ingredients in a large bowl and stir to combine. Add cabbage, and toss to coat. Set aside to macerate for at least 15 minutes before serving. If you leave it for more than an hour or so, put it in the fridge. You'll note that as time passes, the red cabbage will turn the dressing (and with it, the rest of the slaw) a bright pink shade. All the prettier, if you ask me.