I suppose I could call it Lemon Pound Cake as the Hamptons goddess did, but this title is more to the point. Once you make this lemon cake, it'll become the one. The. One. (Unless you're one of them crazy types who can't ever make the same thing twice…but I don't know any folks like that.)
And you know what? I'm not even one to go nuts for lemon cake. Hell, I didn't even think I liked lemon cake. But then I was at the Dupont farmers' market a couple weeks ago looking for something to bring to a meeting, and a half-ring of lemon cake at the bread stand caught my eye. We ate it, all of it. It was nice and firm, with a royal icing-type glaze of just powdered sugar and lemon juice. It was simple and classic, and really damn good. We ate it all.
Eating that cake, I realized I'd never really made a lemon cake before. I knew exactly what I wanted: flavors of lemon, butter, and good vanilla; texture that was both feathery and firm; and a light, bright yellow color. There was only one place to look for the perfect recipe, and she didn't disappoint.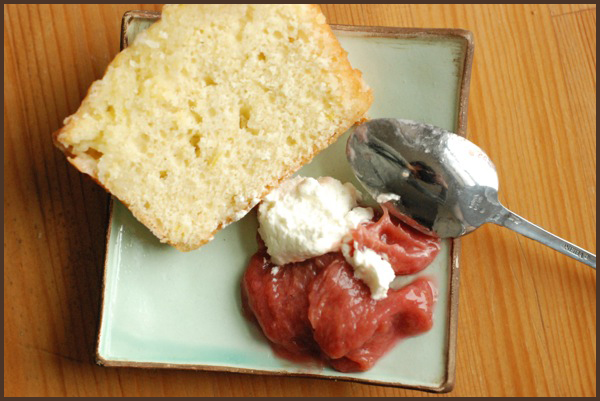 Acknowledging that this is an Ina cake, it naturally starts with a half-pound of butter. To that, you add very, very much lemon. Lemon and sugar, and plenty of vanilla. Can't you just smell that amazingness steaming out of your oven? And as if that's not enough, you make a sweet, drippy lemon syrup and paint it over the finished loaves, giving each slice a tart one-two punch. The title says it all: this is the only lemon cake you'll ever need.
Ina's Lemon Pound Cake

For the cake:
1/2 pound (2 sticks) unsalted butter, at room temperature
2 1/2 cups granulated sugar, divided
4 extra-large eggs, at room temperature
1/3 cup grated lemon zest (6 to 8 large lemons)
3 cups flour
1/2 teaspoon baking powder
1/2 teaspoon baking soda
1 teaspoon kosher salt
3/4 cup freshly squeezed lemon juice, divided
3/4 cup buttermilk, at room temperature
1 teaspoon pure vanilla extract

For the glaze:
2 cups confectioners' sugar, sifted
3 1/2 tablespoons freshly squeezed lemon juice

Preheat the oven to 350 degrees F. Grease and flour 2 (8 1/2 by 4 1/4 by 2 1/2-inch) loaf pans. You may also line the bottom with parchment paper, if desired.

Cream the butter and 2 cups granulated sugar in the bowl of an electric mixer fitted with the paddle attachment, until light and fluffy, about 5 minutes. With the mixer on medium speed, add the eggs, 1 at a time, and the lemon zest.

Sift together the flour, baking powder, baking soda, and salt in a bowl. In another bowl, combine 1/4 cup lemon juice, the buttermilk, and vanilla. Add the flour and buttermilk mixtures alternately to the batter, beginning and ending with the flour. Divide the batter evenly between the pans, smooth the tops, and bake for 45 minutes to 1 hour, until a cake tester comes out clean.

Combine 1/2 cup granulated sugar with 1/2 cup lemon juice in a small saucepan and cook over low heat until the sugar dissolves. When the cakes are done, allow to cool for 10 minutes. Remove the cakes from the pans and set them on a rack set over a tray or sheet pan; spoon the lemon syrup over them. Allow the cakes to cool completely.

For the glaze, combine the confectioners' sugar and the lemon juice in a bowl, mixing with a wire whisk until smooth. Pour over the tops of the cakes and allow the glaze to drizzle down the sides.