I find it hard to put a finger on what makes vanilla so special. It's the girl next door to chocolate's cheerleader popularity, the "best supporting actor" to every winning cake. Vanilla is so subtle, so modest, it's easy to take it for granted. Well, don't.
Since spring produce is in abundance, I've been playing around with fruit. You've seen me make my new favorite staple, rhubarb curd, and I've also whipped rhubarb into a lovely puree with thyme, inspired by yet another recipe on food52. But last week, the season's first strawberries cropped up, so I shifted gears. I love strawberry season: it rings in the months of shortcake and jam (I made fantastic preserved strawberries with guajillo chilies, based on Amanda's recipe on Food52). But when the whole market smells like strawberries, it'd be a sin not to serve at least some of the crop fresh and unadulterated. So I made a tart to showcase the sweet tartness of the early berries.
Since my rhubarb curd took home a win on Food52, I've been playing around with curds and custards, endlessly entertained by the ability of simple egg yolks to take on so many different forms and textures. I saw a recipe by Karen DeMasco (who is quickly becoming my dessert sensei) for a strawberry lemon curd tart, and decided to riff on the concept. First, I used a cornmeal tart crust (the leftover second half of the dough from this recipe). Second, instead of making straightforward lemon curd, which I find can overpower the gently tart strawberries, I made a vanilla curd, perfumed with a whisper of lemon zest and a drop or two of juice. The curd came out lovely, an ideal contrast to the strawberries. Topped with unsweetened whipped cream, it truly couldn't have been better.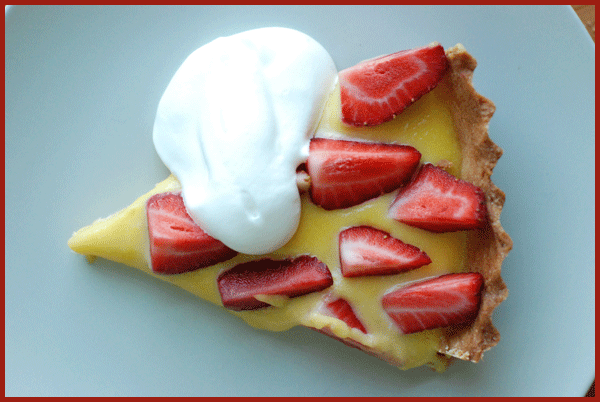 No promises, but I think I've shaken my curd hang-up, for now. Have I passed along the bug?
Vanilla Custard Strawberry Tart

1/2 a recipe of the tart crust used here
1/2 cup whole milk
1/3 cup plus 1 tablespoon sugar
3 large eggs
3 egg yolks
1/2 teaspoon kosher salt
1 tablespoon lemon juice
zest of one lemon
1 teaspoon vanilla
seeds and pulp of one vanilla bean (reserve scraped bean for another use)
8 tablespoons unsalted butter, cut into small pieces, at room temperature

2 pounds (2 pints) fresh strawberries, hulled, rinsed, and halved (quartered if large)

Make crust according to the instructions shared here. On floured parchment paper, roll out dough to a 10-inch round. Transfer dough, on parchment, to refrigerator to chill 10 minutes. Then remove dough and transfer into an 8-inch tart pan, using the excess dough to patch any tears. Gently tuck dough into the crevices of the tart pan, and trim excess so that edge of dough is flush with edge of tart pan. Line with parchment or tin foil, fill with pie weights or beans or rice, and par-bake at 350 degrees for about 15 minutes, until the edges begin to turn golden. Remove the weights and foil or parchment lining, and bake 20 minutes more, until brown but not burned.

Meanwhile, in a medium saucepan, bring about 2 inches of water to a boil. In a medium heatproof bowl, whisk together milk, sugar, eggs, egg yolks, salt, lemon juice, lemon zest, vanilla, and vanilla bean pulp. Set the bowl over the saucepan and continue whisking as mixture heats up. After about 10 minutes of stirring, the mixture will have become thick enough that the mixing spoon or whisk will leave a trail. At this point, remove the bowl from the heat and let the curd cool slightly, about 5 minutes. Then whisk in butter, one tab at a time, until it has melted into the curd and the mixture is smooth.

Strain the curd through a fine-mesh sieve into the tart crust; use an offset spatula to smooth the top of the curd and distribute it evenly. Arrange the strawberries in concentric circles over the curd, starting on the outer rim and working your way inward. If not serving immediately, cover tart lightly with plastic wrap and keep in the refrigerator. Remove the outer ring of the tart pan to serve, and plate with a dollop of unsweetened whipped cream.