Yes, folks, it's true: tomato season has come to a close. Back when I made this, in October, I wasn't walking, it seemed pretty unlikely that I'd make it back to the farmers market to catch one last round of tomato madness, so I figured it was safe to assume that the tomato I ate that night was my last for the season. I'm a card-carrying member of the tomato lovers' cult, so that's not an easy thing to admit — but, like an old fling whose time has come to an end, I think I can walk away from this one with no regrets.
Running with that analogy for a minute: you'd like to think your last time with the fling would be the best there was to have, the best there ever would have been. But that's never the case, is it? Usually the last time is just….fine. Such was the case with my last tomato. It wasn't one of those specimens that could have been framed. No shiny, taut, glossy skin and jewel-like innards. Had it been perfect, I'd have eaten it raw, simply sliced with olive oil and fleur de sel. But I was already smack-dab in the middle of fall, and my tomato wasn't so perfect. However, it was jam-packed with flavor, that I can assure you. So I prepared that last tomato in a dish that quickly became a standby this summer — a dish that's perfect for celebrating tomatoes' flavor even when their texture is somewhat imperfect. What's that, you ask?
Quick-sauteed tomatoes with feta and anaheim chilies. So few steps, so many flavors. It's one of those dishes where the right ingredients, the right cooking method and time, and the right appetite just work. It really is such an easy dish to throw together; while I generally make it for one, it is easily be sized up to feed a crowd. And while I often find myself eating it straight out of a bowl (and drinking the soupy sauce at the end, slurps and all), this quick-stew would be lovely (and a bit fancier) served over a slice of toasted baguette, perhaps rubbed with garlic. Already, I'm wishing I had a few more bites on hand!
If you've got one more tomato — or, perhaps, one tomato that's not as shiny and perfect as all the others — don't hesitate; make this dish. I promise, you'll look back on that last tomato with fond memories, and not one ounce of regret.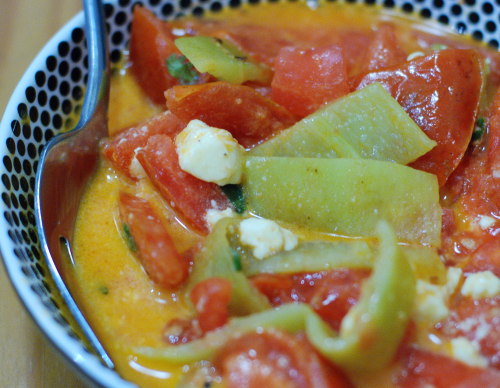 Sauteed tomatoes with feta and anaheim chilies
serves 1

1 large tomato, needn't be perfect; I used beefsteak
1 anaheim chili
1 sprig cilantro, optional
a couple big chunks feta cheese, high quality and not low-fat
salt and pepper

Roast the chili over an open flame. I use my gas stove. Roast until the skin is blistered all over. Either using a damp paper towel or under running water, remove the charred skin until only the flesh remains. To reduce the pepper's heat, remove the seeds and fibrous membrane threads as well. Slice pepper into rings.

Slice tomato into 8 wedges, and slice each wedge in half. In small saute pan, place tomato, pepper, and 1 Tbsp of olive oil. Saute for 3 or so minutes over medium heat, until tomatoes begin to emit their juices. Toss a few times to incorporate. Add chunks of feta cheese, give the whole thing one quick stir to break up the feta a bit, turn off the heat, and eat immediately. Done correctly, the stew will make a delightful spicy feta-tomato broth at the bottom of the bowl, which is absolutely perfect for slurping. I usually lick the bottom of my bowl without shame.