A different sort of post today, because while I've been too busy this week to cook anything noteworthy, there are many little things I keep meaning to mention. So here they are, in one fell swoop.
It's slim pickins' Â at the farmers' market these days, but carrots are in abundance. I bought a few pounds from a guy who's known for his carrots, and I put some of them to work in this simple soup from Deb. I loved the clean, pure carrot flavor, and the miso added just the right punch of umami. One change: I found the sesame oil overpowering, and I didn't love the texture of raw scallions in such a smooth soup. Still, I didn't want to lose that scallion flavor. So I took a page from Francis Lam's playbook, and drizzled the soup with some of his genius ginger-scallion sauce. The combination was such a winner, I couldn't resist sharing it.
~
I've been making granola for long enough that I know what I like and how to get it. It was all the more surprising, then, to be blown away by this deceivingly simple recipe from Nekisia Davis, by way of Food 52. Olive oil and maple is a combination I've used on many batches of granola – but never as effectively as this. There will still be times when I want my standby granola with tahini; it's a bit more wholesome, and it bakes up in clusters, which I rather like. Still, I know I'll be putting this recipe in heavy rotation, so I wanted to share it with you.
~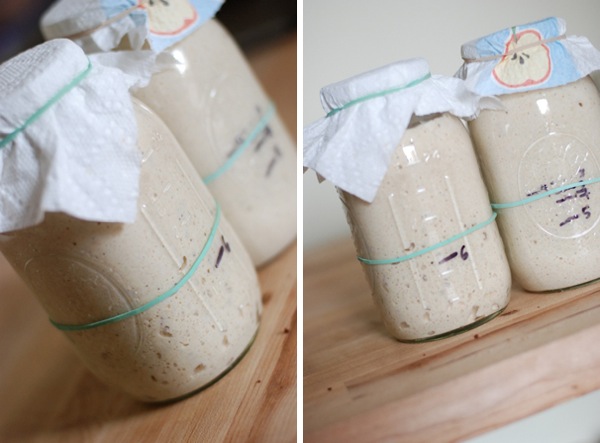 Like so many other bloggers, I've caught the sourdough bug. I've got two mason jars full of burbling, gurgling starter in my fridge: one is mostly white with some rye; the other is half white, half wheat. Both are showing off for this first-time baker, rising eagerly with each feeding and behaving themselves in the fridge (no overflows, yet). (The rubber bands in the picture are the where the dough started immediately after I fed it and put it back into the jar. See how much they rise? And that's only from 3 hours!) I was told to wait until day 9 to bake, but my starter was so active, I went ahead and baked my first two loaves last week. The crusts definitely need some work – I'm thinking of borrowing the technique I used in baking baguettes of spraying the loaves with water in the oven – but the crumb is beautiful, and the flavor is some of the best in any bread I've made to date. I'm excited about the starter gaining strength and tang, and I've already got my eye on a few non-bread sourdough recipes. Pumpkin-maple sourdough cake, anyone?
~
Another excellent Food 52 recipe, this one from "Mrs Larkin." Scones made with a generous helping of baked butternut squash puree and fresh sage. Lest you think they're some health food-type of thing, you brush the tops with cream and sprinkle them with sugar. Definitely not health food. I've made them three or four times; I can't get enough of them. Their bright orange color doesn't hurt, either.
~
If you haven't been following Tom Hirschfeld, now's the time to start. Between his blog, Bona Fide Farm Food, his standby Food 52 column, On a Farm in Indiana, and his newest Food 52 outlet, Sunday Dinners, Tom is cooking (and writing) up a delicious storm. His recipes are confidence inspiring; quite simply, they don't fail. At a recent gathering of DC cooks, I made Tom's Madeira Tart. It's a custard tart that comes together without the fussy and often nerve-wracking step of stirring eggs over a flame. Nope, none of that: you just scald the milk, then mix the ingredients together, pour them into the crust, and bake. Out comes a delicate custard, perfectly smooth and perfumed with Madeira. What more could you ask for?
I fancy rye the ugly stepsister to bourbon, with a spicier flavor and a drier finish. Despite its rougher edges, I've come to find a friend in the spirit. I suppose it was the natural next step for this bourbon lover. I've got a couple different varieties on the bar, including the rye from Bulleit, which is lovely, and one from Redemption. If you are curious but less keen on trying it alone, this Apple Rye Punch from Food 52 is lovely.
~
I could go on and on, couldn't I? Well, that's enough for now. I'll be back later this week to share another wonderful winter soup.