In lieu of a main course, today I've got nibbles for you. No big story, no recipe. Just a whole bunch of tasty little things we've been cooking and eating that you might also want to cook, and eat.
I hope you'll share what you've been cooking in the comments. Let's trade ideas.
Avocado Toasts
Peaches may be over for the year, but at least we've still got our beloved avocados. About a year ago, I had an avocado toast at Cork that most of my DC friends already know and love: good bread, rubbed with olive oil and toasted, topped with the thinnest slices of avocado, more of that olive oil, and crushed pistachios. So simple you almost wouldn't order it, but by your good fortune you do, and you never skip it again.
It's easy enough to make at home, but I change it up depending on my mood and the time of day. In the morning, I'll pop the bread in the toaster and spread a thin layer of ricotta under the avocado. At dinner time, I'll stick with the Cork original, or add a bit of mint or basil to the mix. And of course, what's better than ricotta toasts at lunch? Those get the works: hummus, muhamarra, harissa, and maybe some feta cheese.
Croissants
On a business trip to SF earlier this year, I schlepped to the Mission, B-lined to Tartine bakery, and sank my teeth into the world's most perfect, I-must-eat-another chocolate almond croissant. Tartine's croissants are worth the price of a plane ticket to SF. Just thought about that for a minute; no really, I'm sure.
So of course, I bought Tartine's Bread book. (Side note: I've been making their basic sourdough loaf every week for the past several months, and I recently started incorporating some organic hard red spring wheat flour from Next Step Produce's Dupont market stand. Save for Poilâne, it's the best bread I've ever eaten.)
Anyway, where were we? Croissants. Tartine's recipe for croissants is NINE pages long, for real. It includes pictures and stuff, but nine pages? The recipe alone tells you to think twice.
So I did. And then I thought about it some more. In fact, for a few weeks in there, croissants were pretty much all I could think about. So one Sunday, when I felt particularly enterprising and game, I turned to the recipe and dug in.
That was Sunday. My croissants were ready to eat by WEDNESDAY morning. For those keeping track at home, that's nine pages and three full days. Okay, so were they worth it?
Well, they weren't perfect. I overworked (and possibly overrose) the dough a bit, so the innards were more bread-like than croissantesque. That said, they crusty and crisp, shattered as they should when I took the first bite, and my god, the flavor was tremendous.
The bottom line? If you're looking for a project and really, really love croissants, give these guys a go. There are good write-ups of Tartine's recipe here and here. For those without sourdough starter, try this recipe. Oh, and hey: if you have extra croissants lying around that by some crazy miracle haven't been eaten, you must make this and this.
Grape Focaccia
I've actually posted about concord grape focaccia recipe before. It's a simple recipe (no sourdough required), and it makes the most of fall's flavorful concord grapes. That said, concords are a huge pain to de-seed, and this year, I decided I was too impatient. So instead, I went with an even simpler recipe from Deb (just one layer instead of two) and topped the focaccia with two different kinds of seedless grapes: the "thomcords" from Trader Joe's, and bright red champagne grapes so tiny there's nowhere for a seed to go. I liked both, though admittedly, nothing beats the flavor of the original concords. But if you're interested in the recipe and short on time, both of my focaccias were hits with the crowd.
Homemade Sauerkraut
Having experimented with lactofermentation to make pickles and kimchi, I figured sauerkraut would be easy. Guess what? It was.
I was inspired by a trip to Bethesda's fantastic farmers' market, where I encountered (and proceeded to try every product from) Sweet Farm Sauerkraut. They've got curry kraut, and you wouldn't believe how delicious that stuff is. I figured I could at least try to make it myself before surrendering my cash to the pros. Guys, the recipe calls for 3 ingredients: cabbage, salt, and caraway seeds. You smash and smash and smash that cabbage some more, until it releases some of its liquid. Then you keep on smashing until you can at least partially submerge it in the liquid.
Once it's packed into the jar, you need something heavy to keep the cabbage submerged — hence the spice bottle filled with pie weights that I awkwardly plopped into the bigger jar in the photo above. But you know what? It worked. After that, it's basically a waiting game. And wow, is the final product delicious. I'll be piling some onto my next Eggplant Ruben.
Fresh Gnocchi
It's really the easiest thing: boil potatoes, mash or rice them, mix with flour and an egg, shape, cook. Eat.
And if you're nervous about over-mixing your potatoes, try this foolproof recipe that calls for ricotta instead.
Braised Romano Beans
Last but not least, I'm pretty in love with green beans' wider, sturdier sibling, romano beans. Food52 did a primer on them last week which can help you get acquainted with this very-in-season vegetable. As for what to make with them? No surprise, I turn to my favorite green bean recipe. This time, I had loads of fresh dill, which I put to use as a finishing touch. This is perfect for a meatless monday dinner, and I'm serious when I say that it gets better as the week goes on.
Sourdough and More Sourdough
By now you know that my favorite of all the sourdough recipes I've ever made comes from Tartine (she of the croissant recipe). Lately, I've pulled myself away from the standard country bread recipe and experimented with several other recipes in the book. Most notable thusfar are the sesame loaf, which is surprisingly versatile (and especially killer in the eggplant ruben) and the olive loaf, which calls for walnuts, lemon zest, and herbes de provence. We brought slices of the olive bread on a hike with us last weekend. It was incredible with those peppers, hummus, and beans.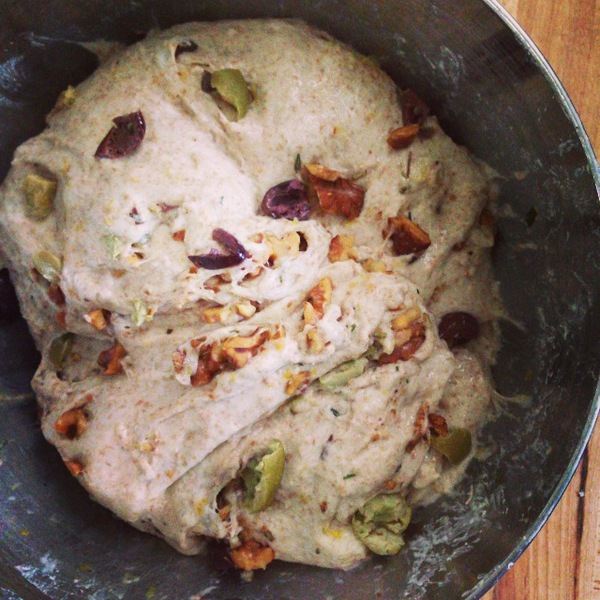 That's what I've been cooking. What about you?