Yet another installment of my weekday lunch series; you can never have enough recipes for midday workplace eats.
I don't have anything to share about this recipe that's particularly exciting. It's just another rendition of my standard grain+bean+berry+herb salad formula. But I realized as I made this salad that it was my first time making wheatberries. At least, I'm pretty sure it was my first time — in any event, it definitely won't be my last. Wheatberries are pretty underrated, so much so that when I served them last Friday night, most everyone around the table asked what they were. "Wheat," I replied. No one got it; "What part of the wheat? Like, they're really just wheat? Are they some sort of berries that grow off the wheat crop?" No, I replied, it's really just wheat. Funny that we don't know what the food we eat most often actually looks like, but that's a story for another time.
Wheatberries are sweet and nutty, with a nice solid texture. They're probably super versatile; I can envision them in a variety of salads, soups, and stews. Writing that line, I just remembered that I've actually used wheatberries before, when making the Sephardic version of cholent, the rib-sticking stew made on Friday and cooked at a low temperature through the night. Unlike the Eastern European recipe of barley, beans, potatoes, beef, and eggs, the Sephardic version, called "Hamin," is made with wheatberries, chickpeas, and dates in addition to the beef, chicken, and other leftovers. The wheatberries are cooked inside cheesecloth wrapper within the dish, so they can be piled separately onto the plate as a bed for the rest of the goodies.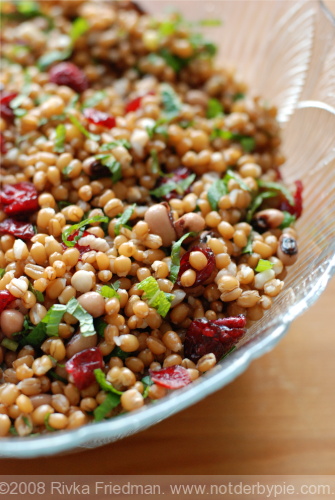 Hamin is for another day. This here salad is simple and fresh, and it's a great way to make use of any leftover herbs you may have. I used cranberries, mint, black eyed peas, and Keswick Creamery feta (the best feta on earth, btw — would you believe it's cheaper than the imitation crap at the grocery store?), but I can envision an equally delicious version with feta, sundried tomatoes, basil, and navy beans, or with cilantro, kidney beans, fresh tomatoes, and some chipotle en adobo. I made a super-tangy vinaigrette with some Honeycup honey mustard, fresh lemon, salt, pepper, chopped shallot, and olive oil — but any old vinaigrette would do just fine. My pics don't have the feta, because I put it in just before serving — but don't leave it out; it adds a brininess that plays really well with the sweet tartness of the cranberries and the freshness of the mint.
Wheatberry Salad with Cranberries, Feta, and Mint

1 cup wheatberries (available at natural foods stores)
1 can or 1 cup dried black eyed peas
1/2 cup diced or crumbled Feta
1/2 cup thinly sliced red onion
1/2 cup dried cranberries, cherries, or other dried berries
1/2 cup chopped mint
5 tablespoons olive oil
5 tablespoons fresh lemon juice, or to taste
1 tablespoon mustard (I like a sharp honey mustard)
freshly cracked pepper, to taste

In a pot of boiling salted water, cook the wheat berries for 1 hour, or until they are tender, and drain them. (At this stage, the wheatberries can be stored for several days in a covered container until ready to use.) In a small bowl, mix lemon juice, olice oil, salt, pepper, and mustard. Whisk to combine, and adjust as necessary. In a large bowl stir together the wheat berries and all other ingredients. Toss to combine. Serve cold or room temperature.