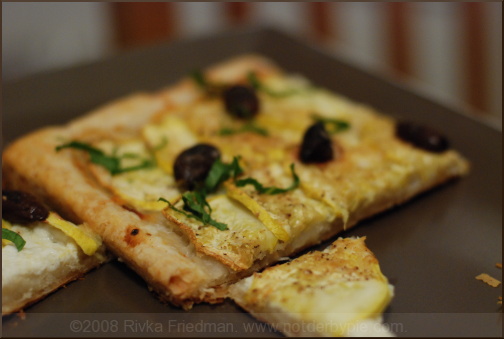 D and I host Friday night dinner pretty regularly. Being the slight lunatic that I am, prep usually starts on Tuesday, if not earlier. I start thinking about themes, poking around online and in my cookbooks for possible main courses, and trying to decide what vibe I want to create. Is this an apps and wine crowd, or more of a straight-to-the-table kind of meal? Are we going meat or dairy? (Usually we do dairy; I simply can't part with butter for dessert.) Is it cold enough for soup or even a one-pot-meal? Etc.
This past weekend, D and I were so pooped from the long week that we decided to do just the two of us for dinner. Our friends Kira and Dina also wanted something low key, so we decided to combine forces. K and D would bring salad and a vegetable side, I'd make soup, some sort of tart, and dessert. We had challah in the freezer and plenty of wine on the rack.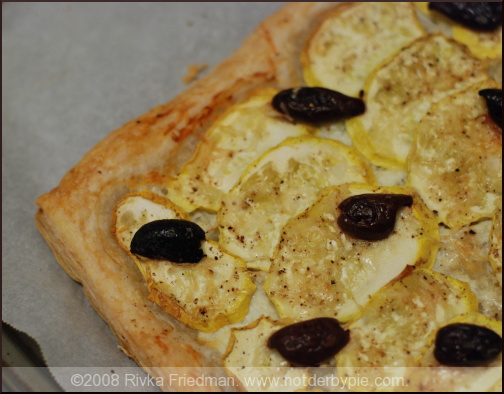 Plans to cook notwithstanding, the week was absolutely crazy and I had only enough time to make soup (ginger carrot, on the blog soon) and a cake (fig-polenta, kinda great, also up soon). The tart just didn't happen. I rushed home from work on Friday with not much time, not much time at all to spare, and scrambled to put something together. Spotted: one yellow squash in the fridge. Half a tub of ricotta. Some pecorino romano cheese. A bit of fresh mint. Frozen puff pastry. Each tasty on its own, but would it all go together? Oh Hell Yes.
Of course, the meal I threw together most haphazardly was actually my favorite in quite a long time. Maybe I'm just a fan of al fresco cuisine, but seriously — what could be better than a simple soup, a light, fresh salad, and an easy puff pastry tart? Not much, in my opinion.
As a shout-out to my dear friend Sarah, who strives to be a more instinctive cook, let me point out that puff pastry is a wonderful blank slate on which any number of delicious tarts can be made. Zucchini/pecorino-ricotta/mint was great, but here are some other ideas:
onion, feta mushrooms (sound familiar?)
mushroom and goat cheese — saute mushrooms in olive oil; either cover tart with mushrooms and sprinkle goat cheese overtop, or put mushrooms and goat cheese (and maybe some ricotta) into a blender, and spread that on top of the puff pastry — and then top with some grated parmesan or bits of goat cheese. yum.
spread tart with a thin layer of ricotta; top with thin slices of zucchini, red pepper, and tomato, with slices of parmesan or mozzarella and basil leaves interspersed.

As I write this, I'm realizing that any of the ingredients above would be great with any other. If you don't like olives, love red peppers, dig pesto, and want to skip the zucchini, just go for it. I'd say the key is to have a layer of something smooth, topped with a layer of thin vegetables, and topped with something super savory and strong (herbs, hard cheese, etc). Feel free to leave other tart ideas in the comment thread.

Zucchini Ricotta Tart

1 8×8 (or larger) square of puff pastry, thawed and unrolled according to package directions
1/3 cup ricotta cheese
1/2 cup grated pecorino romano cheese
grated zest of one lemon
1 zucchini or yellow squash, sliced as thinly as possible (I did not use a mandoline — you can, but definitely don't need to
1/4 cup kalamata or other greek olives, halved
salt and pepper to taste
handful of mint leaves, julienned

Preheat the oven to 350. Line a rimmed baking sheet with parchment paper and put the puff pastry on top.

In a small bowl, mix the ricotta, lemon zest, and a small handful of the pecorino. Add salt and pepper to taste. Spread mixture onto puff pastry, leaving a 1/4-inch border around the edge.

Slice the zucchini very thinly; lay slices slightly overlapping in rows, again leaving a border. Sprinkle with olive slices, and top with the remaining pecorino.

Bake for about 30 minutes (or according to package directions), until golden at the edges and crisp all the way through. Slice into quarters for a main dish, eighths for a side or app; sprinkle with mint, and serve warm or at room temp.