As I've said many times on this site, my philosophy of Passover eating is to steer clear of matza meal and potato starch, and keep things as normal as possible. Meringues, mousses, fruit curd of any flavor: these are the ideal Passover desserts. But cookie cravings call, and can't be ignored, even on Passover. So I'm making good on my promise to share one more Passover cookie recipe before the holiday. Those chocolate cookies sort of can't be beat — unless you use margarine in place of butter, which I hear can cause problems! — but these amaretti are chewy, flavorful, and pretty addictive in their own rite. They've got the golden touch of Passover cookies, which is to say, they weren't designed with Passover in mind.
The recipe is very lightly adapted from Garrett McCord, who writes his own blog, Vanilla Garlic, and guest posts occasionally for Elise at Simply Recipes. They can be made chewy or crunchy just by fiddling with the baking time. They're redolent with almond flavor and some vanilla, too. They're highly scarfable, which on Passover isn't something to scoff at.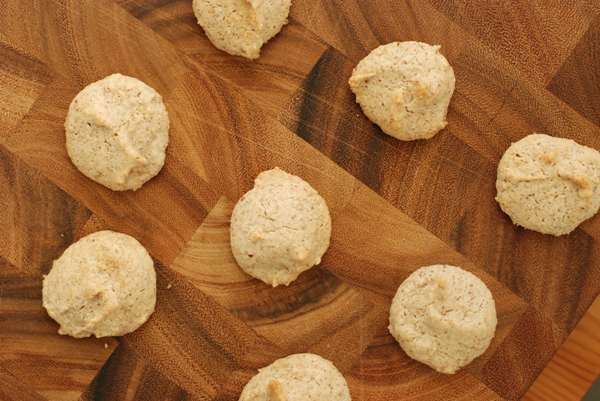 If you're celebrating, happy holiday! If you're not, make these anyway: they really are quite tasty.
Amaretti
adapted from Garrett McCord, via Elise Bauer

Note: I found this recipe really near-perfect in terms of flavor and consistency. The only ingredient changes I made were to reflect that fact that kosher for Passover almond flour and bakers' sugar are hard to find. If those aren't concerns, feel free to substitute 2 1/2 cups almond flour for the 3 1/4 cups whole almonds I call for. I also used a tablespoon instead of a teaspoon to measure out the cookies, and liked the texture of these slightly larger bites. The baking time increases slightly for tablespoon-sized cookies: I baked mine 25 minutes for very chewy, 30-35 minutes for crunchy. Oddly, my dough made about 30 tablespoon-sized cookies, which is the same yield in the original recipe.

3 1/4 cups almonds
1 1/4 cups of sugar
3 egg whites
1 teaspoon of vanilla extract
1/2 teaspoon of almond extract (if you can find it)
Extra sugar for dusting

Preheat oven to 300 degrees and line 2 baking sheets with parchment paper.

In a food processor, grind the almonds until fine. Add sugar, and continue grinding another 30 seconds, until well blended and very fine. Add the vanilla and almond extract (if using) and pulse for a few seconds. Add the egg whites, one at a time, and continue to process until smooth.

Place tablespoons of the dough on the parchment paper and dust with sugar. For chewy cookies, bake for about 25 minutes, when tops are golden brown but cookies are still soft to the touch. For crunchy cookies, bake about 30-35 minutes. Note that cookies will still feel somewhat soft when coming out of the oven – even if you've baked them for the full 35 minutes — but they will firm up within a day.

Cool completely before serving. Store in a cool, dry place. Makes about 30 cookies.