We're chock-full of special occasions here at NDP. Two weekends ago, we celebrated with D and E as they hosted their first Friday night dinner as a married couple. It so happens that D and I were the first people to host D and E as a [not-yet-married] couple about a year ago, so Friday night we came full circle. D and E really went all-out and made a brisket, which was totally delicious. Needless to say, there was a ridiculous amount of other food, also super tasty. I had been asked to bring dessert. Now you know that non-dairy desserts have given me ulcers in the past — no, silly! Not eating them, just thinking and thinking about what to make til I'm blue in the face and dizzy and, well, ulcer-y — but this time, I was determined to figure something out. I'd planned on the very appropriate Mexican wedding cookies, but they're either totally dairy or totally not kosher (from the use of lard), so that was out. But ever since getting back from the Middle East, where baklava is totally ubiquitous and consistently excellent, I've been meaning to try my hand at crafting my own.
Truth be told, baklava is extremely time-consuming but not particularly difficult. The keys to success are loads of sugar and a great measure of patience. There are multiple steps: first, you make a thick, fragrant syrup to be poured over the hot pastries. Second step is to make the mixture of nuts, sugar and spices that will be sprinkled between each layer of phyllo dough. Finally, you (carefully and patiently!) assemble the baklava, layer by layer, slice into pretty diamonds, bake til browned, and drizzle thickened syrup in every nook and cranny. Difficult? Not so….but time consuming? Oh, yes.
Time notwithstanding, this recipe has officially made the greatest hits list. The layers are flaky, crisp, and buttery-tasting. For the nuts, I used a mix of almonds for crunch, pistachios for fruitiness, and walnuts for bitterness and texture. The result was pretty close to perfection. It was been screamingly popular with all tasters, and I miss having little bits of it to nibble on. If you've got a free afternoon, here's a great way to pass the time.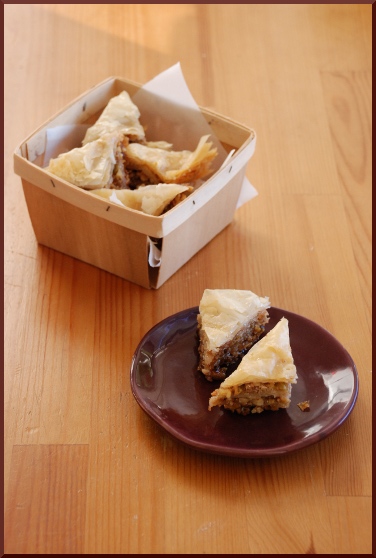 Baklava
adapted from Epicurious

2 cups sugar
2/3 cup water
1 lemon, halved
1 orange, halved
1 1/2 (3-inch) cinnamon sticks
2/3 cup honey
1 tsp orange flower water

For baklava
2 1/2 cups whole almonds with skins (1 lb), finely chopped
2 cups walnuts (1/2 lb), finely chopped
1 cup pistachios, finely chopped
1 1/4 cups sugar
1 tablespoon cinnamon
2 teaspoons freshly grated nutmeg
1/4 teaspoon ground cloves
1/4 teaspoon salt
3 sticks (1 1/2 cups) unsalted butter, melted and cooled slightly (I used flavorless canola oil instead, and only needed about 1 cup)
1 (1-lb) package phyllo dough (17 by 12 inches; about 28 sheets), thawed if frozen

preparation

Make syrup:
Combine sugar and water in a 2 1/2- to 3-quart saucepan. Squeeze juice from lemon and orange into sugar mixture. Add fruit halves and cinnamon sticks. Bring mixture to a boil over moderate heat, uncovered, stirring occasionally, until sugar is dissolved, then simmer 10 minutes. Stir in honey and return to a boil. Remove from heat and cool to room temperature. Pour through a sieve into a large measuring cup or bowl, pressing hard on, then discarding, solids. Chill, uncovered, until cold, about 1 hour.

Assemble and bake baklava:
Put oven rack in middle position and preheat oven to 350°F.

Whisk together almonds, walnuts, sugar, cinnamon, nutmeg, cloves, and salt until combined well.

Generously brush a 13- by 9- by 2-inch glass baking dish with melted butter. Halve phyllo sheets crosswise and stack sheets. Keep stack covered with 2 overlapping sheets of plastic wrap and then a dampened clean kitchen towel. Lay 2 sheets of phyllo in bottom of baking dish and brush top sheet generously with butter. Continue to layer 2 sheets at a time, staggering sheets in each double layer slightly to cover bottom of dish, then brushing every second sheet generously with butter, until you have used 10 sheets of phyllo total. After brushing top layer of phyllo with butter, spread a rounded 1 1/2 cups of nut mixture over it. Drizzle with 2 tablespoons butter.

Repeat layering 3 more times. Top with 10 more sheets of phyllo. (You will use 50 sheets of phyllo total. I actually only repeated the layering 2 more times, resulting in 40 sheets of phyllo used.) Butter top and let baklava stand at room temperature to harden slightly (to facilitate cutting), 10 to 15 minutes.

Using a sharp knife, cut baklava into 16 equal rectangles, then cut each piece in half diagonally. (Be sure to cut all the way through.)

Bake baklava until golden, 50 minutes to 1 hour. Transfer dish to a rack to cool, then slowly pour cold syrup around edges of hot baklava, in between all cuts, and over top. Let stand at room temperature at least 8 hours. (Cover once baklava is at room temperature.) Do not chill.

Cooks' notes:
• Syrup can be made up to 5 days ahead and chilled, covered.
• Baklava keeps in an airtight container up to 1 week.