Remember that time I catered a breakfast?
For a starter, we served greek yogurt and granola parfaits with a drizzle of honey and some fresh berries. This course took some time to plate up — what with all the layers, and making sure no smudges of yogurt got on any of the beautiful parfait glasses — but the only baking, of the granola, was done in advance.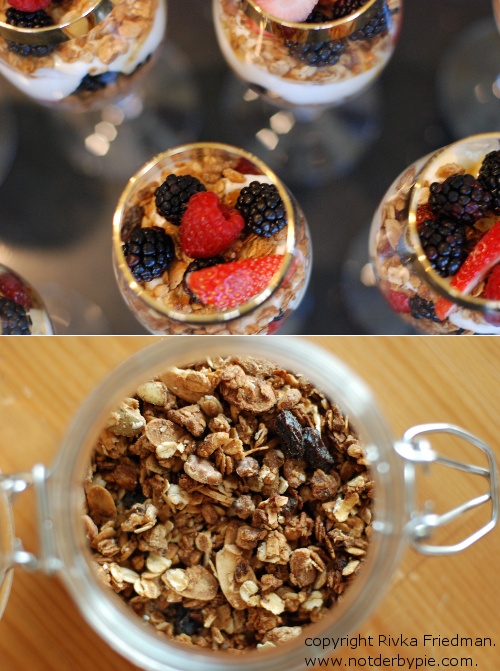 My granola recipe has evolved over the years. I first started making it while on my fellowship in Israel: I was inspired by a couple friends, who brought large tubs of granola to every meeting and retreat we had. They swore it was dead easy, and I soon discovered they were right. They made several variations: one with berries, one with lots of peanut butter, even one with chocolate chips. Can you guess which one I like best, chocoholic that I am?
The recipe I've settled on uses a minimum of ingredients: oats, flax seeds, raisins, dried cranberries, chopped walnuts, sliced almonds, almond butter, maple syrup, and cinnamon. That's it. I've seen recipes that call for brown sugar, but I find that it's harder to incorporate with the other ingredients; many recipes also call for peanut butter, including the recipe from my friends in Israel, but I don't like PB (please don't hate me, PB lovers…) so I use almond butter instead; I find it gives the granola a more subtle flavor.
The great thing about this recipe is that while I've found a happy medium of flavors that I like, you're not bound by that mix at all. Feel free to add anything you like: sunflower seeds, dried shredded coconut, sesame seeds, pistachios, etc. There's really no end to the possibilities.
This last time, I even added the crumbs from a bag of ginger snaps, and let me just say….Amazing.
Mind you, you've been warned. This granola recipe is totally and utterly addictive. You will NOT be able to eat just one handful, so don't even try. I usually try hiding the container after taking a portion out, but for some reason that doesn't seem to work.
Homemade Granola

2 1/4 cups oats
1/2 cup maple syrup
1/2-2/3 cup almond butter, depending on viscosity (may microwave it for 30 seconds if too stiff)
2/3 cup pepitas (pumpkin seeds), either salted or unsalted, depending on preference
2/3 cup sliced almonds
2/3 cup chopped walnuts
2/3 cup raisins, cranberries, or other dried berry (I like half raisins, half cranberries)
1/2 tsp salt
1 teaspoon cinnamon

1. Preheat oven to 325 degrees.

2. Mix all ingredients in large bowl; toss to incorporate, until all oats have been coated and small clusters start to form.

3. Pour granola onto a large rimmed cookie sheet and spread so it sits in a single layer.

4. Bake, stirring at 10-minute intervals, for approximately 25-30 minutes, or until granola is evenly browned. When you take it out of the oven, it will feel soft; as it cools, it will harden. I usually take small pinch out at around 23 minutes, and let it sit on the counter for 2 minutes. If at 25 minutes, the pinch is sufficiently crunchy, I take the whole thing out at 25. If not, I leave it in for two minutes and repeat the check test.