Winter has no better antidote than a hearty bowl of soup. On nights when all I want to do is cuddle under a blanket with tea, I often fill a bowl with soup and slurp it instead of chai. The choice there is easy: soup warms your insides and double-serves as dinner.
I've been intently focused on perfecting my soup technique. As you can probably tell, I've been eating a mostly vegetarian diet lately, and when you don't have meat or poultry broth to work with, building layers of flavor becomes much more important. I've found that my best soups are the ones where I really think hard about flavor combinations before starting, and where I ensure that every layer of flavor gets substantial attention, so that it can make as full a contribution to the overall flavor as possible.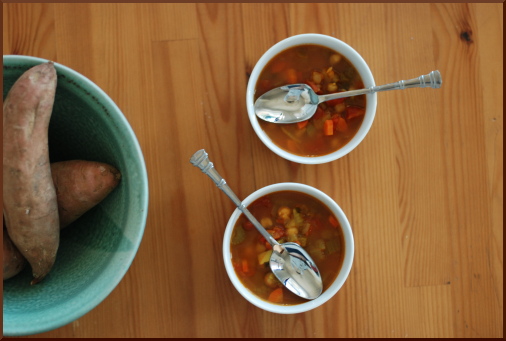 Rule no.1 and most important: when building a vegetarian soup, you must roast or saute your vegetables, in stages, before adding liquid. Most vegetables have natural sugars that will remain latent until drawn out with heat. Sauteing or roasting your vegetables will bring those sugars to the surface, and through prolonged exposure to heat and fat, the sugars will start to caramelize. The deeper the caramelization, the more complex the flavor. If you can get those onions, peppers, and garlic to turn a deep amber color without burning, your soup is on the road to deliciousness. I used to prefer saute, because I could do it in the same pan as I eventually made the soup, thus not losing any of the fond (those brown bits of flavor that gather at the bottom of the pan). Lately, I've taken to roasting, as I find it draws out the caramel flavor more slowly and evenly. But there's nothing wrong with a good saute, you hear?
Rule no. 2: to borrow a lesson from Indian cuisine, toasting spices can elevate the flavor of your soup. It's really that simple: by toasting spices, you're intensifying their flavor, and thus, the flavor of whatever broth they are seasoning. Some spices actually change flavor when toasted; nuts, for example, become far more fragrant and nutty as they brown. They're a wonderful addition to soups, by the way. Whole spices can be dry-toasted in an empty saute pan before being ground; toss powdered spices into your mix of oil and aromatics (onions, garlic, carrots, celery, etc) to amplify their flavor. Either way, you won't be sorry. Cooks illustrated has a great spice guide that I was able to find online, here.
Rule no. 3: in the absence of meat or poultry broth, use a mix of good vegetable stock, water, and, sparingly, wine or juice. Canned vegetable stock sucks, but in a pinch, it'll do, as long as you supplement its relatively flat flavor with lots of other things. Usually, I prefer water to canned vegetable stock; I find it makes for a cleaner-tasting soup with more pronounced flavors. Wine is fundamental to my soup-making. It adds much-needed acidity, bitterness, complexity, and umami (which helps round out the other flavors). It should be used sparingly, because its flavor is quite pronounced and even a few glugs in the pot will speak plenty. that said, it's as close to a well-rounded flavor as we've got and should be exploited. For lentil and tomato-based soups, I'll add some of whatever's open in the fridge. For more delicate soups like white bean, squash, and vegetable, I'll use white wine. Orange juice makes a lovely addition to lentils as well as squash, sweet potatoes, and carrots. Apple juice and pears/pear juice play nicely with parsnips, turnips, and rutabaga. These combinations are hardly exhaustive.
A couple more tips:
dried porcini mushrooms are a vegetarian cook's best friend. Their flavor is strong, meaty, and complex; I add them to about 75% of all the soup and stew I make.
a drizzle of flavored oil on a bowl of vegetarian soup goes a long way. I especially like white truffle oil and my new favorite, walnut oil.
the same goes for garnishes. a dollop of yogurt and a sprinkle of herbs or herb croutons adds yet another dimension of flavor, texture, and visual appeal.
The list really goes on, but that's a good start. Have any favorite tips or advice for vegetarian soup-making? Leave them in the comments.
I'll leave you with a truly wonderful recipe for Moroccan Vegetable Soup called Harira that comes from Moosewood Low-fat Favorites. It's one of my all-time fave soups — highly recommended.
Harira Soup
from Moosewood

1 cup onions, choped
4 cups vegetable stock
1 tsp cinnamon
1 tsp turmeric
1 Tbsp fresh ginger root, grated
1/8 tsp cayenne
1 cup carrots, peeled and diced
1/2 cup celery, diced
1 cup canned tomatoes undrained, chopped
1 1/2 cup potatoes, diced
1 pinch saffron
1 cup lentils, cooked
1 cup cooked chickpeas, drained
1 1/2 Tbsp fresh cilantro, chopped
1 Tbsp fresh lemon juice
salt and pepper
lemon wedges

In a covered soup pot, simmer the onions in 1 cup of the stock for 10
minutes. Combine the cinnamon, turmeric, ginger, and cayenne in a small bowl and add 2 to 3 tablespoons of the hot liquid to form a paste. Stir this paste into the pot along with the carrots, celery, and the
remaining stock. Bring to a boil, then lower the heat, cover, and simmer
for 5 minutes. Add the tomatoes and potatoes and continue to cook, covered, for 15 to 20 minutes, until the potatoes are tender. Crumble in the saffron. Stir in the lentils, chickpeas, cilantro, lemon juice, and salt
and pepper to taste. Reheat.

Serve with lemon wedges.