It's hard to believe that I've been on 3 continents in the past week. 7 days is too short for a proper vacation, especially when it involves places as wonderful as Israel and Paris. There's so, so much I wish I could have done that I just didn't get a chance to do — so many friends I'd have liked to see, hikes I want to repeat, hummus joints I crave — but with only three days in Israel and just over a day in Paris, it's going to have to wait for next time.
After sleeping off some of my jet lag, I returned to my home kitchen with the tastes and smells of the Israeli shuk and the Parisian boulangerie still on my mind. Nothing rivals those deep, pungent aromas of spicy hawayej (a yemenite spice rub), fresh hummus, and still-piping hot pita by the stack. And those baguettes, those baguettes! Not to mention macarons, those delightful little gems of cookies that come in every imaginable color, flavor, and texture. I'm still dreaming of those macarons. (If you're curious, D's favorite of the 20 or so we bought was Rose flavored; I was partial to the pure vanilla, with its shockingly pronounced flavor and flawlessly creamy innards. We also both adored the caramel.)


Having been to both Israel and Paris before, I've already experienced a few of those wonderful moments when the cooking from a place washes over you, and you know your attitude about one culinary idea or another will never be quite the same. Israel is responsible for me making my own hummus, coming around to labneh, and preferring lemon and olive oil over most salad dressings. I thank Paris for encouraging me to bake bread, savor stinky cheese, and even try my hand at making macarons.
This trip was less about discovering new things, and more about jerking my memory to return to good old habits. I've not made bread in some time (partially because I'm spoiled by friends in the area who often gift me some of theirs); I haven't made a meal of pita, hummus, and salad in far too long; and I think I haven't made labneh since I left Israel. Pity. All it took was a few days of living the good life to remind me how much pleasure I derive from these rituals. With that in mind, I'm planning to buy myself some cheese cloth and yeast this week. Hopefully "old habits die hard" also means that old habits are easily restored.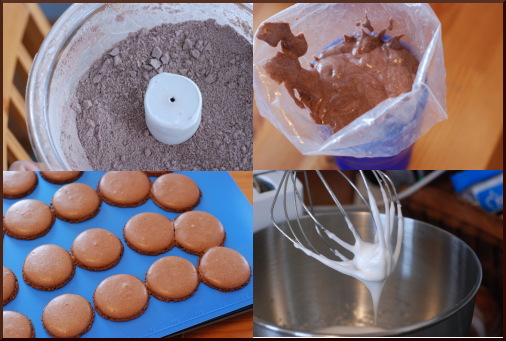 In fact, I can already check one big to-do item off my list: before I left, I managed to master the mighty macaron. On only my second try! And we're talking chocolate macarons, which are supposedly the hardest of all to make. I guess "master" might be generous — I've only done this twice — but they did look exactly as they were supposed to, with a perfectly round shape and a light, aerated foot. I think vanilla is the next flavor on my list: so, so good.
You may recall my first attempt at making macarons: needless to say, it didn't go as planned — though perhaps I should have been prepared for flat, overly crunchy chocolate cookies with no foot and a lopsided shape. This time, I came to the table prepared. I probably read ten or so different recipes for proper chocolate macarons, each with its own distinctive method for each step — grinding the almonds, mixing the batter just so, not a single extra stroke, piping the macarons inside pre-traced circles, rapping the pan on the table, and baking them with a vigilant eye on the timer. (*yawn.)
Of all the recipes I read, one source stood out as simply essential: that is Helen, the fabulous baker, creative photographer, and macaron-queen behind the wonderful blog Tartelette. There is no end to Helen's macaron reportoire: her uber exotic flavors include black sesame, ginger bread, pecan pie, and snickers. Of particularly critical help was her guide to making macarons that appeard in Desserts magazine. (For some reason the link to the actual article brings me to a 404 page, but you can find the recipe here.) Her instructions are precise: I could almost feel her standing over my shoulder as I folded the batter together saying, "oh – ok, yea, one more, ok, one more, STOP!" Helen's macaron primer was definitely the key to my success.
Without further ado, here's the recipe I used for my macarons. The measurements are in grams, which can be a pain if you don't have a kitchen scale. There are conversion charts and tools online that can help, though. Try this one, which I find quite comprehensive.
If you're hesitating to try making macarons, I don't blame you: they're definitely time-intensive and require washing out all sorts of dishes, something I don't love. But the end result is really worth the effort, and I doubt you'll disagree when you find yourself cracking the outer shell and sinking your teeth into that rich ganache that lies at the center of delicious macarons.
Chocolate Macarons
adapted from Tartelette

3 egg whites (Helen says to use 1-2 day old egg whites)
50 gr. granulated sugar (in the neighborhood of 4.5 Tbsp)
200 gr. powdered sugar (2 cups minus 2 Tb)
110 gr. almonds (just over 1 cup)
2 Tb cocoa powder

For the whites: the day before (24hrs), separate your eggs and store the whites at room temperature in a covered container. If you want to use 48hrs (or more) egg whites, you can store them in the fridge.

In a stand mixer fitted with the whisk attachment, whip the egg whites to a foam, gradually add the sugar until you obtain a glossy meringue. Do not overbeat your meringue or it will be too dry and your macarons won't work.

Combine the almonds, cocoa powder and powdered sugar in a food processor and give them a good pulse until the nuts are finely ground. Pass through a sieve. Add them to the meringue, give it a quick fold to break some of the air and then fold the mass carefully until you obtain a batter that flows like magma or a thick ribbon. Give quick strokes at first to break the mass and slow down. The whole process should not take more than 50 strokes.

Test a small amount on a plate: if the tops flattens on its own you are good to go. If there is a small beak, give the batter a couple of turns. Fill a pastry bag fitted with a plain tip with the batter and pipe small rounds (1.5 inches in diameter) onto parchment paper baking sheets.

Preheat the oven to 300F. Let the macarons sit out for an hour to harden their shells a bit and bake for 8-10 minutes, depending on their size. Let cool. If you have trouble removing the shells, pour a couple of drops of water under the parchment paper while the sheet is still a bit warm and the macarons will lift up more easily do to the moisture. Don't let them sit there in it too long or they will become soggy. Pipe or spoon some ganache on one shell and sandwich with another one.

*If you use fresh whites, zap them up in the microwave on medium high for 20 seconds to mimic the aging process.