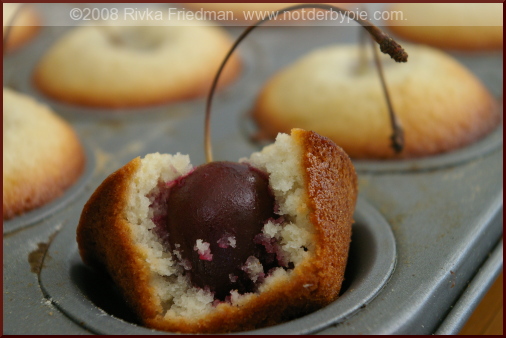 Just peek out the window and you'll know it's officially fall. The sky in Washington is a crisp blue today, and the air is breezy and cool. Knowing DC as well as I do, I was sure that the cool front would pass quickly, making way for just a little more of that lovely summer humidity that you can slice through with a knife. Classic DC to dangle fall in front of us before heading squarely toward summer weather. But so far, I'm proving wrong: it's been a week since the air changed. Summer may truly be over.
Summer produce is also starting to disappear. A couple weeks ago, I scored a fabulous box of "second" tomatoes — about 8 pounds for a mere 2 bucks! With some olive oil, onions, garlic,salt, pepper, and a splash of wine, I transformed them into easy tomato sauce and jarred the sauce for winter.
Before memories of summer fruit have completely faded, I want to share one last recipe. It's another Martha recipe — thanks, Jana — and it's super easy and tasty. The recipe is for tea cakes, rich and nutty from almond flour, zingy from kirsch, with a whole cherry — pit, stem, and all — in the center. I brought them to a poolside picnic hosted by Rebecca, Robbie and Sarina earlier this summer. I took off the foil and set them out, and Robbie looked at them suspiciously and asked what they were. When I told him, he said, "What if you accidentally swallow the pit and choke? Basically, they're like death muffins." I really wanted to title this post "death muffins" but visions of spam comments from morticians and funeral homes scared me off.


Tasty as they are, these tea cakes win brownie points for presentation. They take so little effort and look absolutely adorable. I'm not recommending you make them now, since cherries are out of season and probably won't taste so hot, but stick it in the mental rolodex. When the weather gets warm again, these should definitely be high on your to-do list.
Cherry Almond Tea Cakes

* 1 1/4 sticks (10 tablespoons) unsalted butter, plus more for muffin tin
* 1 cup all-purpose flour, plus more for tin
* 1 1/4 cups finely ground unblanched almonds
* 1 cup sugar
* 1 teaspoon coarse salt
* 5 large egg whites
* 4 teaspoons kirsch (cherry brandy)
* 30 sweet (Bing) cherries

Directions

1. Preheat oven to 400 degrees. Brush 30 cups of 2 mini-muffin tins with butter, and dust lightly with flour.
2. Melt butter in a medium skillet over medium-high heat. When it begins to sputter, reduce heat to medium. Cook, swirling skillet occasionally, until butter has lightly browned. Skim foam from top, and remove skillet from heat.
3. Whisk together flour, ground almonds, sugar, and salt in a bowl. Add egg whites, and whisk until smooth. Stir in kirsch. Pour in butter, leaving any dark-brown sediment in skillet, and whisk to combine. Let stand for 20 minutes.
4. Ladle 1 tablespoon batter into each buttered muffin cup, filling about halfway. Push a cherry into each, keeping stem end up. With a small spoon, smooth batter over cherries to cover. Bake until a toothpick comes out clean and cakes are golden brown, 12 to 15 minutes. Let cool 10 minutes. Run a knife around edges to loosen, and unmold. Cakes can be stored in airtight containers at room temperature overnight.