It's not every day that a half-eaten fruit turns into something truly out-of-this-world. I suppose I should thank the odd confluence of events that brought about these treasures: one, I bought a mandoline last week. After reading oodles of reviews about the best mandolines on the market, I learned that the two cheapest models (the Benriner and the OXO) are actually the best. My waffling back and forth about whether the 75 bucks was worth it was for nothing: I threw restraint out the window and got my new toy guilt-free. That's one.
Two, Sarina and Robbie had iron chef night this weekend. Each of us picked a course, they revealed the secret ingredient, and we had a couple hours to make a dish featuring that ingredient and bring it over for show and tell. Is it screamingly obvious that there's nothing I'd rather do on Saturday night than play iron chef? I was thrilled. And the secret ingredient was cocoa. Awesome.
Three, iron chef awesomeness notwithstanding, my fridge was pretty empty this weekend. Having come down with an ugly cold last week, I didn't do much cooking at all — and this weekend, we were off the hook again, so my supply was limited, which meant I needed to get pretty creative for the competition.
Four, I took a sliced pear to work, and had only eaten half of it — so I had three and a half pears, the half of which was desperately in need of being used. After poking around in vain on Martha and Epicurious for some good pear recipes, I found one for pear chips. They were meant to be sliced paper-thin, sprinkled with a ginger-cinnamon-sugar mixture, and baked/dried in a very low oven until golden and crispy. What would happen, I wonder, if I added some cocoa to the mix? I'll tell you what — pure magic.
Truth be told, I went cocoa-happy. I wanted the chocolate flavor to be assertive, despite its supporting role. I added 2 Tbsp of it, and I'm glad I did. Pears and cocoa get along marvelously, and the final product was tangy and spicy and a bit rich and bitter from the cocoa, not to mention perfectly crisp and crunchy. Is your mouth watering, too?
I should mention that I also added galangal, a lovely spice I got from Penzeys earlier this year. It's similar to ginger, prominent in Thai cuisine, and has spicy notes but is also an assertively fruity flavor. It's truly something special. If you have it, definitely use it here. If you've got a mandoline, you MUST try this recipe. If not, get yourself to amazon and have a mandoline for the price of dinner tonight. It's kinda totally worth it.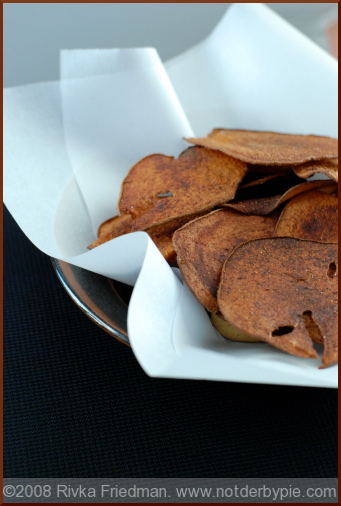 Cocoa Pear Crisps
adapted from Epicurious

1 tablespoon sugar
1/4 teaspoon ground ginger
1/4 teaspoon galangal, optional
1/4 teaspoon cinnamon
2 tablespoons cocoa
20 paper-thin pear slices (from 1 pear)

Preheat oven to 275°F. Mix sugar and spices in small bowl. Place pear slices on rack set over baking sheet. Alternatively, place slices on silpat-lined baking sheet. Sprinkle with spiced sugar. Bake until almost dry, about 1 hour. I flip the slices half way through to ensure even baking. Cool on rack or sheet. Store airtight up to 2 days.